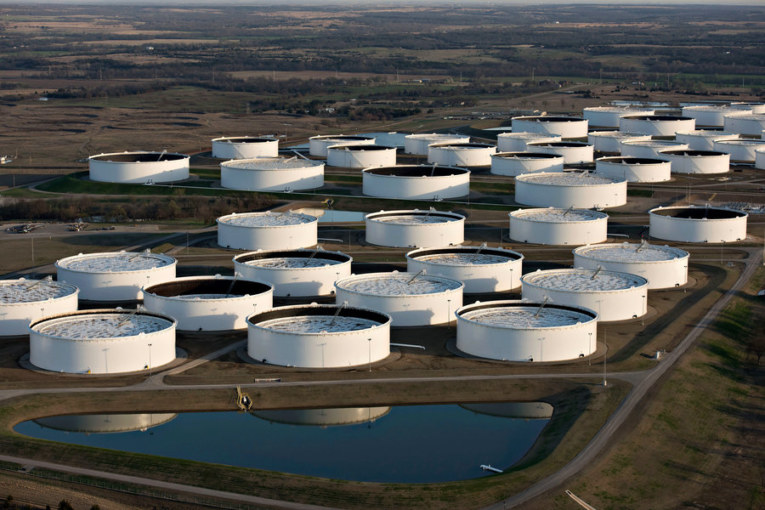 NEW YORK (Reuters) – Oil futures climbed on Wednesday, with WTI reaching $70 a barrel, after a larger-than-expected drop in U.S. crude inventories and as U.S. sanctions on Iran added to concerns over global oil supply.
U.S. West Texas Intermediate (WTI) crude rose $1.73 to $70.98 a barrel, a one-week high. The spread between the two benchmarks widened 7 percent in the session to $9.30 a barrel.
U.S. crude inventories fell by 5.3 million barrels in the last week, the U.S. Energy Information Administration said on Wednesday. Analysts had expected a decrease of 805,000 barrels.
"A drawdown in crude oil inventories isn't very comforting when you're going to lose a lot of Iranian crude in a couple of weeks," said Phil Flynn, an analyst at Price Futures Group.
Since spring when the Trump Administration said it would impose sanctions on Iran, traders have been focusing on the impact they could have on global supply. The sanctions will target Iran's oil exports from November.
"Iran is increasingly becoming the preoccupation of the crude market. The last couple of weeks have seen the expected squeeze on Iranian crude flows taking shape, with overall outflows down markedly," consultant JBC Energy said.
Russian energy minister Alexander Novak on Wednesday warned of the impact of U.S. sanctions against Iran.
"This is a huge uncertainty on the market – how countries, which buy almost 2 million barrels per day (bpd) of Iranian oil, will act. The situation should be closely watched, the right decisions should be taken," he said.
Novak said global oil markets were "fragile" due to geopolitical risks and supply disruptions.
The Organization of the Petroleum Exporting Countries cut its forecast for oil demand growth in 2019 in its monthly report and said rising challenges in some emerging and developing countries could negatively impact global economic growth. [OPEC/M]
OPEC said it expected demand growth of 1.41 million bpd in 2019, a 20,000-bpd downgrade from its previous forecast.
Oil traders were also watching the progress of category 4 Hurricane Florence which is expected to make landfall by Friday.
Crude output will not be affected by the "monster" storm, but the evacuation of more than a million residents, as well as businesses, has prompted a near-term spike in fuel demand.
You can read more of the news on source