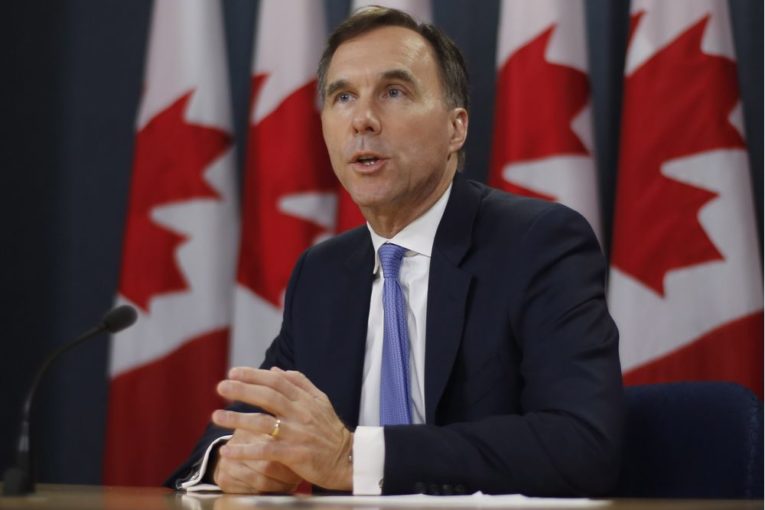 Finance Minister Bill Morneau says if Kinder Morgan wants to abandon plans to build the Trans Mountain pipeline expansion, there are plenty of other investors out there willing to take up the cause.
Kinder Morgan have set a May 31 drop dead date for the project if a solution to the dispute is not reached.
If the company does decide to pull out of the pipeline, Morneau said he believes there are "other private sector actors that would be willing to move forward" with the project.
And Morneau says the federal Liberal government is willing to "provide indemnity" to those investors to ensure the controversial Alberta-B.C. project is able to proceed. But Morneau said he had "nothing to report" on any discussions with other companies interested in taking over the project if Kinder Morgan backs out.
At a press conference in Ottawa on Wednesday, Morneau said the federal government has a "clear role" to play in quelling the "politically motivated investment risk" posed by continued delays from B.C. Premier John Horgan.
Morneau said Kinder Morgan's reservations are understandable given "Horgan's deliberate attempts to derail the project."
"We believe that what Premier Horgan has done is unconstitutional," he said.
Read our complete coverage of the Kinder Morgan pipeline expansion here.
Amid mounting opposition from the B.C. government, environmental groups and protesters, not to mention skittish investors, Kinder Morgan halted all non-essential spending on its $7.4-billion plan to double an existing pipeline between Edmonton and Burnaby, B.C., and gave Ottawa until the end of May to broker some calm.
Morneau says investors need certainty in order to back a project that the government has repeatedly insisted is in the national interest.
The finance minister had been engaged in intensive talks with Kinder Morgan officials up until Tuesday, but the two sides have yet to declare any common ground on the amount of federal money involved.
Today's hastily called news conference comes on the same day as the company's annual meeting in Calgary.
Morneau's talks with Kinder Morgan had their genesis a month ago, when Trudeau promised to deploy both financial and legislative tools to ensure the disputed expansion is able to proceed.
During a remarkable eight-hour stopover in the national capital, an unscheduled break from a busy overseas travel itinerary, Trudeau convened a summit in Ottawa with B.C.'s John Horgan, who has staked his government's survival on opposing the pipeline, and Alberta Premier Rachel Notley, whose province's economic health depends on it.
Trudeau instructed Morneau to sit down with Kinder Morgan to find a financial solution that would soothe their investors. He also promised legislation that would reaffirm Ottawa's authority to press ahead with a development deemed to be in Canada's national interest.
The Liberal government position is that it approved the project in 2016 after a rejigged environmental assessment and Indigenous consultation process, and in concert with the its climate change and oceans protection plan. Approval came in consultation with the previous B.C. Liberal government, which gave its consent to the project after its own conditions were met.
Horgan's election last year changed that. His minority government exists at the pleasure of the Green party, and on condition of his continued opposition to the project.
You can read more of the news on source