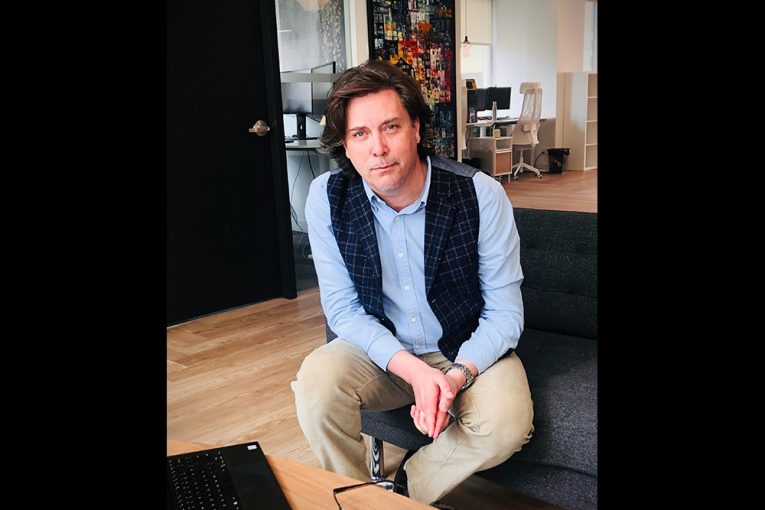 Designed by Calgary architectural firm Rule Wynn & Rule, construction of the central tower of Elveden Centre began in the early 1960s. Calgary's first "skyscraper" is still an impressive structure, and one that Mark Proud, a self-confessed fan of art and architecture, was excited to move his company into.
Design, generous space, 12-foot ceiling height and convenient location all added up to his choice of office space for enSift, his purpose-driven technology company solving some of the most overlooked and misunderstood problems facing the global energy sector today.
Co-founder and CEO Proud moved back to Calgary from the San Francisco Bay area, where he had relocated after five years with Petro Canada. When the energy industry fell apart in 2015, he made the move to Silicon Valley to work on designing an environmental governance platform he felt was so needed here.
Upon his return to Calgary he established enSift, already a hugely successful company in the forefront of developing Environmental Social and Governance (ESG), focused on compliance-management products and services.
In a world of ever-increasing regulatory burdens and challenging economics, ESG creates understanding at scale; all asset-specific documents and business intelligence resources can easily be stored and retrieved with a couple of clicks. By leveraging big data and reducing the cost of compliance, the company currently supports around 145,000 oil and gas sites.
Like many of us, Proud has been frustrated by the poor perception others have of our oil and gas industry; we have been remiss in not telling the story of just how clean our operations are.
His concern led to the startup of another company called Eimalytics to provide specific reporting to battle the bad research being used by financial institutions.
The objective is for energy companies to be able to access larger pools of capital at lower rates by providing live analytics with a high level of transparency. The initial effect has been so strong that business has already surpassed the target it was expected to reach some time next year.
Proud is always on the lookout to tell the Alberta story, and he accompanied Mayor Naheed Nenshi and the Calgary Economic Development team to the Globe Conference in Vancouver. While there, he addressed students at UBC and BCIT (where he graduated from). He says they initially had a pretty dim view of fossil fuels, but by the time he finished he had hired two of them who have since moved to work in the Calgary office.
He was also asked to address a roundtable in Silicon Valley; also a fruitful visit as he recently welcomed an experienced security engineer who is enjoying his short Calgary commute to the office versus the 50 minutes each way he had been used to. According to Proud, one of the biggest problems high-tech companies face in the U.S. is recruiting engineers.
Quality of life here, the networking opportunities, concentration of an educated workforce, the rich but still underinvested energy industry, as well as his pride in the enSift office space in Elveden Centre are among the reasons Proud has decided to make Calgary his world headquarters. There was a temptation to be in Toronto or London, England, to cover the seven companies he already serves in Europe, but he chooses to bring the world here.
And he is confident he will have to take more space in the office tower to add another 50-plus employees by the middle of next year.
Notes:
Many high schools are scrambling to find a way to recognize their graduating classes; Alberta University of the Arts has decided on a virtual convocation ceremony followed by a new website featuring an exhibition of student work curated by the university's Illingworth Kerr Gallery. Creative teams at digital communications agency Evans Hunt and post-production firm Studio Dialog, both founded by AUArts alumni, are collaborating to produce the virtual Grad Show 2020 exhibition of exceptional talent that will be live online at 11:30 a.m. on Wednesday.
David Parker appears regularly in the Herald. Read his columns online at calgaryherald.com/business. He can be reached at 403-830-4622 or by email at
.ca
.
You can read more of the news on source