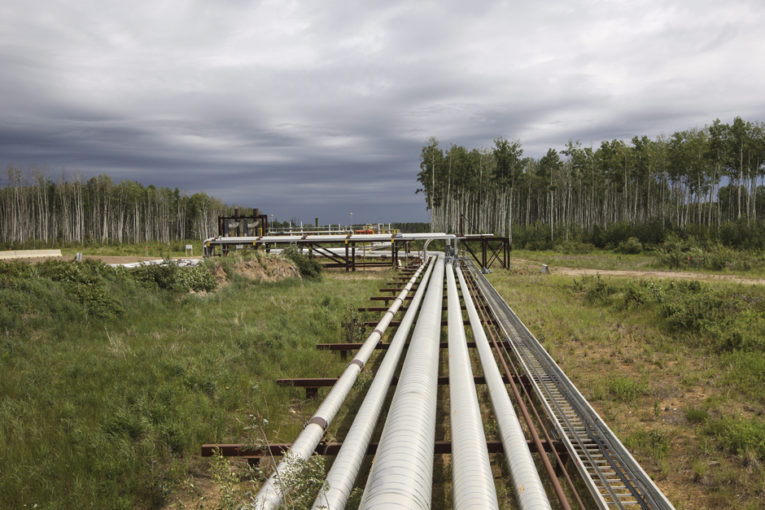 CALGARY – After three straight years of losses, Canada's oil industry is expected to return to profitability this year.
In a Thursday report, the Conference Board of Canada estimates the domestic oil industry will enjoy a slim 1.5 per cent profit margin in 2018 – that's $1.4 billion in profits on $92 billion in revenues – after years of heavy losses.
In contrast, oil producers posted cumulative losses of $32 billion over the course of the last three years as revenues declined sharply following the global collapse in oil prices.
But even as the energy sector rebounds from a three-year downturn, the Conference Board does not expect the Canadian oil sector to post the record $116 billion in revenue it did in 2014 – when oil prices were over US$100 per barrel – until 2021, when it is expected to pull in $119 billion.
"We just don't expect (oil) prices to get back to where they were in 2014 any time in the foreseeable future and so the end result is that it's a very long, slow recovery in terms of the revenue picture," said Michael Burt, director of industrial economic trends at the Conference Board of Canada.
The Conference Board report also predicts direct employment at oil producers "will expand by just 2,150 net new positions" over the next four years, when it will reach "66,470 jobs, which is still below the 2015 peak" of 72,600 jobs.
"I think it's safe to say that we're not looking at a return to booming growth in terms of the industry's performance," Burt said. "Although the industry has enacted a lot of cost-cutting to get their profitability picture improved, we're now in a situation where only the best projects are likely to go ahead in the next five years."
There would be winners and losers in the sector as it continues to trim its costs, search for new export markets and struggle with large discounts for Canadian oil barrels relative to U.S. oil, Burt said.
Similarly, National Bank Financial analysts published a report this week that suggested there were reasons to be optimistic about a handful of oil and gas producers even though "regulatory and fiscal headwinds continue to challenge the Canadian sector, creating a difficult investment environment."
The discount facing Western Canadian Select oil prices increased at the end of 2017, following a spill from the TransCanada Corp.'s Keystone pipeline and has remained high as other export pipelines are full.
National Bank analysts Travis Wood, Dan Payne and Brian Milne said in the note they were watching to see if more oil was moving out of Alberta and Saskatchewan on railway cars to clear out of the glut of crude in storage in Western Canada, which has weighed on domestic oil prices and producers.
"We expect Canadian benchmarks will remain relatively weak and volatile as the sector continues to work around limited egress availability, while production comes online," the analysts said, adding they expected Canadian oil to continue to suffer a discount of US$18 to US$22 per barrel through 2022.
Still, a handful of companies are poised to outperform the sector even amid the pressures the industry continues to face.
The bank increased its price targets on Canadian Natural Resources Ltd, Crescent Point Energy Corp., Enerplus Corp. and Whitecap Resources Inc., all of which it rates as sector outperformers.
National Bank also highlighted that major maintenance initiatives are planned at Syncrude Canada Ltd., Canadian Natural Resources Ltd.'s Athabasca oil sands project and Suncor Energy Inc.'s base plant – which cumulatively could reduce industry oil output by 650,000 barrels per day in the coming months, easing some of the stress on full pipeline networks.
Similarly, analysts at Calgary-based Peters & Co. Ltd. expect mixed results from large-cap Canadian oil producers when they begin reporting first quarter results this month.
In fact, the investment bank expects only two domestic companies – Canadian Natural and Tourmaline Oil Corp. – to report growing production and cash flow on a quarter-over-quarter basis.
Peters & Co.'s other outperformers include Cenovus Energy Inc. and Seven Generations Energy Ltd. The bank's analysts expect Husky Energy Inc. and Imperial Oil Ltd. to underperform the sector.
Canadian Natural and Seven Generations are also listed among GMP First Energy's "best ideas" in the energy sector, alongside Enerplus, Whitecap, BlackPearl Resources Inc. and Advantage Oil & Gas Ltd.
• Email: [email protected] | Twitter: geoffreymorgan
You can read more of the news on source