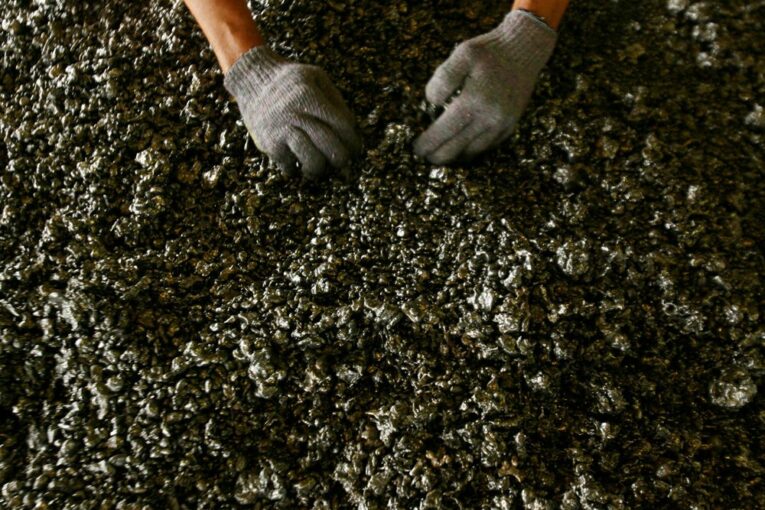 Record nickel prices could jumpstart a half-dozen mining projects in Canada.
Prices have been climbing steadily for months, as investors bet supply for the metal, a key ingredient in batteries, would fall short of growing demand for electric vehicles. Then, on March 8, the price surged to US$100,000 per tonne on the London Metal Exchange (LME) from about US$20,000 per tonne before trading was halted.
The LME attributed the surge to concerns about Russia's invasion of Ukraine, which accounts for 11.2 per cent of world nickel production, according to Statistics Canada. Analysts and industry executives also pointed to rumours that a large investor had staked out a short position on the metal, and were applying a squeeze.
A short position is essentially a bet that the price of an asset will fall, and a squeeze is an attempt by another investor to exploit that position.
"The last couple days, you almost have to set them aside," said Martin Turenne, chief executive of FPX Nickel Corp., which is developing a nickel project in central British Columbia. "It's a very particular short squeeze that's being just incredibly messy, but you know the nickel price will settle back down to a more normal range when these winds have passed."
Still, Turenne said the dramatic trading day in London was only the latest sign that the nickel market is rapidly heating up as automakers look to establish battery supply chains. That adds a major source of new demand to a metal that is still primarily used to make stainless steel.
"Two or three years ago, nickel was still a four-letter word," said Turenne. "It had a pretty grim track record and it'd been oversupplied over the past years."
Two or three years ago, nickel was still a four-letter word

Martin Turenne
But in the first months of 2020, Turenne said his phone suddenly started ringing, as diversified mining companies turned bullish on nickel. Soon, automakers and battery makers were getting in touch to inquire about FPX Nickel's project.
Prior to the pandemic, nickel prices had been trading under US$20,000 per tonne, and in recent months had crossed above that threshold, although they were nowhere near the US$100,000 per tonne mark reached this week.
But even at a price of around US$20,000 per tonne, nickel projects in British Columbia, Ontario and Quebec were having little trouble getting investors excited.
Earlier this year, Wyloo Metals Pty Ltd., a private company backed by Australian billionaire Andrew Forrest, paid $617 million for the Ring of Fire project in Ontario's James Bay Lowlands, citing the prospective nickel projects in the area, in addition to other metal deposits.
FPX's flagship Baptiste nickel deposit remains years away from construction, and first production would not occur until 2029, Turenne said.
In 2020, FPX conducted a preliminary economic assessment of Baptiste that assumed nickel prices of around US$17,000 per pound, which concluded it would have a pre-tax internal rate of return of 22.5 per cent. 
Since then, however, nickel prices have only increased.
"It's kind of like a car rolling down a hill," said Mark Selby, chief executive of Canada Nickel Co. Ltd., which is developing a project near Timmins, Ontario. "Everyone starts saying a car is rolling down a hill and then suddenly it's over the edge."
Selby said total nickel demand grew 15 per cent in 2021, a rate three to five times higher than the growth curve for other base metals.
Much of the new supply has come from Indonesia, where in 2021, Jim Lennon, a senior commodities analyst at Macquarie wrote there has been "a flood" of new capacity, estimating that its share of world production would grow to 60 per cent by 2028 from 28 per cent in 2020.
Canada, meanwhile, is the sixth largest nickel supplier in the world, accounting for 6.7 per cent of nickel production in 2020 according to Statistics Canada, with production centred around operations owned by Glencore PLC and Vale SA in Ontario, Quebec, Manitoba, and Newfoundland and Labrador.
I don't think investors are awake yet to how critical these deposits are to solving North America's auto challenges

Martin Turenne
But Selby and Turenne noted that Indonesia still uses a lot of coal for electricity, whereas Canada has a comparatively cleaner grid, which should attract automakers looking for a less-intensive carbon footprint as they pivot to electric vehicles.
Turenne said the biggest change for the nickel market is still coming.
Traditionally, companies that need a metal sign "off-take agreements," which entitle them to a portion of the metal from a mine, usually at market prices. Turenne said he thinks that as electric vehicle sales kick in during the next decade, automakers will try to lock in supplies, and insulate themselves against price shocks by purchasing nickel mines, or majority stakes in nickel mines.
"I don't think investors are awake yet to how critical these deposits are to solving North America's auto challenges," said Turenne. "I think these types of moments will make them think about how they're going to secure their supply."
• Email: [email protected] | Twitter: GabeFriedz
You can read more of the news on source