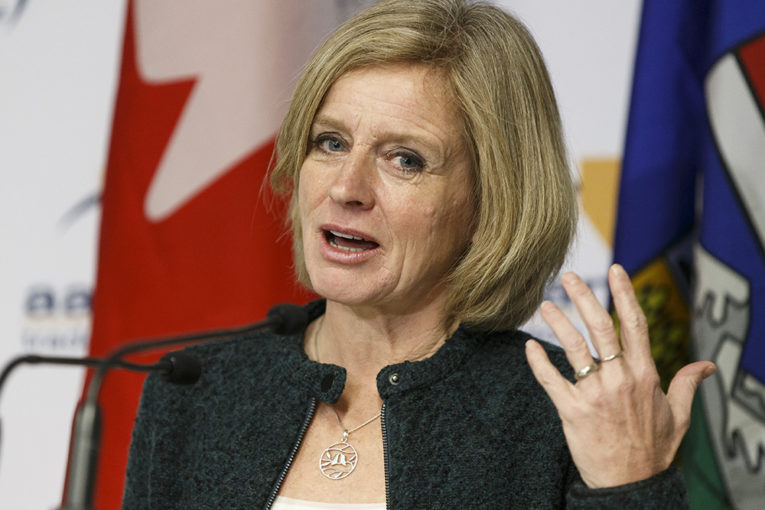 Premier Rachel Notley says she'll make the case for pipelines in Vancouver next week with a reasoned argument, not empty threats.
She won't be making that argument to her British Columbia counterpart, however, with no meeting scheduled with her fellow NDP premier, John Horgan.
Notley was in Toronto and Ottawa earlier this week to make her pro-pipeline pitch — specifically around Kinder Morgan's planned expansion of its Trans Mountain line to the Pacific Ocean — and she will make a speech to the Vancouver Board of Trade next Thursday.
Speaking at a Calgary Chamber of Commerce luncheon Friday, the premier said that when she's on the West Coast she will reassure British Columbians about the safety and environmental safeguards in place and stress the economic benefits that can come to both provinces from Trans Mountain.
"There will not be cheap shots or grandstanding, and there won't be misleading information or name-calling," Notley told the crowd of about 800 people at the Telus Convention Centre.
"B.C. and Alberta actually share very, very deep ties … Our economies are linked in so, so many ways, so our good fortune is their good fortune and vice-versa. So I know that we can have a thoughtful and a constructive conversation."
Trans Mountain has received federal approval from the Liberal cabinet, but it faces stiff opposition from B.C.'s NDP government — as well as many of that province's municipalities and First Nations.
Kinder Morgan has accused Burnaby of intentionally stalling on issuing permits, in a case that will be heard by the National Energy Board. Both the B.C. and Alberta governments also have intervener status — on opposite sides — of a lawsuit attempting to halt Trans Mountain.
Notley's strategy around pipelines, which has linked development with an ambitious climate change plan, has faced ferocious criticism from the newly formed United Conservative Party.
UCP Leader Jason Kenney wants Alberta to take a harder line, with threats of legal action against the federal Liberal government and economic retaliation against B.C. if pipelines continue to be stalled.
Speaking at the Alberta Urban Municipalities Association convention Friday morning, Kenney said a UCP government would "stand up vigorously, not reluctantly" for Alberta's resource sector.
"We will make it clear to our friends in British Columbia if they use dilatory measures to violate the rule of law … by blocking the construction of the Kinder Morgan Trans Mountain pipeline expansion, that there will be consequences," said Kenney, who has previously suggested cutting Alberta oil and gas exports to B.C. through the existing pipeline.
But Notley told the chamber crowd that Albertans need to unite across party lines to "pull in the same direction" on pipelines. She said she was there to ask for help from Calgary's business community "to join the fight to get this pipeline built – for the future of our province and the future of our country."
Related
Braid: NDP hopes tide is turning as Notley gets cheers in Calgary
Stop denying climate change, says Notley, it's not helping our oil industry
Notley challenges Trudeau government to stand up for pipelines
Notley got a famously cool reception the last time she addressed the Calgary chamber two years ago, but received a standing ovation at the end of her speech Friday.
The premier was introduced by Ian Anderson, president of Kinder Morgan Canada, who acknowledged that shovels are not yet in the ground for Trans Mountain despite it receiving federal approval a year ago.
He said he would be with Notley in Vancouver next week to make the case for pipelines and address the "complicated web of issues and concerns" at play around the issue.
"You've been a strong and unwavering partner of ours and our industry," Anderson said to Notley. "Your voice is being heard across the country."
Alberta wants the Kinder Morgan pipeline to move forward so the province's oilsands crude can access the Asia-Pacific market and get a better price.
Notley has brought her pipeline message to B.C. in the past, including a trip last December, but she said it's important to keep hammering home the point about the potential economic benefits.
She won't meet with Horgan this time around, saying the trip is aimed primarily at winning support among the general public — especially in the Lower Mainland where opposition to Kinder Morgan is the most intense.
Notley said she has spoken to Horgan and believes the B.C. government is not taking active steps against Kinder Morgan beyond its intervention in the ongoing court cases.
"We'll see what happens after that. The lines of communication are open," she said.
In an email statement, Horgan's office said the two premiers are onside with each other on many issues but have agreed to disagree on Trans Mountain.
"The pipeline is not in B.C.'s best interests, and Premier Horgan's government is using every tool in the toolbox to protect our coast from the proposed expansion of the pipeline and increased tanker traffic," said the statement.
You can read more of the news on source