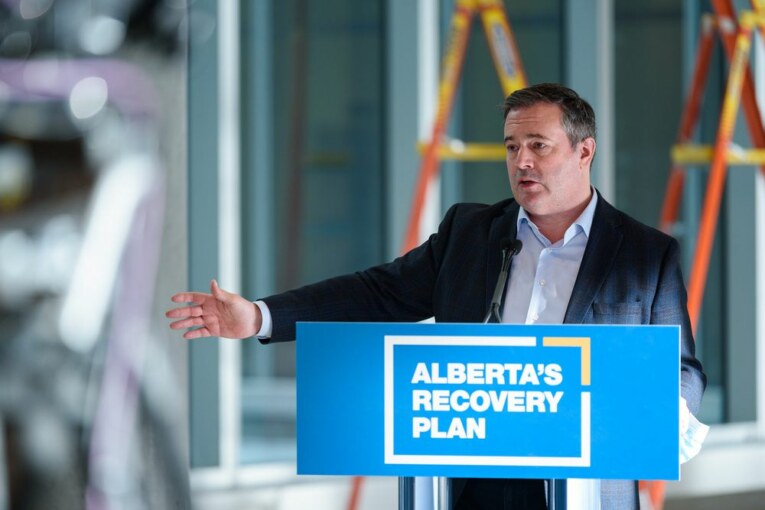 Minutes into a National Post editorial board meeting, Jason Kenney springs a tantalizing sales pitch for the Toronto-based journalists: we should all move to Calgary.
"You could sell your homes there and buy the same home here at 50 per cent of the cost, mortgage free, bank the rest and pay lower taxes. And you don't have to live on the QEW or the 905 — this is an absolute no-brainer," he said. "I'm not joking."
It's hard to fault the premier of Alberta for putting a nice spin on an economic depression.
Alberta home prices are trailing Ontario and British Columbia markets as the Prairie province's economy took a beating during a 70-per-cent plunge in oil prices between 2014 and 2016. The economy contracted in 2015 , and then again in 2016, as the oil industry lost workers, inward migration ebbed, and companies went bankrupt, leaving high vacancy rates across the real estate space in its wake.
Any green shoots of recovery that had sprung up near the end of the last decade blew away as the twin health and commodity crises caused by COVID-19 raged on.
Last year, Alberta's gross domestic product (GDP) contracted 7.9 per cent — the worst in Canada. The popularity of Kenney and his United Conservative Party government have plummeted, with 51 per cent of Albertans indicating they would not vote for the UCP under any leader, according to a recent Leger poll . (The next provincial election is in 2023.)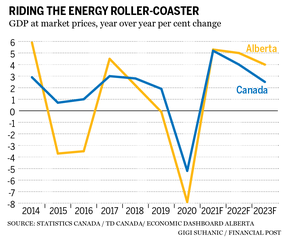 But Kenney's prospects could perk up on the back of resurgent oil prices. The province is set to be among the fastest-growing economies in Canada this year and in 2022, according to Bank of Nova Scotia's economics department.
"Growth in Alberta was so strong in 2021 — but we had a bigger hole to come out of," said Charles St-Arnaud, chief economist at Alberta Central, a trade association for the province's credit unions.
He expects the provincial economy to eclipse the previous economic peak of 2014 by next year.
In years past, a surge in oil prices would herald a rush of investment. Not this time, as a chastened oil industry has so far resisted the temptation to splurge on capital spending.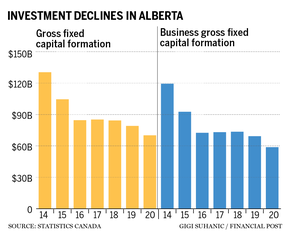 However, a slew of recent announcements related to petrochemicals, hydrogen and non-oil sector projects have boosted Kenney's hopes that carbon-constraining technologies will unleash a new wave of investment in the capital-starved province.
"We are expecting another $12 billion of investment in major petrochemical projects," he said.
Still, the pure oil and gas sector remains a key economic driver. One of the most powerful and least advertised stories of 2021 in the Canadian economy was the turnaround in Alberta's oil and gas industry, with both the volume and value of oil production in the province surpassing its 2014 peak, according to St-Arnaud.
"We produced about $10 billion of Canadian oil in October — the previous record was $7.7 billion in 2014," the economist said. "That's powerful income generation."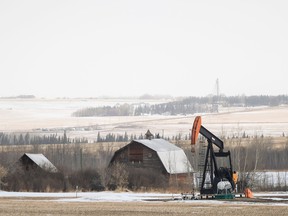 The windfall will cascade across the country in the form of higher exports, taxes and business activity, and help Ottawa lower its budget deficit this year.
Yet Kenney and the industry remain uneasy since environmental, social and corporate governance (ESG) issues continue to haunt the province, given the oilsands' reputation as a producer of one of the most carbon-intensive barrels on earth.
In October, Canada's largest banks pledged to join Mark Carney's Net-Zero Banking Alliance as part of a global initiative to accelerate efforts to address climate change.
Alberta worries the Canadian banking industry — fearing a backlash from its stakeholders and the wider global financial community — will squeeze financing for the oilsands.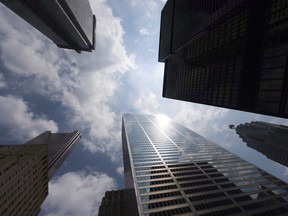 Kenney and Travis Toews, Alberta's finance minister, had planned a charm offensive this month to meet Bay Street's top banking chief executives, but were forced to meet virtually because of Omicron fears.
"Yes, there is a concern in the energy sector here about access to capital," Kenney said. "One of the reasons we were going to be on Bay Street, and we will be communicating that to bank CEOs, is that we have to work together on this — I mean, even Mark Carney says divestment is not the way forward."
D for don't divest
For now, the global financial community continues to put pressure on the oilsands. Many European banks have shunned funding for new oilsands projects, while high-profile pension and investment funds are weeding out oilsands stocks from their holdings.
But the consequences of an ill-timed retreat from fossil fuels are already playing out in the global economy, Toews said.
Even Mark Carney says divestment is not the way forward

Jason Kenney
Energy shortages in Europe and Asia have led to record prices in those regions and the temporary closures of key gas-dependent industries such as fertilizer facilities, which, in turn, is fuelling higher food prices.
"That's all related to a hasty energy divestment," Toews said. "On top of that, it pushes the whole decarbonizing agenda backwards."
Bay Street remains supportive of the oilsands, but it has yet to find the sweet spot where it can curb the industry's emissions without strangling growth.
"The notion that we can starve that sector of capital is reckless," Kenney said. "It would have massive negative consequences for the broader Canadian economy in which those banks and Canadian financial institutions are so deeply invested."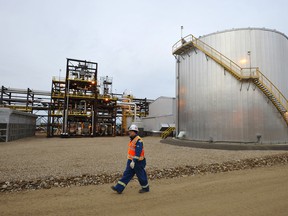 To counter the criticism surrounding their carbon emissions, Alberta's biggest oil companies launched The Oil Sands Pathway to Net Zero earlier this year, aiming to achieve net-zero greenhouse gas (GHG) emissions from their oilsands operations by 2050.
A key anchor of the strategy is expanding carbon capture utilization and storage (CCUS) technology. CCUS has not lived up to its promise, but it has quickly gained popularity in Canada as well as across the world as one of the many silver bullets needed to rein in emissions.
It's also expensive, and would require a sizable chunk of the $75 billion needed to decarbonize the oilsands, according to industry executives.
And that makes Kenney's job awkward.
The premier has to walk the tightrope of helping secure funding from the federal government, but also push back on  the "Ottawa-knows-best" policies that so irk the Prairies.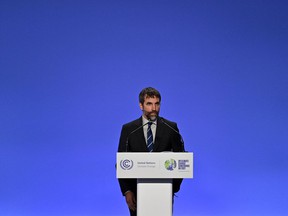 The latest insult from Ottawa, at least from Alberta's point of view, was Steven Guilbeault's appointment as minister of environment and climate change. A former environmental activist, Guilbeault was famously arrested in 2001 for scaling Toronto's CN Tower and unfurling a flag bearing the words: "Canada and Bush Climate Killers."
But Guilbeault's visit to Calgary to meet oil executives and policy-makers earlier this month signalled a more moderate stance.
"My issue has always been with pollution," Guilbeault told the Calgary Herald in December. "But I'm part of a government that has been very clear on this: We're not going after production; we are going after the emissions."
Kenney wants to be clear, too.
We are serious about reducing emissions here

Jason Kenney
"We are serious about reducing emissions here… That's the message we continue to send. If (Guilbeault ) is serious about this, then he will step up with his government for significant investment in carbon capture utilization storage through the investment credit."
The big ask of Ottawa: An investment tax credit of as much as 45 per cent.
"We are expecting those in the next 2022 federal budget," Kenney said.
In its latest federal budget, Ottawa proposed the introduction of an investment tax credit for capital invested in CCUS projects with the goal of reducing emissions by at least 15 megatonnes of CO2 annually.
"Putting this measure into effect continues to be a priority," Samantha Bayard, spokesperson for Minister Guilbeault, said in a statement, noting that the government has carried out an extensive consultation process to gather feedback on the proposed measure.
"This included the rate of the incentive to achieve the government's goal," Bayard noted.
If the funding comes through, it will likely feature stringent and targeted measures.
Prime Minister Justin Trudeau's mandate letter to Guilbeault instructs his environment minister to ensure the oil and gas sector reduces its "emissions at a pace and on a scale needed to align with the achievement of net-zero emissions by 2050, with five-year targets to stay on track."
The S&G in ESG
Another major concern in the West is the fate of Enbridge Inc.'s Line 5, a 60-year-old oil pipeline that Michigan Governor Gretchen Whitmer, an ally of United States President Joe Biden, wants to shut down due to environmental concerns.
The 540,000-bpd conduit connects Alberta to Midwest refineries, crossing the Great Lakes to reach Canadian refineries fuelling Ontario and Quebec.
An alarmed Ottawa recently took the dire measure of invoking an obscure Canada-U.S. trade rule, the 1977 Transit Pipeline Treaty, to keep the pipeline open.
"Let me be blunt: I believe this is all political theatre from Governor Whitmer," Kenney said, noting that his discussions with politicians and industry bodies in Michigan two years ago suggested high support for the pipeline.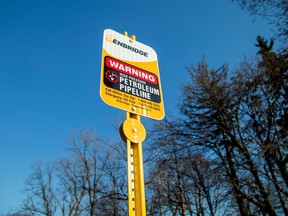 The threat of closing the cross-border pipeline comes after the White House scrapped the ill-fated Keystone XL Alberta-to-Nebraska oil pipeline bankrolled by TC Energy Inc. and the Alberta government.
Since then, the U.S. has endured high gasoline prices, forcing the president to release barrels from the country's strategic reserves and urge Organization of the Petroleum Exporting Countries (OPEC) members to pump more oil.
Proponents of Keystone XL falsely claim the pipeline would have calmed runaway energy prices in the U.S. this year — KXL would have taken a few years to be built — but the idea of spurning oil from an ally and pleading with frenemies has been a disturbing trend for Alberta, which would like to see itself as the supplier of last resort for its all-important trade partner.
Biden, Kenney said, is "now importing 840,000 bpd of Putin's dirty oligarch oil," and needs to act on saving Line 5.
"President Biden should … pick up the phone, call Governor Whitmer to say: 'This is ridiculous. I am begging OPEC to ship us more oil. We have a serious problem with energy inflation in the American economy. What are you talking about trying to do, in one fell swoop, stop 540,000-bpd of light Canadian crude from refineries in the Upper Midwest.'"
Line 5 is among the many hot files between the U.S. and Canada, which also include disagreements over the U.S.'s proposed electric-vehicle tax credits, Canada's proposed digital service taxes, and the perennial softwood lumber dispute.
Another flashpoint: a lawsuit by TC Energy and the Alberta government against the Biden administration for cancelling KXL on environmental grounds.
"We talk about ESG. Why is it that we are only talking about one issue, which is carbon emissions?" Kenney said. "Do we really think the Russians, the Nigerians, the Venezuelans and the Iranians are being transparent about their carbon emissions? What about the non-CO2 environmental issues?"
It's hard for Alberta to get its message across, but the premier senses an opportunity as the global resolve to decarbonize quickly shows signs of weakening amid surging energy prices.
"Our message to the capital markets is this: As long as the world needs this kind of energy and if you are actually committed to real, authentic ESG standards, then you would first and foremost be supporting Canadian industry," Kenney said.
Financial Post
• Email: [email protected] | Twitter: Yad_FPEnergy
_____________________________________________________________
 If you liked this story, sign up for more in the FP Energy newsletter.

______________________________________________________________
You can read more of the news on source