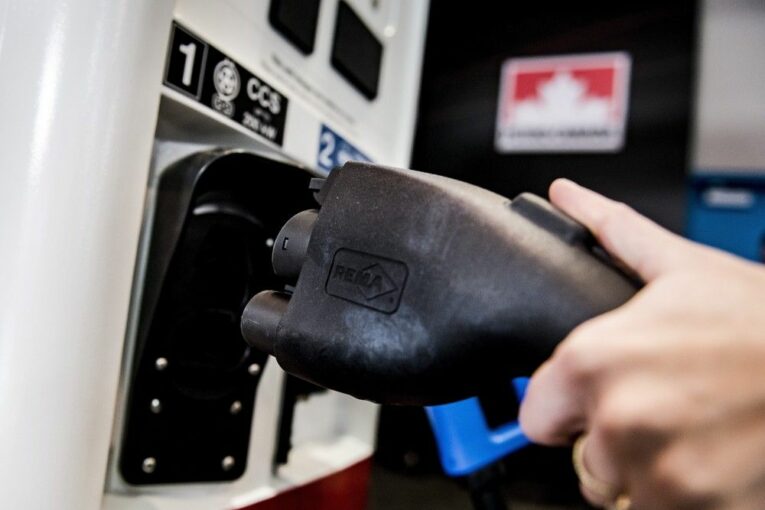 Incentives will likely be required to ensure people are not charging electric vehicles during prime hours, according to the results of a pilot project.
We apologize, but this video has failed to load.
Try refreshing your browser, or
tap here to see other videos from our team.
Incentives likely required to get EV owners to charge during low-demand hours: report
Back to video
Enmax Power released the results of an EV smart charging pilot called Charge Up, which showed people only powered up in non-prime hours when given a 3.5 cents per-kilowatt-hour break on their bill. But when that incentive was removed halfway through the study, participants largely stopped charging during low-demand periods. Education efforts had little effect on usage.
"I was kind of surprised that that social nudge did nothing," said Blake Shaffer, assistant professor at the University of Calgary's School of Public Policy. "Habit formation did not end up being a thing. As soon as we stopped paying people, they reverted back to original behaviour. So, bottom line on this study is that a little bit of incentive goes a long way in terms of shifting behaviour to be less impactful on the electricity grid."
The group of 160 EV owners in Calgary were split into three groups for the study that began in 2021: one that was provided educational information about non-prime charging, one that received educational information and the incentive, and a control group. Most EV users recorded daily top-up charges averaging 9.4 kWh. With the incentive, about 70 per cent of charging took place between 10 p.m. and 6 a.m.
Bulk of EVs in Calgary will be purchased after 2030: Enmax president
Jana Mosley, president of Enmax Power, said the study was important to help establish a plan for the transition to EVs. The federal government has mandated any new passenger vehicle and light truck sold in Canada after 2035 be electric. The transition will begin in 2026 with a 20 per cent requirement.
Enmax Power said there are currently about 3,000 EVs in Calgary, a number expected to hit 200,000 by 2035, with Mosely saying the bulk of those will come after 2030.
"Electric vehicle adoption is increasing," said Mosley. "We need to continue to understand how the charging behaviour is going to affect our system and what can we do to make sure that we're enabling the choices that our customers are making now and in the future, while also continuing to provide safe and reliable service to all customers."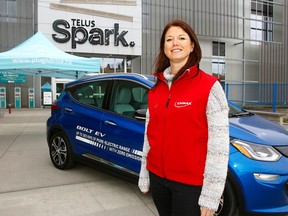 The majority of households in the study also had a traditional vehicle, but the EV was the primary vehicle, logging on average 24,000 kilometres a year.
Shaffer is not concerned about the demands a shift to electric vehicles will place on the grid.
He said it's estimated it will double the residential demands on the power grid, but noted residential demand currently only makes up 20 per cent of total demand — working out to slightly more than a one per cent increase a year to 2035.
Recommended from Editorial
What's it like to drive an EV in Canadian winters? Albertans weigh in

Save money on a new EV with these federal and provincial rebates

Opinion: Ottawa's drive toward electric vehicle transformation could hit the ditch
EVs can be placed on timer to charge at specific hours
The Alberta Electric System Operator said EV power demand in 2022 was 80 GW, less than one per cent of annual demand. It forecasts this to rise to 6,128 GW in 2035, about six per cent of total demand for the year.
Shaffer has greater concern that the distribution system is not set up to handle such as increased surge at 6 p.m. The solution, he said, will likely come in the form of smart charging, by setting a timer for charging during non-peak hours.
"If we do more of that, that's going to spread out the period of charging into periods that are less stressful for the grid," said Shaffer.
"This is a really important area because what we're finding is EV owners have tremendous flexibility and, like the study shows, they don't need to be rewarded very much to give up that flexibility or to exercise that flexibility."
There are also a number of projects currently in place to beef up Alberta's energy supply, including the final transition of the Genesee power plant from coal to natural gas, and a number of solar and wind projects that continue to come online.
Mosley said Enmax is also working on studies that would leverage two-way processes for household batteries to feed energy back into the grid like solar panels when EVs are not charging.
"We have a few pilot projects that are going on that really focus more on home energy-management systems," she said. "We're leveraging what might be happening, say, with rooftop solar panels on homes, as well as the EV battery that they have in their garage."
Twitter: @Joshaldrich03
You can read more of the news on source