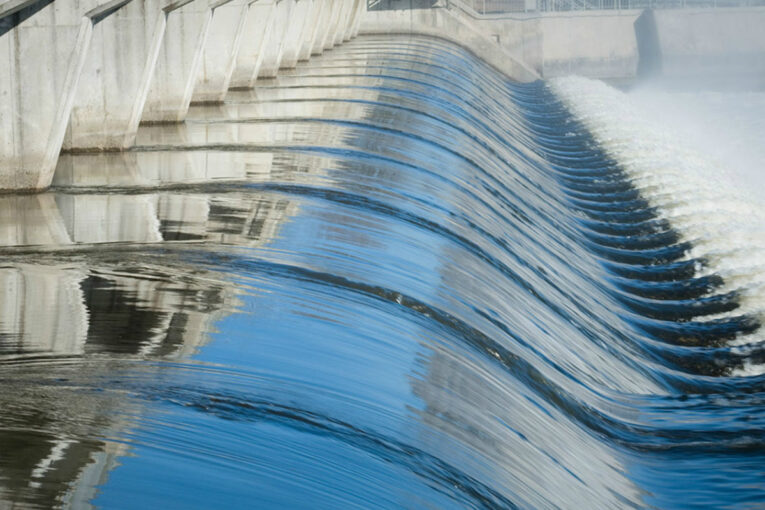 LITTLETON, Colorado, (Reuters) – The failure of the Nova Kakhovka dam in southern Ukraine this week has brought sharp focus on the important role that hydroelectric dams play in energy generation around the world, and the struggles many are under in 2023 due to harsh weather.
The breach of the Kakhovka dam came after the facility had been dealing with historically high water levels in recent weeks, but a majority of global hydro facilities have had the opposite problem of depleted water levels in recent months, which was hampered electricity generation potential.
Electricity generation from hydro power sources has fallen in Asia, Europe and North America over the opening months of 2023 from the same period in 2022, crimping a key source of clean power generation for electricity providers.
Data on output from hydro dams in Ukraine and Russia has been cut off to data providers since Russia's invasion of Ukraine in early 2022, but historically Ukraine has generated roughly 5%-7% of its electricity from hydro sources, and in Russia hydro power generates around 18%-20% of electricity.
GLOBAL DIP
In the opening quarter of 2023, global hydro-powered electricity generation dropped by close to 4% from the same period in 2022, due to output falls in key hydro producers China, the U.S., India, Vietnam and Turkey, data from Ember shows.
Reduced supplies of non-emitting hydro power in those and other countries means that utilities there must rely on other sources of dispatchable power, such as natural gas or coal, to meet electricity demand needs and complement growing volumes of intermittent renewable energy flowing through electricity grids.
Hot and dry conditions in several key areas throughout the coming northern hemisphere summer may further reduce hydro power production potential, and place even greater strain on global power grids that are already struggling to meet rising demand for air conditioners and other uses.
ASIA HEAVYWEIGHTS
Roughly 43% of global hydropower is generation capacity is in Asia, by far the top hydro-producing region.
China, the top global hydro power, alone has 30% of global capacity, but in the opening months of 2023 has seen hydro generation fall 7.2% from the same period in 2022 due to reduced precipitation and hot, dry conditions in key hydro hubs in the Yunnan province.
India, Asia's next largest hydro producer and the sixth largest overall, has seen output fall by nearly 5% in early 2023 from early 2022, also due to dry, hot weather.
Vietnam, the ninth largest global hydro producer, is currently in the grips of an extended heatwave, and has seen output drop by 10.5% in the opening quarter of this year from the year before.
In contrast, hydro output in Japan has increased by nearly 16% from year-before levels, Ember data shows.
EUROPE'S MIXED BAG
Europe has around 22% of global hydro generation capacity, and has had a mixed hydro output record so far in 2023.
Norway, Sweden, France, Turkey and Italy and all major hydro producers, and have seen their collective output decline by around 8% in the first quarter of 2023 from 2022.
The biggest output decline has come in Turkey, due to an extended drought, while output in Switzerland and Austria is so far above year-ago levels.
NORTH & SOUTH AMERICA
Canada is North America's largest hydro producer, but the U.S. has suffered the biggest output falls this year.
Drier than normal conditions in Washington, Arizona, Nevada and Colorado – all key hydro states – have dragged overall hydro generation 17% lower in the opening four months of 2023 from the same period in 2022, Ember data shows.
Mexico's output is down around 15% from 2022's total due to similar conditions.
In contrast, hydro output in Latin America is trending above year-ago levels, with Brazil, the third largest hydro producer globally, seeing production run around 3.4% above 2022's levels, and Colombia experiencing a roughly 10% increase.
All together, worldwide hydro production has gotten off to a weak start in 2023, and will likely deteriorate further in the wake of the Kakhovka dam failure and as temperatures rise during the hottest part of the northern hemisphere summer.
Share This:
---
You can read more of the news on source