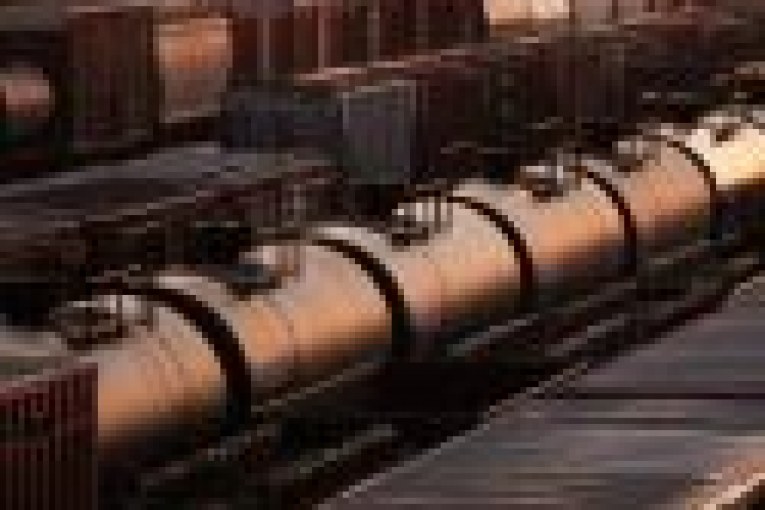 OTTAWA — Alberta is in talks to buy rail cars to transport 120,000 barrels per day (bpd) of crude oil and expects a deal to conclude within weeks, Premier Rachel Notley said on Wednesday, as the energy-rich province takes actions to move oil stuck in the region because of a lack of pipeline capacity.
Notley, who says the cars are needed to help deal with stranded oil that has slashed the price of Alberta oil, told a business audience she was disappointed that the federal government was not helping fund the purchase.
Reuters revealed last week that Alberta had proposed a joint purchase of two unit trains and estimated the one-time capital cost at about $350 million. Federal officials are cool to the idea, saying that by the time the first cars come on line late next year the supply problems will have eased.
Alberta estimates that it is producing about 250,000 bpd more than can be shipped using existing pipeline and rail capacity.
"Alberta will buy the rail cars ourselves to move this oil," Notley said in her speech. "We have already engaged a third-party to negotiate and work is well under way. We anticipate conclusion of the deal within weeks."
She later told reporters a deal could be announced before year end.
The office of the federal natural resources minister, Amarjeet Sohi, was not immediately available for comment.
Based on the initial talks, Alberta expects the first 15,000 bpd of capacity to come online in December 2019, ramping up to the full 120,000 bpd by August 2020, with the agreement running for three years.
The added transport capacity is expected to improve the Canadian crude discount by about US$4 over the three-year term, the government said.
Under the expected timeline, the first rail cars would roll out just as an expansion of Enbridge Inc's Line 3 oil export pipeline is set to start operation. Two other major pipeline expansions are also in the works, though timing is unclear.
Notley, who reiterated her demand for more pipeline capacity, said the cost of buying the cars would be fully recouped through royalties and the selling of shipping capacity.
FEDERAL HELP WANTED
Notley said there was "no excuse" for Ottawa not helping and castigated the government of Prime Minister Justin Trudeau for proposing tougher environmental standards that she said would make it harder than ever to build pipelines.
The supply glut "is happening because Canada willfully holds Alberta's economy and Canada's economy hostage," she said, estimating the losses at $80 million a day.
Ottawa denies it is being unhelpful, noting that earlier this year it bought the Trans Mountain pipeline.
Canada willfully holds Alberta's economy and Canada's economy hostage

Rachel Notley
Several Canadian crude producers have curtailed production and asked Alberta to mandate cuts for other producers. Notley did not mention this idea in her speech.
Her spokeswoman said Alberta province was not considering a "royalty holiday" to incentivize production cuts, but said a number of tools are being considered, including the way royalties are applied. She provided no other details.
Last week federal Finance Minister Bill Morneau said businesses would be allowed to write off additional capital investments, something that he said oil industry executives had pressed for.
© Thomson Reuters 2018
Kevin Carmichael: If patriotism works for marketers, then it will work for lobbyists — and that's worrying
Any funds withdrawn from your RRSP must be are included in your income
'Our first priority is to complete the remaining items of our investigation and bring the company's operations into full regulatory compliance'
These small reactors could fill energy needs in remote locations and rejuvenate an uncertain industry
You can read more of the news on source