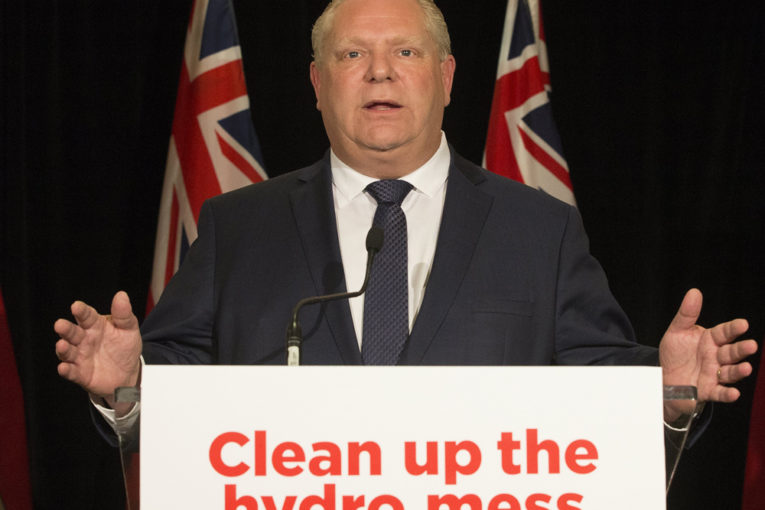 As a pay raise for Hydro One Ltd.'s board of directors stirred up fresh political controversy, the head of the company said Tuesday that they are looking forward to the end of Ontario's provincial election campaign on June 7.
"Politics around hydro as a commodity has been very high, but… unfortunately, the focus has come on to Hydro One a good bit," said Mayo Schmidt, president and chief executive officer of Hydro One, during a conference call with analysts.
Toronto-based Hydro One also reported on Tuesday net income attributable to common shareholders of $222 million for the quarter ended March 31, up nearly 33 per cent from a year ago. Hydro One also boosted its quarterly dividend by five per cent, to 23 cents per share, payable June 29.
The company, Ontario's largest electricity distribution and transmission utility, said the increase in profit was driven by the favourable impact of a regulatory decision on Hydro One's transmission rates, as well as the positive effects of colder weather and cost control.
But the company has not been able to escape the spotlight in Ontario's provincial election campaign.
"We're quite frankly looking forward to … getting through the election," Schmidt said. "We don't have a view or a bias in that election, but the fact is that I think in our view would be, once we clear it and the hydro or electricity becomes less of a, let's say a lightning rod, that things will smooth out."
"But we're not losing our focus as an organization in the meantime," he added.
The CEO noted Hydro One has a governance agreement with the province, which he called a "shareholder, not a manager of the business."
Even so, Hydro One's executive pay has been turned into a key campaign issue in the run-up to the provincial election.
Ontario Progressive Conservative Leader Doug Ford, who has been leading in the polls, has referred to Schmidt as the "$6-million dollar man," and has vowed to remove him and the entire board of Hydro One if he is elected.
Schmidt earned approximately $6.2 million as president and CEO last year, and is entitled to millions in severance if he is terminated without cause, according to Hydro One's management information circular, which has also stoked political controversy.
The Liberal government had said it would be abstaining from voting on the company's "say-on-pay" shareholder resolution at the company's annual general meeting on Tuesday. In response, Hydro One chair David Denison said the utility would seek additional advice, hold discussions with shareholders and review its current compensation practices.
On Tuesday, the company's compensation practices faced criticism again, after it came to light that, following a review of its peers, Hydro One's board had approved pay raises for itself. Effective Jan. 1, the annual retainer for regular directors was increased $25,000, to $185,000, and the chair's annual retainer was increased $70,000, to $330,000.
"The increase in directors' compensation will bring the Hydro One board closer to, but still below median of, this broader peer group," the company's management information circular said.
Hydro One directors were paid half in cash, half in shares for 2017.
The actions of Hydro One have received particular scrutiny, as the company used to be solely owned by Ontario. The province's Liberal government began selling shares of Hydro One in 2015, with the utility now around 47 per cent government-owned, according to Bloomberg.
Schmidt said the company was managing to lower the cost of power for its customers by an average of 31 per cent over the next three years, and pointed to an Ontario electricity fee, global adjustment — tied to electricity generation, not the transmission or distribution that Hydro One handles — as causing "certain strains" on customer budgets. Ontario's Liberal government implemented a plan last year to lower household power bills by an average of 25 per cent, partly by "refinancing" that global adjustment with borrowed money.
Meanwhile, Hydro One is also making headway on its $6.7-billion pending acquisition of U.S.-based energy company Avista Corp., with settlement agreements filed in Washington, Alaska and Idaho, in addition to the deal receiving anti-trust clearance and approvals from the U.S. Federal Energy Regulatory Commission and U.S. Federal Communications Commission.
"We're monitoring, we're running our business as investors would expect us to," Schmidt said.
Shares of Hydro One had gained about 1.2 per cent as of midday Tuesday, trading at around $19.52. The company's stock price is down nearly 13 per cent for the year.
• Email: [email protected] | Twitter: GeoffZochodne
You can read more of the news on source