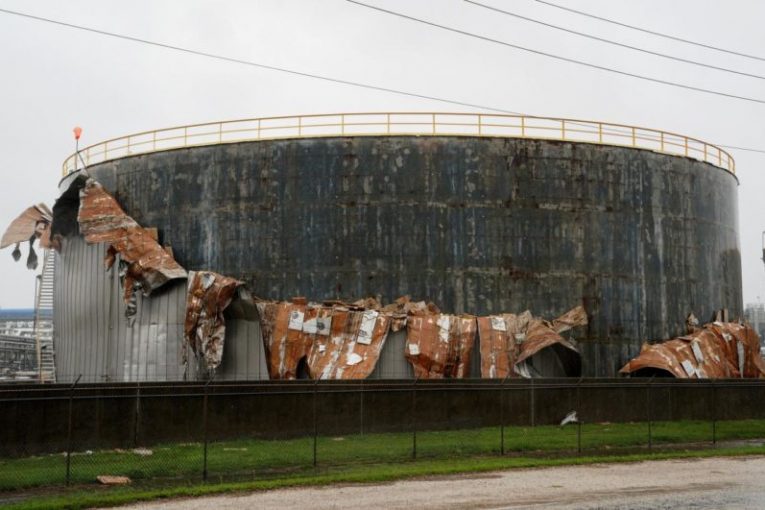 Harvey threatens more U.S. oil refineries after heavy rains
HOUSTON (Reuters) – Heavy rains and flooding from Tropical Storm Harvey threatened more oil refineries along the Louisiana coast after hammering plants in Texas, forcing Exxon Mobil Corp and Citgo Petroleum to consider shutdowns.
The storm dropped back over the Gulf of Mexico on Monday, sending heavy rains from Houston through to Lake Charles, Louisiana. Between five and 15 inches of rain was expected in south-central Louisiana, the National Hurricane Center said on Tuesday.
The Gulf Coast is home to nearly half the U.S. refining capacity, and nearly 2.7 million barrels per day, or nearly 15 percent of U.S. refining capacity, is already shut off. Restarting those plants even under the best conditions can take a week or more.
Louisiana is home to about 3.3 million barrels of daily capacity; Texas has about 5.6 million barrels.
U.S. gasoline futures on Tuesday rose 0.9 percent to $1.73 a gallon, and have jumped about 6 percent since last Wednesday's prestorm close. Heating oil futures, a proxy for diesel and other distillates, added 0.5 percent.
Fuel prices are expected to keep rising as refining capacity remains down because of the storm. In cash trading on Monday, the spread between Gulf Coast gasoline prices and benchmark futures hit a five-year high in anticipation of constrained supply.
The full impact of the refining outages, which began last week when Harvey slammed into Corpus Christi, Texas, and is now affecting Louisiana's refining center, remained uncertain, analysts said.
"The current disruptions are affecting both demand and supply, making it difficult to assess the impact on balances at this point," wrote analysts at JBC Energy.
Exxon may begin shutting units as early as Tuesday at its 362,300-barrel-per-day (bpd) Beaumont refinery in east Texas due to high water in the plant, said sources familiar with the company's plans. It was weighing a shutdown of its 240,000-bpd crude distillation unit and 45,000-bpd coking unit, the sources said. The company earlier cut production at its Baytown, Texas, refinery, the nation's second largest.
Motiva Enterprises plans to make a final decision Tuesday on whether to shut the nation's largest crude refinery as the storm pours more water into its Port Arthur, Texas, plant, two sources familiar with plant operations said. Motiva said Monday that operations at the plant were "stable."
Citgo's 425,0000-bpd Lake Charles, Louisiana, refinery has reduced production because of crude oil shipping disruptions, Energy News Today reported on Monday. Citgo is keeping a close eye on operations, a spokeswoman said Monday night.
Previous storms have substantially affected demand, which may offset expectations for tightening refined product supply. Retail gasoline prices have started to rise, with the average price for a gallon of gasoline rising 1 cent overnight to $2.38 nationally, while the average price in Texas rose 2 cents overnight to $2.19 per gallon.
Compounding matters is the possible closing of the Houston Ship Channel, a prime artery for crude supplies, for an extended period of time.
You can read more of the news on source