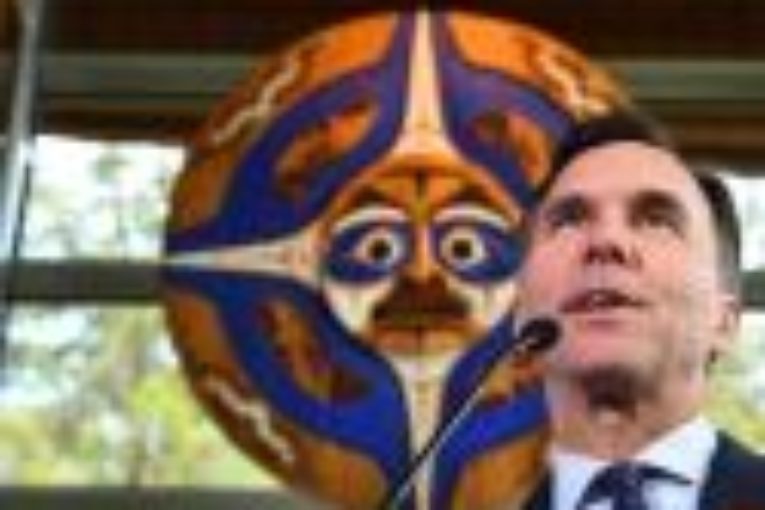 Ottawa is putting up $275 million in federal support for LNG Canada's $40-billion liquefied natural gas development in Kitimat as an investment in "cleaner technology" to get Canadian resources to new markets.
The contribution will include $220 million to help LNG Canada buy more energy-efficient gas turbines to power its natural gas liquefaction plant, and $55 million to replace an aging highway bridge in Kitimat on the road that leads to the town's industrial area.
Federal Finance Minister Bill Morneau travelled to Kitimat on Monday for the announcement, where he said the project, the largest private-sector investment in the country's history, would diversify Canada's trade, grow the economy and create middle-class jobs.
"It's a vote of confidence in Canada's resource industry and is good news for Canadians right across the country," Morneau said in a written statement.
To B.C. Green party leader Andrew Weaver, however, the move is another burst of corporate welfare to subsidize the fossil fuel industry a week after Prime Minister Justin Trudeau's government declared a climate emergency and re-approved the Trans Mountain Pipeline expansion.
"You wonder why Canadians are cynical about the way this government is dealing with the climate crisis," Weaver said.
Government, however, is betting on being able to earn credit for helping countries displace more carbon-intensive energy with lower greenhouse-gas-emission LNG.
"LNG Canada's facility will help bring a cleaner Canadian energy source to replace coal in some of the world's fastest-growing economies," said Navdeep Bains, the federal minister of innovation, science and economic development, whose Strategic Innovation Fund will put up the $220 million for the high-efficiency turbines.
LNG Canada CEO Andy Calitz said the payment will enable the company to develop "the lowest carbon content LNG for export in the world today."
To Weaver, however, the spending is still a subsidy to what will become B.C.'s single-largest source for carbon dioxide emissions and one of Canada's biggest, in addition to other tax breaks and support that the industry has received.
Renewable energy proponents have leaned on the LNG sector to electrify its process as much as possible to reduce the industry's greenhouse-gas impacts.
Last fall, when LNG Canada announced its final investment decision, Clean Energy B.C. called on the province to "seize the opportunity to extensively electrify the existing fossil fuel infrastructure as much as possible."
In a white paper, the organization, which represents B.C.'s private-power producers, argued that electrifying LNG, from drilling natural gas in the northeast to transporting it by pipeline for processing in Kitimat, could reduce total emissions of conventional LNG production by up to 65 per cent.
On Monday, Clean Energy B.C. executive director Martin Mullany said they understand that LNG Canada's timelines are too short to electrify the process to compress and freeze natural gas.
B.C. Hydro wouldn't have enough time to plan for, submit to an environmental review, then build an additional power transmission line to deliver the amount of electricity such a plant would need, Mullany said.
However, he argued there is still time to make sure the upstream natural gas drilling, processing and pipeline are powered by electricity.
"If the federal government wants to spend funds subsidizing a project where a final investment decision has been made, that is their choice," Mullany said in an emailed response to questions.
"We think it would have been better spend on electrifying the upstream value chain, but perhaps it is not an either/or decision," Mullany said. "Perhaps they intend to fund electrification as well."
'Markets behaved in a manner never before seen and the result was a very unfortunate loss'
Stuff you need to know
The lessons Canada can learn from the crisis
Opinion: Accountants are the ones on the ground with direct firsthand knowledge of the problems people are facing. We have good ideas and are eager to help
You can read more of the news on source