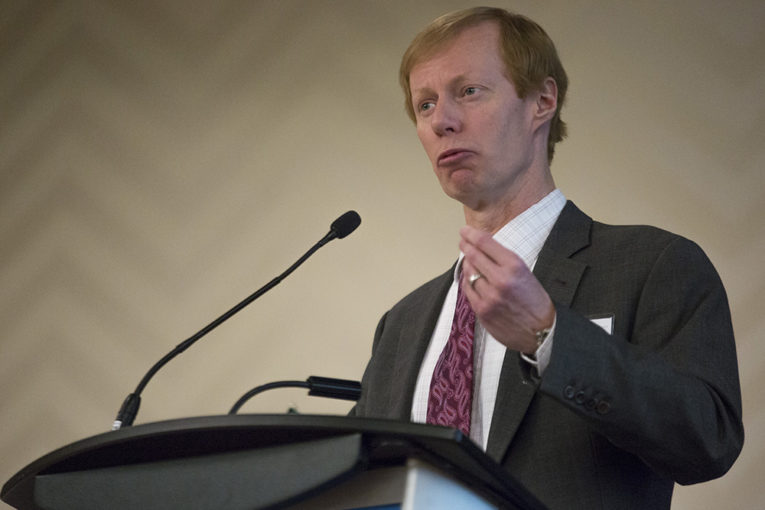 Martin King is spending his final day at GMP FirstEnergy after nearly 22 years with the firm, frustrated at the direction Canadian energy policy is going.
Known simply as "Marty" throughout Alberta's oil patch, King currently serves as director of institutional research, focusing on oil and gas, where he's watched the province recently mandate an OPEC-style production cut to boost weak domestic commodity prices.
At age 52, King's not a fan. "Personally I was kind of opposed to a government intervention, I mean the market was already sending the price signals needed to curtail" output, and producers had already begun to announce cuts in response to Canada's pipeline bottlenecks.
As Alberta's oil and gas industry both fights for investor attention and grapples with the need for more pipelines, King joins a frustrated group of energy professionals voicing their displeasure with Canada's energy policy — or at least voting with their feet.
Former GMP FirstEnergy vice-chairman Jim Davidson also recently announced his retirement from the firm.
There "seems to be no understanding or appreciation of the energy sector in terms of what it contributes to overall GDP and revenue generation for the country," King said, adding that investors are showing "despondency" toward Canadian energy, sending capital elsewhere.
And lately companies are starting to speak up, too.
Just last night, after cutting its dividend in response to Canadian oil price volatility, Calgary-based Cardinal Energy Ltd. encouraged its shareholders "to voice their disapproval with the Alberta government and their local federal member of Parliament on the lack of progress on the construction of new export pipelines out of western Canada."
But King isn't giving up on the role Canada can play in global energy, adding that the domestic industry "is still a vibrant industry … it's something that's still going to be playing a role whether (policymakers) like it or not 10, 15, 20, 25 years from now."
King spent the majority of his career at Calgary-based energy investment bank FirstEnergy Capital, which merged with Toronto-headquartered GMP Securities in 2016.
For today, King's taking the policy debate in stride. "I really have no idea what I'll be doing" in the future, King told Bloomberg early Friday. "I'm sure people will be reaching out to me or I'll be reaching out to them."
You can read more of the news on source