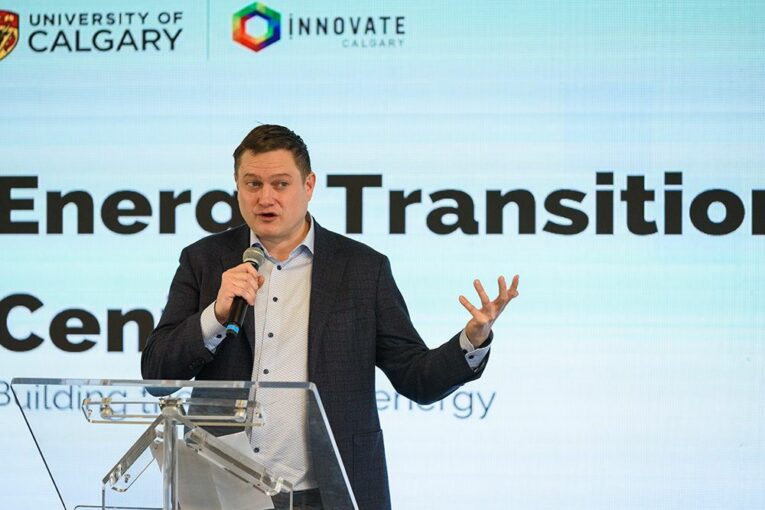 The Energy Transition Centre officially opened its doors in downtown Calgary on Tuesday, aiming to expedite progress to a carbon neutral energy sector.
We apologize, but this video has failed to load.
Try refreshing your browser, or
tap here to see other videos from our team.
Energy Transition Centre to accelerate green tech to market
Back to video
The centre provides a space for innovators to collaborate and connect with industry partners to streamline successful projects to market.
It has partnered with the University of Calgary and other corporations in the oil and gas sector in the push toward net zero goals. All told, there is $4.2 million behind the centre, including $2.1 million in funding from the PrairiesCan branch of the federal government.
The centre aims to spur the same type of innovation that came out of the Alberta Oil Sands Technology and Research Authority in the 1970s, which made it possible to effectively separate oil from sand.
"This is about getting to where the puck is going," said Kevin Krausert, CEO and co-founder of Avatar Innovations. "The energy transition is happening right here, right now. The oil and gas industry, Calgary and Canada intend to lead it."
The centre will have a core group of members with room for 30 startups at a time — there are currently 27 working out of the 17,000-square-foot office in The Ampersand's east tower. The startups have worked their way from applicant, through Avatar Innovations' year-long program, and have the opportunity to be further scaled up and brought to market.
Recommended from Editorial
Freeland unveils tax credits of 30-40% for investment in clean technology and hydrogen

Green energy company PACE Canada to move headquarters to Calgary

What does the transition to renewable energy mean for Alberta's skilled workers?
Krausert said the challenge is to figure out how to use existing infrastructure in that transition.
"This is an opportunity to work inside the energy system of today to build the energy system of tomorrow," he said. "The energy transition is going to be complicated, and we have to use the energy system we have today to reduce emissions, otherwise it's going to cost a fortune and take too long."
Ling Bai, managing partner of VL Energy Ltd., is working out of the centre with three other employees. The company is a consulting firm looking to commercialize its predictive emission monitoring technology that would have broad applications throughout the sector.
For Bai — a graduate of the U of C master of engineering program — the centre is all about collaboration, where not only can they help others, but they can benefit as well.
"It's a journey. Some people know what the next step is and you don't know the next steps, that's how I learned," she said. "This ecosystem in this Energy Transition Centre, it really accelerated my own journey for my own development."
The downtown location gives participants access to Canada's oil and gas centre, finance partners and others within the ecosystem. It also helps the U of C complete the loop of education and developing ideas, to bringing them to market, creating jobs and contributing to the energy transition.
"Our students — I like to characterize as the value generation — they're very interested in how we improve the world around us," said Ed McCauley, president and vice-chancellor of the U of C. "Ensuring secure safe and low carbon supplies of energy, I think is vitally important to any of our students."
So far, 270 students have gone through two different tranches of programming, training them to manage early stage opportunities and to turn them into business opportunities, said Puneet Mannan, associate director for the centre.
"We are filling the pipeline with lots of opportunities to be able to have a chance of success for making commercial opportunities in the energy transition space," he said.
Twitter: @JoshAldrich03
You can read more of the news on source