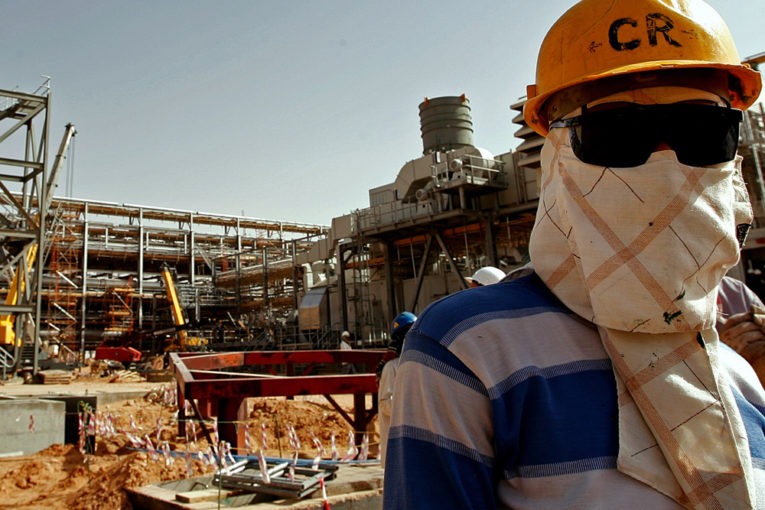 For four decades the financial performance of Saudi Aramco has been one of the biggest secrets in global business. Now, with the company's initial public offering looming, investors can get their first detailed insight into this cornerstone of the global economy.
Asked to comment on the figures, the company said in a statement: "This is inaccurate, Saudi Aramco does not comment on speculation regarding its financial performance and fiscal regime."
These are the highlights:
Net income
To understand the size of Aramco, consider one number. According to data reviewed by Bloomberg News, the Saudi state-owned giant reported net income of $33.8 billion in the first half of 2017.
The combined profits of Exxon Mobil Corp., Royal Dutch Shell Plc., Chevron Corp., Total SA and BP Plc don't even match that — Big Oil earned just under $26 billion in the same period. The phenomenal profitability shows the value of Aramco's ultra-low cost of production, which comprises one-in-ten barrels pumped worldwide.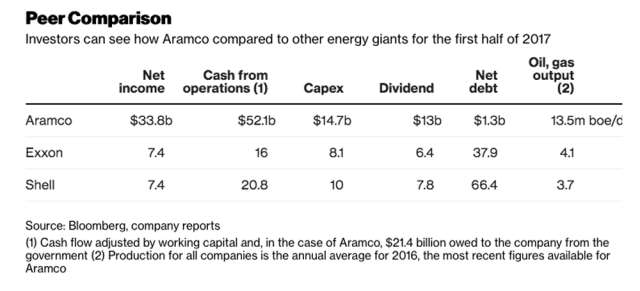 Cash flow
While Aramco excels in net profit, it's cash generation is less spectacular. According to Bloomberg calculations, cash flow was $52.1 billion in the first half of 2017 — $30.7 billion of net cash from operations plus $21.4 billion that government owes to the company.
In absolute terms, that's a lot. But after $14.7 billion in capital expenditure Aramco's free cash flow — a key metric to value any company — is $37.4 billion. That's still way more than what Exxon and Shell generate, but not significantly higher when you consider that the Saudi company's oil production is more than three times larger.
Dividend
The Saudi government owns 100 percent of Aramco, so it receives the company's dividend. In the first half of 2017, it distributed $13 billion of cash. If you assume a dividend yield — the annual payout divided by the market value of the company — similar to Exxon of about 4 percent, then Aramco would need to pay annual dividends of $80 billion to justify a $2 trillion valuation the kingdom desires. To be sure, it's unclear what proportion of the company's annual dividend is the $13 billion paid in the first half.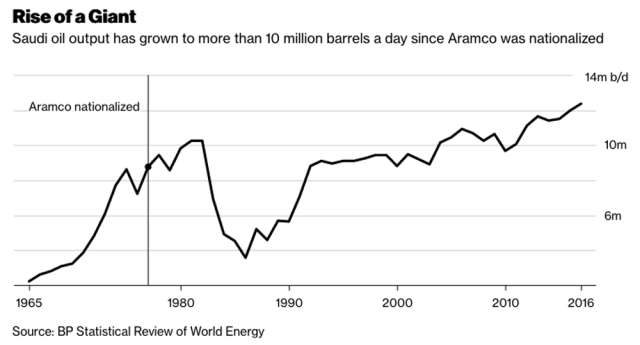 Tax and Royalties
Taxes and royalties eat away a significant chunk of the money that Aramco gets from oil sales. In the first half of 2017, the company paid the Saudi government a total of $58.4 billion, split into $18.5 billion of royalties on its revenue and an additional $39.9 billion in income taxes. Because the royalty is linked to the price of oil, the Saudi's government take increases if crude rises.
Debt and Cash
Big Oil took on billions of dollars of debt during the oil price downturn of 2015 to 2016 to bridge a gap between cash flow, capital spending and dividends. When oil prices started to recover in 2017, Exxon, Shell, Chevron, Total and BP emerged from the storm with record net debt of nearly $150 billion combined. Aramco was the opposite, with net debt of just $1.3 billion — total borrowings of $20.2 billion offset by cash and cash equivalents of $19 billion.
Bloomberg.com
You can read more of the news on source