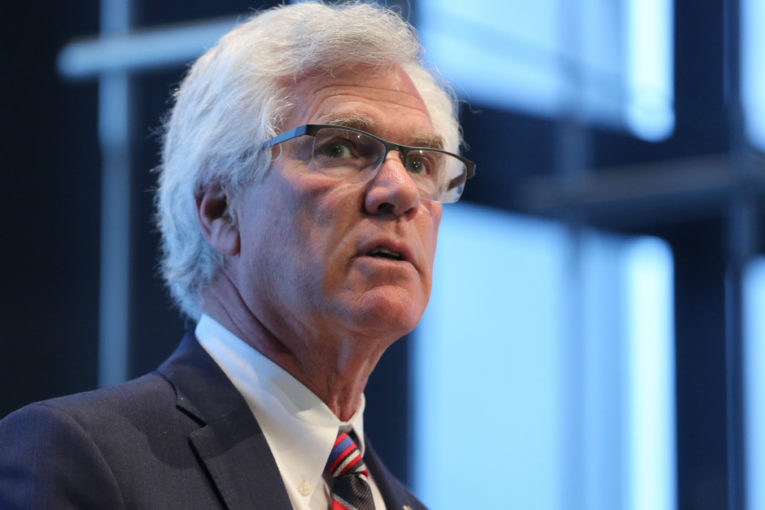 The federal government unequivocally wants the Trans Mountain pipeline expansion built, is committed to increasing regulatory certainty through major reforms that will be announced in the coming months and will keep the headquarters of the National Energy Board (NEB) in Calgary.
Those were some of the reassuring messages delivered by Jim Carr, Canada's natural resources minister, in an interview with the Financial Post in Calgary Friday. Carr was in the heart of Canada's oilpatch for private meetings with corporate leaders, amid continuing worry about lack of progress on proposed oilsands export pipelines.
TransCanada Corp. cancelled its $15.7 billion Energy East pipeline project last month after the NEB broadened its review to include climate-change impacts, and the federally approved $7.4 billion Trans Mountain expansion proposed by Kinder Morgan Canada Inc. continues to struggle with legal and regulatory hurdles because of opposition in British Columbia. Meanwhile, Nebraska regulators are expected to rule next week on the proposed route of the Keystone XL pipeline, one of the last hurdles before TransCanada proceeds with a final investment decision after a decade of regulatory and political scrutiny.
"From the perspective of the government of Canada, this is an approved pipeline and we want it built," Carr said about Trans Mountain, which is headed back to the National Energy Board in December despite receiving Ottawa's approval last year after four years of regulatory review.
Kinder Morgan Canada has asked the regulator to establish a process to resolve conflicts with other levels of government that don't want the controversial project, which would expand the capacity of the Alberta-to-Burnaby line, and are delaying necessary permits. The City of Burnaby has yet to issue any, and the B.C. government has promised to use every tool at its disposal to make it fail.
Carr said Ottawa is not participating in the hearings because it's unusual for the government of Canada to intervene in a quasi-independent, arm's-length agency. But he said its arguments would be made by other intervenors, particularly the governments of Alberta and Saskatchewan, which support the expansion, and by the company.
Kinder Morgan Canada president Ian Anderson said in an affidavit to the NEB that continuing delays, particularly by the City of Burnaby, mean the in-service date will likely have to be pushed back to September, 2020, from the end of 2019 previously anticipated.
"There is pressing need for regulatory certainty in Canada," Anderson said in the document. The project has spent $800 million so far and "if faced with unreasonable regulatory risks to secure necessary permits, authorizations or waivers, it may become untenable for TM's shareholders and lenders to proceed."
Carr said regulatory certainty will increase when the federal government announces reforms in the coming months to the NEB and the Canadian Environmental Assessment Agency.
Those reforms are in the legislative drafting stage. They aim to deliver clear and predictable timelines for energy project reviews and will spell out how to conduct appropriate Indigenous consultation and accommodation, Carr said.
"We want to rebuild confidence among Canadians for the regulatory process," he said. "We believe that what will emerge from this will inspire more confidence and that good projects should be dealt with in a timely way."
Carr said the reforms would also include climate-change impacts because projects bear directly on Canada's international responsibilities to meet greenhouse gas reduction targets.
However, he said there will still be room for oil pipelines because Alberta has been taking steps to reduce its emissions, including the adoption of a 100-megatonne cap for the oilsands industry.
Carr confirmed that the NEB's headquarters would stay in Calgary. Critics argued that its offices should be moved because staff was too close to the oil-and-gas sector to make unbiased decisions.
"The NEB will have plenty to do and will have plenty to do in Calgary," Carr said, though some offices may be located elsewhere.
Carr said major energy infrastructure projects are controversial and promote divisions of opinion.
They are also complicated by timing — decisions have to be made at a particular political and economic point, while consequences last for generations.
"You have to have the vision to know that your grandchildren will need this energy, but it's going to be very tough for us as politicians to make the decisions today," he said. "Well, the courageous leaders make the decisions and make the arguments to bring the people with them."
Financial Post
ccattaneo@nationalpost.com
You can read more of the news on source