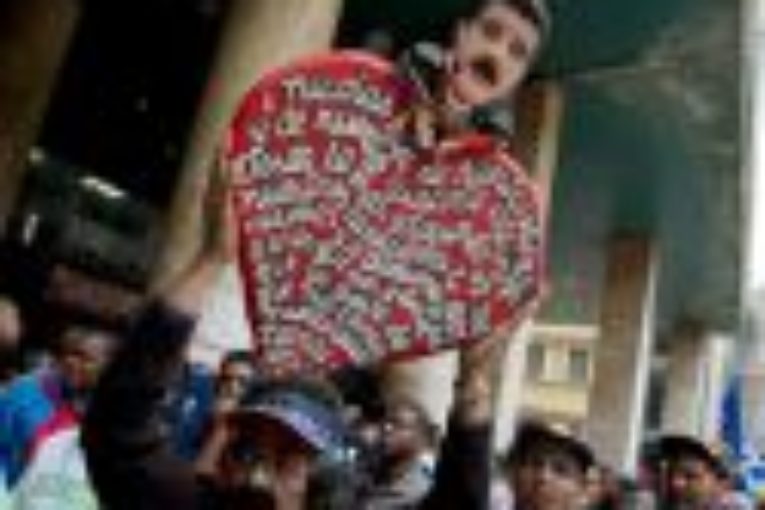 CALGARY – As Venezuela's economy continues its "death spiral," Canadian oil producers have capitalized on the South American country's misery by increasing its share of the world's largest refining market.
Venezuelan heavy oil production competes directly with Canadian oilsands barrels for space at refineries specially calibrated to process heavy blends.
"In January, it was the first month in history — as far as we are aware — that Canadian exports to the U.S. Gulf Coast outstripped Venezuelan exports, by a very small amount," Scotiabank commodity economist Rory Johnston said. "That's a fairly considerable shift in the balance."
U.S. Department of Energy data shows Canadian producers sent 463,000 barrels of oil per day in January to the U.S. Gulf Coast, which is slightly higher than the 455,000 bpd Venezuela shipped to the region.
In February, data shows Canadian shipments to the region continued to beat out Venezuelan shipments, rising to 471,000 bpd, while Venezuelan shipments to the U.S. Gulf coast fell to 416,000 bpd.
Venezuelan oil production has declined 41 per cent over the past two years, from 2.4 million barrels per day to 1.4 million bpd in 2016, according to IHS Markit, as the country's economy has deteriorated.
While most of Canada's oil is shipped to the U.S. Midwest, more Canadian barrels of heavy oil are making their way to refineries in Texas and Louisiana — the largest market in the world for heavy oil — on railway cars.
"There definitely is a substitution happening," Scotiabank's Johnston said. "On a monthly basis, we've seen definitely an increasing trend of oil by rail shipments to the U.S. Gulf Coast, but there are lots of constraints on the rail side as well."
Overall, U.S. government data shows Canadian oil shipments to the country have surged to 4.2 million bpd in February, the last month for which data is available, which is up from 3.2 million bpd in Feb. 2014. Over the same period, Venezuelan exports to the U.S. have declined from 807,000 bpd to 472,000 bpd.
The surge comes even as Canadian oil producers are constrained by both full export pipelines and a lack of railway cars in recent months.
U.S. Gulf Coast refineries could process an increasing amount of Canadian crude in the coming months as Venezuelan production is set to decline further as countries around the world slam its "fraudulent" election over the weekend that returned President Nicolas Maduro to power.
Foreign Affairs Minister Chrystia Freeland blasted the elections as "illegitimate and anti-democratic" in a release Monday, which announced Canada would immediately recall its ambassador to the country.
Brazil, Argentina and other countries also recalled their ambassadors and U.S. President Donald Trump signed an executive order imposing more financial sanctions on the country.
"It's a very dire, negative outlook for the Venezuelan energy sector and that definitely does present an opportunity for Canadian oilsands producers to take advantage," said Eurasia Group energy analyst Hilary Novik Sandberg.
She expects the U.S. will continue to ramp up sanctions on Venezuela, which could include a ban on U.S. producers sending diluent to state-owned Petroleos de Venezuela S.A. (PDVSA), which needs a blending agent for its heavy oil.
The U.S. may eventually — after mid-term elections in November — also impose a full ban on imports of Venezuelan crude oil, which would be devastating for PDVSA and Maduro, Novik Sandberg said, adding that she expect Venezuela's total oil output will decline by 50,000 bpd each month even without additional sanctions.
In fact, Venezuela's heavy output is likely to decline because it simply can't afford diluent.
"Venezuela is essentially broke and unable to pay for standard operating maintenance on the (oil) fields and unable to finance imports of diluent products that are required for upgrading its own heavy crude so they're in a sort of death spiral now," said Bill Farren-Price, founder and CEO of U.K.-based Petroleum Policy Intelligence.
"There's no way to get around that saving an (International Monetary Fund) rescue plan and a renegotiation of credit and that's not going to happen under the current government, especially after Maduro's been returned to power," he said, adding that it is "absolutely clear that Venezuela's loss is Canada's gain."
Some analysts believe the U.S. Energy Information Administration data is actually under-reporting how much Canadian oil is being refined in the U.S. Gulf Coast.
"There is over 800,000 barrels of Canadian heavy crude that has found its way to the U.S. Gulf Coast," IHS Markit oilsands and crude oil market analyst Kevin Birn said.
Canadian oil producers are delivering their oil to the storage hub at Cushing, Okla. and the U.S. Department of Energy is recording the import data in that region, before the barrels are transferred to the refineries near Houston.
"We think by 2020, Canadian heavy oil in the Gulf Coast could reach 1.2 million barrels per day – a full third of the region's heavy oil refining capacity," Birn said.
• Email: [email protected] | Twitter: geoffreymorgan
Martin Pelletier: If you think U.S. stocks are beating Canadian equities, you should do your homework
Forest City's portfolio includes large-scale projects in New York, San Francisco and Washington, D.C
Further evidence of economy's solid expansion despite trade tensions
How do you raise wages to fill growing vacancies without causing overall compensation to balloon
You can read more of the news on source