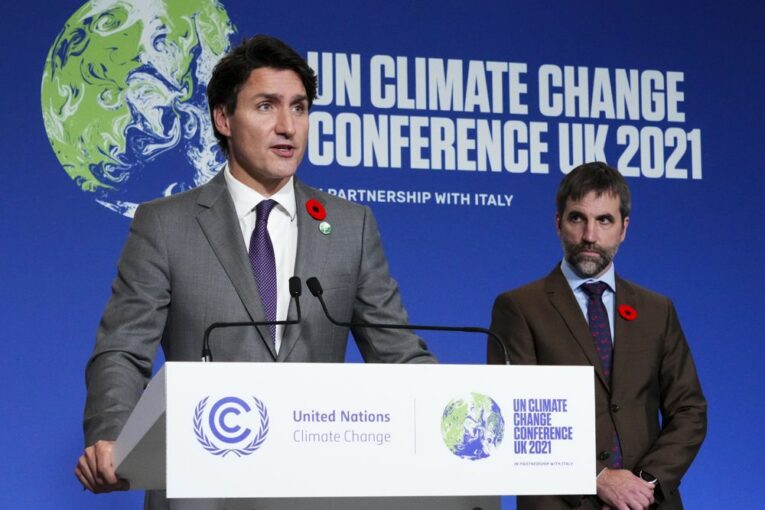 In November 2021, Prime Minister Justin Trudeau issued a warning about the dangers of climate change at the United Nations' 26th climate change conference in Glasgow, Scotland.
"There was a town called Lytton," Trudeau said in his address to leaders at COP26. "I say 'was' because on June 30, it burned to the ground. The day before, the temperature had hit 49.6 degrees Celsius, the hottest ever recorded in our country."
He went on to acknowledge the challenges Canada faces in addressing climate change as a fossil-fuel producing country. Nonetheless, by the end of the conference, the Canadian government announced several new policies aimed at limiting climate change, including signing on to the Glasgow Statement — a pledge to stop financing new fossil fuel projects in other countries by the end of 2022.
It appeared that promise would kick a leg out of the financial infrastructure supporting the oil and gas sector, but that's not what happened. Instead, in a sign of why it's easier to make climate promises than it is to keep them, Export Development Canada — the government agency charged with boosting Canadian exports — in the first half of 2022 provided $395 million in direct support, such as loans, for overseas oil and gas projects, plus more in indirect support, such as loan guarantees. That's not counting whatever additional amount it provided in the second half of 2022.
Now, with only days before the self-imposed Glasgow Statement deadline kicks in on Jan. 1, 2023, EDC says it has approximately $2.5 billion in outstanding financial commitments to support overseas oil and gas projects — some of which were made years ago, and some of which were made after Canada pledged to stop making such deals. Either way, it says it will not renew any of those deals in the future, once its obligations are fulfilled.
The agency does not provide details of its business dealings, but public records show large companies such as Enbridge Inc. received between $100 million and $200 million in support, while Calgary-based Parex Resources Ltd., the largest independent oil company in Colombia, received between $50 and $75 million.
That means that whether through institutional inertia or a lack of clarity about what type of oil and gas support would be blocked by the Glasgow Statement, EDC may still provide billions of dollars in support for fossil fuel projects in other countries in 2023.
"Over the course of the last year … we've been working through what (the Glasgow Statement) actually means," said Justine Hendricks, chief sustainability officer at EDC.
In December, Natural Resources Minister Jonathan Wilkinson announced the policy guidelines for the Glasgow pledge, and suggested Canada would not only meet, but in some cases exceed its commitment to "end new, direct public financing for international unabated fossil fuel investments and projects."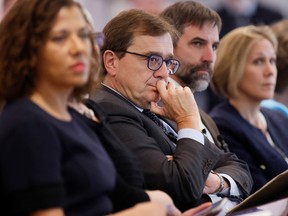 "Canada is delivering on its international climate commitments," Wilkinson said in a press release, which also quoted Environment Minister Steven Guilbeault as saying that government resources must be directed to investments in clean energy, not burning fossil fuels.
But as Wilkinson and Guilbeault plot an energy transition path, Hendricks emphasized that EDC's main mandate remains helping Canadian companies, including the fossil fuels sector.
"At the heart of EDC, is that desire to be there for Canadian exporters and that's … what we're going to focus on," she said.
In the past decade alone, EDC has backstopped tens of billions of dollars in support for fossil fuel companies through loans or loan guarantees, bank partnerships, or by providing letters of credit and various other types of financial support to oil and gas companies.
Hendricks said EDC is allocating resources in the direction intended by the Glasgow Statement. Between 2018 and 2021, EDC's support for oil and gas projects in other countries declined from $12.5 billion to $4.4 billion — a drop of approximately 65 per cent. And in 2021, for the first time in its history, EDC provided more financial support for clean technology, at $6.3 billion, than for fossil fuel projects, she said.
At the heart of EDC, is that desire to be there for Canadian exporters

Justine Hendricks
Still, the agency hasn't released how much support it provided in the second half of 2022, and the $395 million it laid out through July works out to 70 per cent of the $560 million distributed in 2021.
Hendricks said it took time to figure out what the Glasgow pledge would mean in practice for EDC. The guidelines issued earlier this month talk about ending unabated direct support for new fossil fuel projects, but exactly what qualifies as direct financing is also a matter of debate.
Sometimes, EDC provides loan guarantees directly to oil and gas companies, and sometimes it provides them to an intermediary such as a bank. Ultimately, the agency decided to stop providing both direct and indirect support for fossil fuel projects overseas, according to Amy Minsky, a spokeswoman.
EDC now plans to help oil and gas companies navigate the energy "transition," Hendricks said.
"Technologies, such as carbon capture, would be an example of something that EDC could support and we want to work with Canadian companies as they're building their transition plans over time," she said.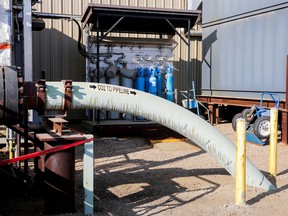 Environmental advocates say that if EDC, which provides the most support for oil and gas companies out of all the branches of the federal government, follows through and stops financing overseas fossil fuels projects, it would represent a sea change in the world of energy.
"The takeaway is that governments are recognizing that our climate targets mean you can't put public dollars towards oil and gas," said Julia Levin, a program manager at Environmental Defence in Ottawa. "And though that's like a really obvious sentence to say, we were still in this context where collectively, governments have been spending trillions of dollars on fossil fuels."
Levin said the Glasgow Statement represents a "watershed moment" as governments begin to unwind decades of policies built around supporting fossil fuel supply.
While Canada won't stop financing domestic oil and gas projects, she said with time removing financing from overseas oil and gas projects will have an impact on the global market.
"This is the first time we're getting any kind of multilateral agreement to end oil and gas financing," Levin said. "We've had it on coal for a few years now and it has produced results. But this is  a shift now to oil … so there's definitely a symbolic factor to this, but also a signal to investors and financial actors outside of government, too."
The policy could also set Canada up for a loss in exports. Laurence Booth, a professor of finance at the University of Toronto's Rotman School of Management, said EDC helps Canadian companies by stepping in to assume risk that private lenders, such as banks, may not be willing to take, or perhaps not at the same price.
"If EDC is no longer willing to support the oil and gas industry's exports then obviously Canada loses exports," Booth wrote via email. "How much depends on the extent to which the banks step up their trade finance business and assume those risks."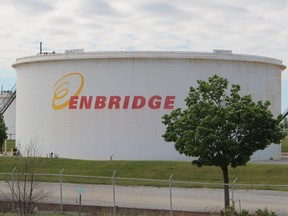 Richard Masson, chair of the World Petroleum Council Canada in Calgary, said EDC provides support that ensures oil and gas companies have access to affordable capital.
"It allows the companies to be competitive in those markets … so their cost of capital is reasonable enough that they can actually proceed," he said.
Indeed, that's why environmentalists cheered the policy: without government support, fossil fuels may well become more expensive. They point out that renewables such as solar and wind are already the cheapest source of energy and will only become more attractive over time, especially in developing countries.
But that doesn't necessarily mean an end to fossil fuel projects. Masson said he thinks other governments that haven't signed the Glasgow Statement may step up to support their energy companies to build oil and gas projects.
"I just don't see oil declining in 2030 in a meaningful way," he said.
Philip Gass, lead for energy transitions at the Winnipeg-based International Institute for Sustainable Development, takes the opposite position and said the economics of oil will make fossil fuel projects less and less attractive as countries look to meet 2030 emissions reduction targets.
He acknowledged that it will be difficult for countries to reduce their emissions, but said that the effects and costs of climate change will create ever more pressure on political leaders to do something.
For that reason, Gass said he believes investments in oil make little sense.
"There's a tipping point coming and part of it is economically driven," he said. "I mean, certainly there's climate action, carbon prices, increase the cost of burning fossil fuels, but renewable energies are getting cheaper as well."
Canada shouldn't aim to be the last country exporting oil and gas, said Gass, adding that fossil fuels are like an outdated technology whose relevance is fading.
"You don't want to be Blockbuster when Netflix is taking over," he said. "We've seen what happens where technology jumps and all of a sudden, you go from dominating a market to being bankrupt in a handful of years."
• Email: [email protected] | Twitter: GabeFriedz
You can read more of the news on source