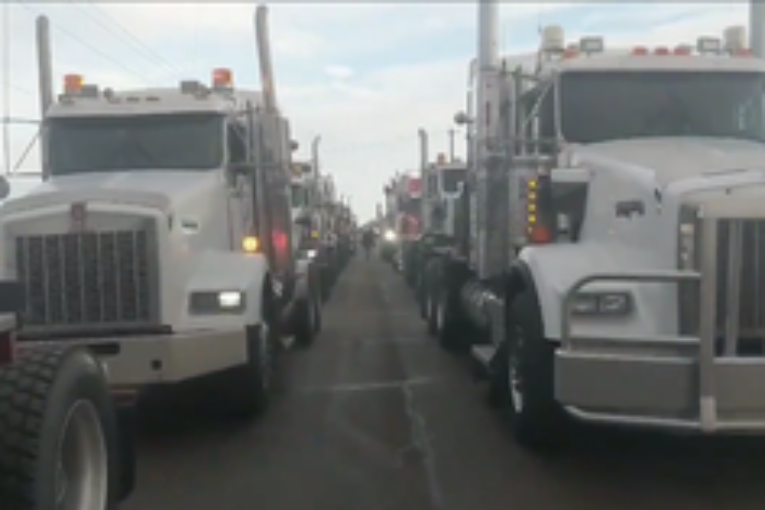 On his way into Nisku, Alberta to attend a pro-pipeline rally on Wednesday, the leader of Canada's official opposition had to get out and walk over an overpass.
Why? The highway was clogged by more than 2,000 trucks in a convoy to demonstrate support for Canada's oil and gas industry.
Scheer tweeted en route about the "astounding" show of solidarity.
The convoy and rally are part of a series of increasingly large public protests in Alberta in recent weeks aimed at Prime Minister Justin Trudeau's lack of progress addressing the need for market access for Canadian oil, and the regulatory uncertainty Ottawa has created.
There was another convoy of at least 700 trucks last weekend in Grande Prairie, and a crowd of 2,700 descended on Calgary City Hall on Monday to spread the same message.
On Tuesday, Trudeau's government announced $1.6 billion in aid for the oil and gas sector, primarily in loans with commercial rates, which was not received well in Alberta.
Scheer, on the other hand, was well received in Nisku on Wednesday.
"It's not you who should thank me, it's all Canadians who should be thanking you for all you've done to grow this sector to provide jobs for Canadians from coast to coast in every province," the federal Conservative party leader told rally attendees.
"Sometimes global events happen, and we're the victims of it, and we've had slumps before. But what really hurts, what really feels like we're being kicked in the gut and stomped on while we're down is when it's our own government that is putting those roadblocks in the way and pulling the rug out from under us."
You can read more of the news on source