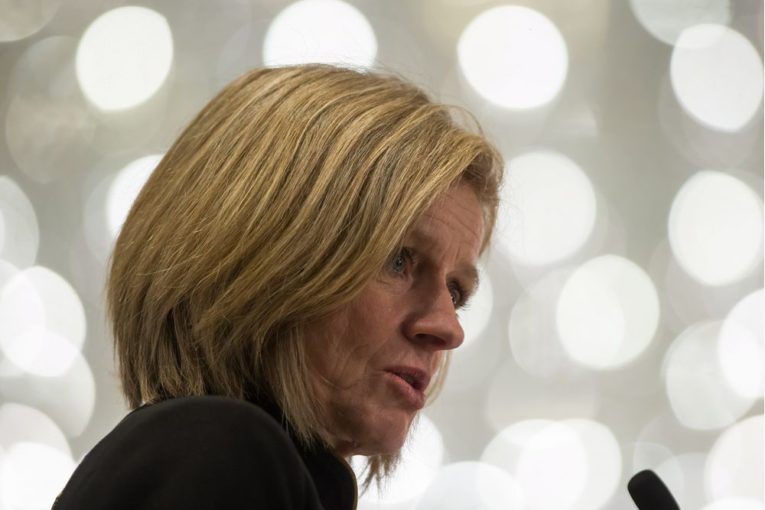 If anyone had told Premier Rachel Notley a year ago that she would receive two standing ovations within two weeks — in Calgary and Vancouver, no less — she likely would have enjoyed a good laugh.
But that's what happened, with the second tribute occurring Thursday following a speech to the Greater Vancouver Board of Trade's Energy Forum where Notley again made the case for Kinder Morgan's Trans Mountain expansion project.
And the premier wasn't the only government official to bring that message.
Federal Natural Resources Minister Jim Carr kicked off the forum by connecting the dots on the importance of a strong energy sector in the transition to a low-carbon economy. He stressed how industry funds investments in innovation, develops new ways to increase the use of clean energy and therefore decrease the environmental footprint of traditional fossil fuels.
"Those who want to close the oilsands down tomorrow overlook both the disruption it would cause to Canadian families and the loss of revenue it provides for clean energy and innovation," he said. "Those who believe that stopping (the Trans Mountain expansion) is a win, overlook what we have lost: jobs, income, investment in the energy transition and opportunity."
It could be said Thursday was a watershed moment for not only Alberta but the country.
Name another instance where the federal energy minister and the premier of Alberta — each of a different political stripe — delivered the same message in a province opposed to a project that has received federal approval.
Don't waste too much time, because it hasn't happened.
"We delivered a common message that this ought not to be a partisan, political issue. People ought not to be pitting province against province, region against region, and you can make the case — the Conservatives in the House of Commons, the government of Canada, the NDP government in Alberta — all believe that this pipeline is a good thing and there are many millions of Canadians who will agree," Carr said in an interview.
"To make it a partisan issue on the basis of perceived regional stereotypes is not good for the country."
Notley and Carr also highlighted the folly of having one customer — the United States — for oil produced in Alberta since it's subject to a double discount, from the world price of Brent crude and the North American benchmark, WTI.
It remains fascinating, even hypocritical, that B.C. is keen to expand softwood lumber exports to China to broaden its market for that product, but is not OK with that happening for Alberta's oil.
The discount arising as a result of the lack of access to new markets and reliance on shipping oil by rail means money is left on the table, said Notley.
It means countries less concerned about climate change — such as Russia, Nigeria and Saudi Arabia — get full value for their barrels because they have the access to world markets that Canada lacks.
That message should have resonated with British Columbians, if they truly are concerned about emissions and climate change.
In case it did not, the premier highlighted three very important points — backed by real numbers — to drive home the importance of a strong energy sector to B.C.'s economy.
In 2014, there were 44,000 people living in B.C. who worked in Alberta, earning $2 billion. They paid taxes in B.C. on those earnings and supported local businesses. With the dramatic drop in oil prices — and oilpatch investments — the economic circumstances of those 44,000 people has changed.
Notley also went after the sacred cow of transfer payments.
"Alberta contributes $22 billion per year more to Ottawa than we receive in return, even after the effects of the oil downturn and the recession," she said. "I raise this only to say that Alberta's energy industry is a dominant part of what makes Canada tick.
"There is not a school, hospital, bus, road, bike lane or port that doesn't owe something to a strong energy industry."
The speech also emphasized what Alberta has to offer Canada.
A strong energy sector that benefits all Canadians, which includes diversifying its markets, ensures a sound and stable economy, particularly in the context of the current uncertainty of the trading relationship between Canada and the U.S.
"Both the long-term trends in the North American energy industries, and recent political developments in the United States, urges us to diversify our markets as quickly as possible … to be economically safe and more secure … to be more resilient in the face of inevitable ups and downs of the energy market," said Notley. "That is what Alberta is right now offering our country."
That's an interesting twist on the messaging; the energy sector presented as something this province can offer the country.
It arguably gives B.C. an opening to save face and find a way to allow the Trans Mountain expansion to proceed unimpeded; that it understands the issue is about Canada.
As Carr said, getting Canada's oil production to new markets is not just important — it's imperative.
"Muddling along, hoping the Americans will keep buying our oil is not a strategy. It's a failure of leadership and a wilful blindness to market realities," he said.
The federal government is leading. So is Alberta's. It's time the B.C. government followed suit — to put the country first and provincial politics second. It really isn't all that complicated.
Deborah Yedlin is a Calgary Herald columnist
You can read more of the news on source