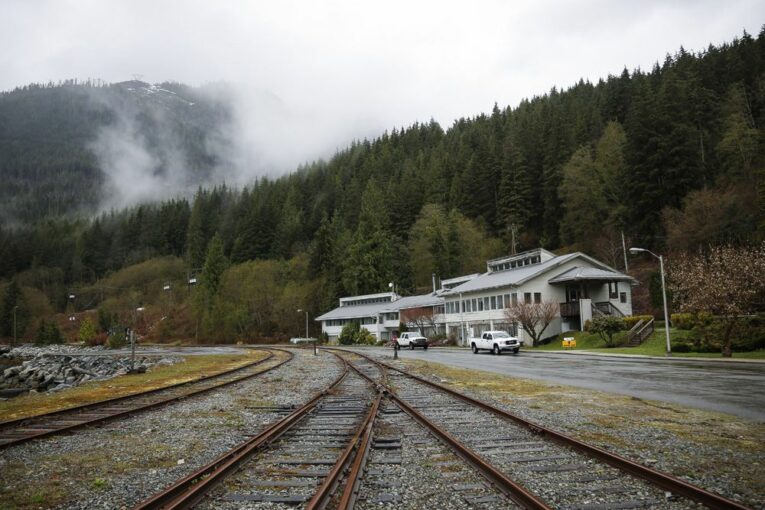 CALGARY — Woodfibre LNG took a step closer to building Canada's second liquefied natural gas (LNG) export project Tuesday as it picked a Houston-based engineering group to build a plant near Squamish, B.C.
Woodfibre LNG, a Vancouver-based private subsidiary of Singapore's Pacific Energy Corp., said it had awarded an engineering, procurement and construction contract to Houston-based McDermott International, to build the facility on an existing industrial site.
The company called the contract an important step "in advance of Woodfibre LNG issuing notice to proceed."
If Woodfibre does issue its notice to proceed, or final investment decision, the company will be just the second in Canada to start work on an export-focused LNG project, after Shell Canada Ltd. led a consortium that included Malaysia's state-owned Petronas BHD in proceeding with the $30-billion LNG Canada export project in 2018.
Woodfibre has previously said it hopes to proceed to construction by the end of this year.
"Our contract with McDermott is a positive step forward for this substantial piece of clean energy infrastructure," Woodfibre LNG president Christine Kennedy said in a release provided to the Financial Post. "Together, we will be building the lowest-emission, most sustainable and innovative LNG export facility in the world."
The cost of the project has previously been pegged at between $1.6 billion and $1.8 billion. The Woodfibre release shows McDermott plans to start construction in early 2022, reach "major construction" in Sept. 2023 and finish work in the third quarter of 2027.
"The (contract award) is a tremendous opportunity to further demonstrate how our LNG and modularization expertise enables a new generation of sustainable energy solutions," Samik Mukherjee, executive vice-president and chief operating officer of McDermott, said in a release.
McDermott has developed what it calls "NetZero Modular LNG strategy" with the goal of cutting emissions substantially at Woodfibre LNG. The company says its carbon light product is in high demand and it has already  secured two offtake agreements signed with energy major BP Plc., suggesting that more than 70 per cent of Woodfibre's annual throughput has already been sold.
David Keane, former president of Woodfibre LNG and current strategic advisor to the project, said the company has worked to slash expected emissions from the project by sourcing its electricity needs from BC Hydro and using an electric train, rather than a gas-fired train to liquefy the gas. In total, he expects the facility will emit 68,000 tonnes of CO2 per year.

"It's getting hard to see how you can further reduce emissions," Keane said in an interview.
Keane said the project's CO2 emissions would have a lower intensity than any LNG project shipping the super-cooled gas off the U.S. Gulf Coast. Under the Paris Agreement, Canada and British Columbia could potentially get credit for providing LNG to Asian markets seeking to transition off coal and fuel oil.
He added that the project had been "very innovative" in seeking support from the affected Squamish Nation in asking the community to review the project and site. The Squamish Nation approved the project subject to 25 conditions, 13 of which applied to the company and 12 of which applied to the B.C. provincial government.
Keane said the First Nation has reiterated its support for the project. "We entered into a completely different way of consulting with and accommodating First Nations in terms of developing our benefit agreement," he said.
A number of energy projects in Canada have faced substantial opposition in recent years.
The LNG Canada project is currently ensnared by protests and blockades in an effort to impede construction progress on the facility, despite having signed agreements and the support of every elected First Nations council in the project area.
Wet'suwet'en Nation hereditary chiefs have opposed the under-construction, $6.7-billion Coastal GasLink pipeline connecting the LNG Canada project with upstream gas fields.
Last week, the chiefs' supporters blockaded access to work camps along the route housing 500 people, impeding work on drill sites and preventing essential supplies like food and water from reaching the camp. RCMP breached the blockades and arrested 20 people over the course of two days, clearing a path for goods to reach the facility.
LNG Canada is still committed to delivering its first LNG cargo to overseas markets by the middle of this decade, a company spokesperson said in a release.
"LNG Canada respects the rights of individuals to peacefully express their points of view, as long as their activities do not jeopardize people's safety and are within the law," the spokesperson said. "We also respect the rights of 20 First Nations along the pipeline right-of-way, their councils and their Nations who have put in considerable effort and due diligence to come to a decision to support LNG development in British Columbia, and who have signed project and benefits agreements with Coastal GasLink."

• Email: [email protected] | Twitter: geoffreymorgan
You can read more of the news on source