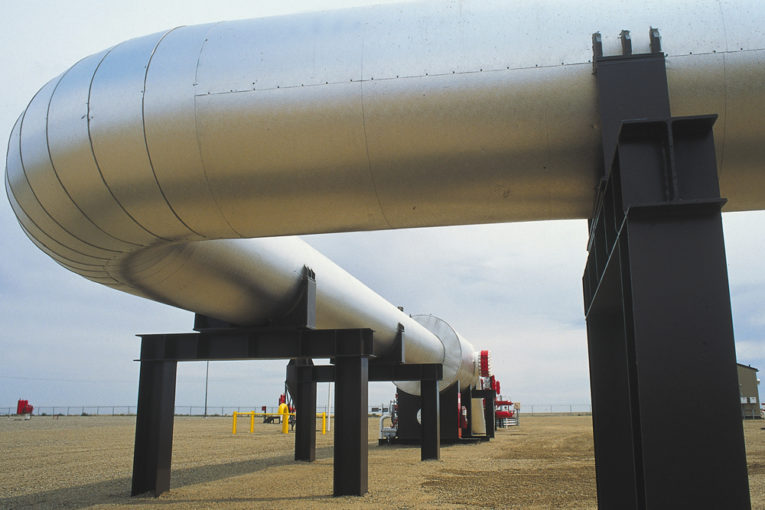 CALGARY – Natural gas producers and analysts are trying to solve a perplexing mystery: who signed a 100-year contract to ship gas on TransCanada Corp.'s pipeline system?
The question has persisted since February when TransCanada informed its customers of the outcome of an open-season bidding process to ship 260 million cubic feet of gas per day on its Nova Gas Transmission System to the critical east-bound export point called the "East Gate" at Empress, Alta., to feed the energy-hungry markets of Ontario and Quebec.
Calgary-based TransCanada has been working to expand access to the East Gate following outcry from natural gas shippers in Alberta, many of whom blamed the pipeline giant for the volatility in the Alberta gas benchmark AECO prices through the second half of 2017 that, at times, led to negative prices.
TransCanada said the average term the company awarded for space following one of its recent open season bidding processes was 107 years.
The century-long contract is also quadruple the length of similar contracts TransCanada has awarded in recent months as the company has carried out multiple open seasons.
"For the East Gate capacity constraints, these are the longest contracts presently on the system. We believe they are the longest ever, but can't say with absolute certainty," TransCanada spokesperson Shawn Howard said in an email.
He said the company does not have an average contract length for comparison, but similar open season processes resulted in an average 28.6-year and 22-year terms in January and March.
Each of the recently signed contracts demonstrates "the high value shippers placed on having firm transportation access on the NGTL System to downstream export markets," Howard said.
While natural gas producers have been under stress as liquefied natural gas export projects have stalled in Canada, the length of the contracts has surprised companies and analysts.
"I just don't understand how you can run your business with a 100-year time horizon," Raymond James analyst Jeremy McCrea said of the 107-year average contract term.
It has also led to something of a mystery among gas producers, as companies try to ascertain what kind of company – either a utility or a gas producer – would agree to a contract that long.
"Who would've done that?" Jupiter Resources Inc. vice-president, capital markets Ryder McRitchie said, adding that someone must have offered a contract far longer than 107-years to TransCanada to inflate the average so much.
McRitchie said that shippers – whether they are gas producers or utility companies – bid for space on the NGTL system based on volume and contract lengths, not price, because the National Energy Board regulates the tolls to move gas.
As a result, when shippers need space, some will bid for longer time periods than the 20- to 30-year contracts that typically get awarded on the system. The minimum bid term for the system is 8 years.
"It's really the choke point right now," McRitchie said of trying to move natural gas to the East Gate in Alberta. "That's what this is highlighting."
TransCanada has now held multiple open seasons and committed to expanding its NGTL system within Alberta in an attempt to alleviate some of the choke points, which have at times prevented gas producers in the northwestern corner of the province to send all of their gas production to the East Gate or the West Gate, which is at the B.C. border.
In various places on the system, including upstream of James River in central Alberta, TransCanada has more contracts in place than it can accommodate at all times, especially during maintenance periods.
As a result, some natural gas producers believe the unprecedented 107-year average contract length demonstrates the desperation gas producers experience in trying to secure delivery of their product to customers.
"People are bidding irrational terms," another natural gas executive said on condition of anonymity as open seasons are competitive processes. He said his company bid multiple times on TransCanada's recent open seasons but has not won any additional space on the NGTL system.
He said the 107-year average term for pipeline space awarded in February "is longer than any pipeline will last."
National Energy Board spokesperson Chantal Macleod said that if a pipeline is properly maintained and operated, it can operate indefinitely.
Financial Post
• Email: [email protected] | Twitter: geoffreymorgan
You can read more of the news on source