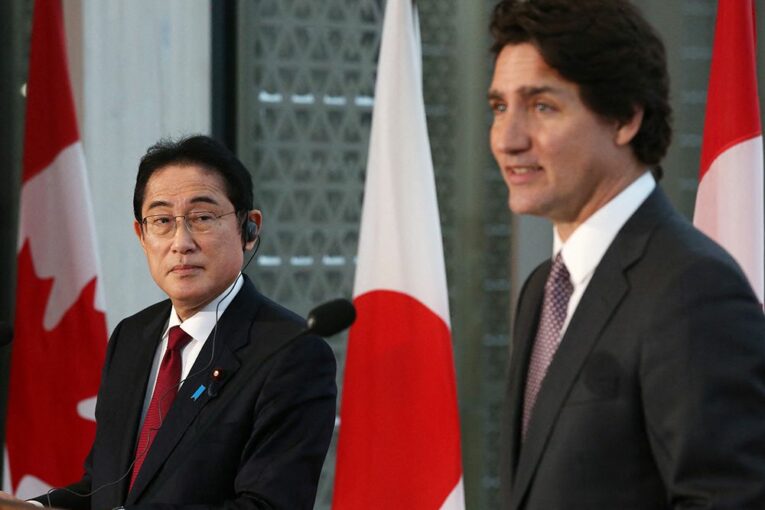 Alberta's energy minister will not be headed overseas on a planned trip to Germany this month, but he wants the province to be included in a federal trade mission to Japan later this year to tout the potential of Canadian LNG and hydrogen.
We apologize, but this video has failed to load.
Try refreshing your browser, or
tap here to see other videos from our team.
Varcoe: Unhappy with Trudeau's response to Japan, Alberta wants spot on trade mission to talk LNG
Back to video
Energy Minister Peter Guthrie sent a letter to federal Natural Resources Minister Jonathan Wilkinson on Monday, asking that the province be included in an upcoming ministerial trade mission to Japan. The trip was announced by Prime Minister Justin Trudeau last week during a visit to Canada by Japanese Prime Minister Fumio Kishida.
Japan is actively searching for increased supplies of energy, including liquefied natural gas (LNG), from friendly countries as it shifts away from imports from Russia following that country's invasion of Ukraine.
"It is my view that strengthening energy relations with Japan is of the utmost importance," Guthrie wrote in the letter.
"As provinces are the owners and stewards of their natural resources, any discussions regarding the potential export of energy must fully involve the impacted provinces."
Alberta and the Trudeau government have clashed on many energy fronts in the past year, most recently on the federal emissions cap on the oil and gas sector, and the incoming federal "Just Transition" legislation to help oil and gas workers shift into other industries.
The UCP government has also blasted Ottawa's lukewarm response to significantly ramping up Canadian oil and gas production to displace Russian supplies to Europe.
Recommended from Editorial
Being reliable supplier of energy important, Trudeau says as Japan looks to Canada for LNG

Memo to Trudeau: There's more than a business case to export energy to Japan

LNG Canada, country's $40-billion 'second chance' at becoming a global LNG leader, takes shape

Varcoe: It's time for Ottawa to stop dithering about backing a bigger Canadian LNG industry
It was underscored by Prime Minister Justin Trudeau's remarks in August — made during a news conference with German Chancellor Olaf Scholz — that there's "never been a strong business case" for exporting LNG to Europe from facilities on Canada's Atlantic coast.
Premier Danielle Smith and Guthrie were planning a trip to Germany this month to talk about energy issues, although it has been postponed until February, the energy minister said in an interview.
Today, provincial attention is focused on federal support for boosting energy exports to Japan, one of the largest importers of liquefied natural gas in the world, and on growing Alberta's hydrogen industry.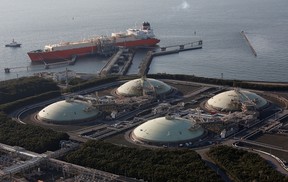 Last week, Kishida told reporters that Canada is a country with an abundance of energy resources. Alberta and British Columbia have massive reserves of natural gas, and work is moving ahead on two LNG exporting facilities on the Pacific Coast.
"The world is having an energy crisis . . . For major countries, each (is) trying to have a stable supply of energy and also to decarbonize," he said last week through a translator.
However, Trudeau's response didn't instil much confidence, at least from the provincial government's perspective.
When asked about commitments made to Japan on LNG exports and easing regulatory hurdles for a proposed second phase of the massive LNG Canada project, the prime minister said the two sides talked about how Canada can be a reliable supplier, not only of energy but of critical minerals and other commodities.
"We're going to continue to look for ways to be that reliable supplier of energy," he said. "But even as we do talk about things like LNG and other traditional sources of energy, we know the world is moving aggressively and meaningfully toward decarbonizing, toward diversifying, toward more renewables."
Trudeau also announced a Team Canada-style trade mission would take place in October, focused on the areas of energy, food, critical minerals and advanced technology.
Guthrie said he wasn't satisfied with Trudeau's response and feels it's necessary for Alberta to join the trip to Japan.
"We shouldn't be surprised when Japan comes to us looking for natural gas," he said.
"I would've liked to have heard him say, 'Yes, we're prepared to help. You're looking for LNG. We can be involved in that. We can speed up the regulatory process. We can help get LNG off the West Coast for your supply — and Canada wants to be your supplier of LNG.' "
However, Guthrie noted he had a "very encouraging" conversation with Wilkinson last week and believes the two sides can work together.
On Monday, Wilkinson was in Japan on a trip that included Indigenous leaders and several corporate executives, including officials with Shell Canada and Enbridge, two companies involved in LNG developments in B.C.
The LNG Canada project is led by Shell and is expected to be operating by the middle of this decade, while the smaller Woodfibre LNG facility — owned by Singapore's Pacific Energy Corp. and Enbridge — is also proceeding.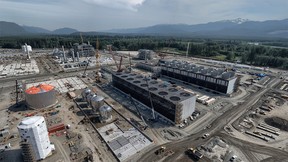 Ian Cameron, Wilkinson's director of communications, said the federal government is working with the private sector and international partners as countries seek to decrease their dependence on Russian energy.
Any future LNG projects in Canada must ensure they fit within the country's emissions-reduction targets, and they need to demonstrate any related exports will displace higher-emitting sources of energy, such as coal, he said in a statement.
LNG expert Geoffrey Cann, a principal at MadCann Alberta, noted almost two dozen LNG projects were proposed last decade for the B.C. coast, proving there's a business case for Canada to send super-cooled natural gas to growing markets in Asia, including Japan.
However, the prime minister's comments last week appear to be more rooted in Canada's climate strategy than in the energy needs of other countries, he added.
"We are muddling up a domestic agenda to decarbonize the Canadian economy with an international export agenda," Cann said.
"The whole thing is just riddled with bizarre hypocrisy, conflicts, inconsistencies, and it just makes no sense."
Chris Varcoe is a Calgary Herald columnist.
You can read more of the news on source