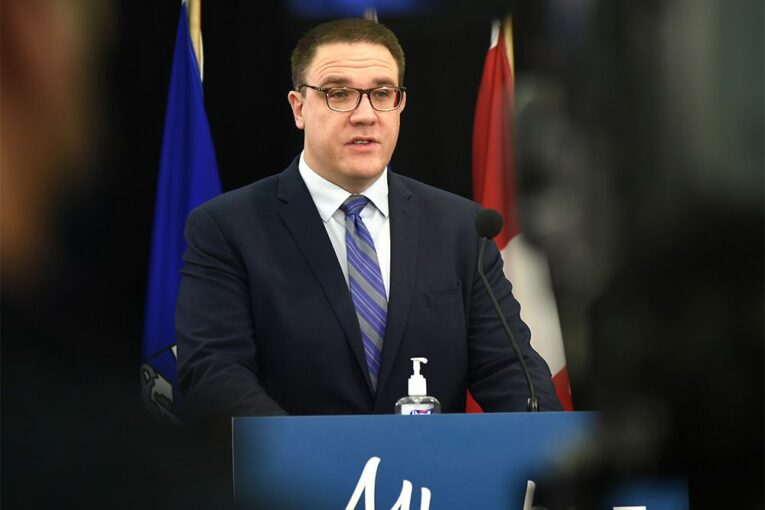 Here are a couple of eye-watering numbers that should catch the attention of all Albertans, along with the federal government and UCP leadership candidates running to become the province's next premier.
We apologize, but this video has failed to load.
Try refreshing your browser, or
tap here to see other videos from our team.
Varcoe: 'Significant surplus' — Another royalty gusher coming in Alberta next week
Back to video
As oil and gas prices skyrocketed between April and June, Canadian petroleum producers paid out a collective $8.4 billion in royalties and $4.3 billion in cash taxes to governments, according to new research by ATB Capital Markets.
That represents a combined $12.4 billion in royalties and taxes headed to both provincial and federal governments during the second quarter. It's also up a staggering 788 per cent from the average level of such revenues collected from 2018 to 2019, before the pandemic hit.

The data is based upon second-quarter reports from 22 publicly traded oil and gas producers in Canada.
"For private and non-reporting companies, we don't know how much cash taxes and royalties they paid," analyst Patrick O'Rourke of ATB Capital Markets said Tuesday.
"You are seeing (the impact) in the actual financial performance of governments. The Alberta government has gone from deficit to a surplus."
Several factors are fuelling the dramatic escalation of energy-related revenues and growing expectations that the trend will continue into 2023.
The industry's profitability soared after commodity prices jumped in the wake of Russia's invasion of Ukraine.

A growing number of large oilsands developments have now hit the post-payout phase, elevating them into paying a higher royalty rate once their capital costs are recovered.
Five oilsands projects shifted into the higher royalty tier in 2021 and another is expected to reach it this year. During this year's budget, provincial officials said 71 per cent of total oilsands production will reach post-payout mode this year, up from just under two-thirds in 2021.
Finally, tax pools accumulated over the years by petroleum producers have been exhausted as the sector has returned to profitability, O'Rourke said.
The province's upcoming financial results for the April-to-June period won't be released until next week, but year-end figures for the 2021-22 budget year provide a glimpse of what's coming: another wave of resource revenue.
After initially projecting a large deficit last year, the province reported a surprising $3.9 billion surplus for the fiscal year ending in March, as resource revenue shattered previous records and hit $16.2 billion.
In an interview Tuesday, Finance Minister Jason Nixon said royalty revenues reported for the quarter that ended June 30 will be among "the highest numbers that we have seen" as a province.
He also stressed that the situation remains fluid.
"I watch that price of oil every morning. It moves quite a bit," Nixon said. "It's going to be a significant surplus that I will be talking about."
Prices for West Texas Intermediate (WTI) crude topped US$120 a barrel in early June and averaged $102 for the first half of the year.
However, oil fell below $90 a barrel last week amid fears of a global economic slowdown and weaker demand, before closing Tuesday at $92.74.
Nixon said some potential budget estimates from earlier this summer were "upwards of double where I think we're going to come out with a surplus, which shows you how much oil and gas prices have changed, even over the last six or seven weeks.
"So we are talking shifts in tens of billions, which is astronomical."
While the situation is in flux, analysts aren't anticipating oil prices will suddenly plunge and send provincial revenues into a tailspin.
In fact, a report last month from BMO Capital Markets said higher royalties are to here "to stay" because stronger commodity prices are expected (with WTI crude to average $85 a barrel in 2025 and $75 longer term) and oilsands projects are now paying higher royalties.
Published in early July, the study said Alberta resource royalties could exceed $30 billion in 2022 and $20 billion a year through 2030 — totalling $225 billion by the end of this decade.
"We estimate that royalties would exceed $100 billion by 2030 even at much lower oil prices of $50," it noted.
February's provincial budget forecast a small $511-million surplus for this year with oil prices averaging $70 per barrel in 2022-23, but oil prices have been far higher to date.
University of Calgary economist Trevor Tombe said if benchmark prices hover around $90 a barrel, he expects this year's surplus will be between $8 billion and $10 billion.
However, much will depend on fickle oil markets, which have dipped almost 15 per cent since Canada Day.
"It is still a massive surplus for the province and the tricky thing for the minister is having an update that is credible in light of the huge uncertainty that we're seeing," said Tombe.
"We shouldn't forget that while prices are lower now…they are still significantly above the $70 that is needed to balance the budget."
With any surplus, the provincial government has committed to paying down debt, putting more money into the Alberta Heritage Savings Trust Fund and using some additional revenue to pay for unbudgeted measures, such as removing the provincial gasoline tax and funding electricity rebates.
Nixon isn't concerned about the recent oil price decline, noting markets went into negative territory briefly in the spring of 2020 and languished during the early months of the pandemic, but have since rebounded strongly.
"If you told us two years ago we would have been budgeting at $80 a barrel, we would have been quite happy," he said.
"It's a proof point that you're dealing with fluid oil and gas prices and that you should not be budgeting permanently at high oil and gas prices."
Chris Varcoe is a Calgary Herald columnist.
You can read more of the news on source