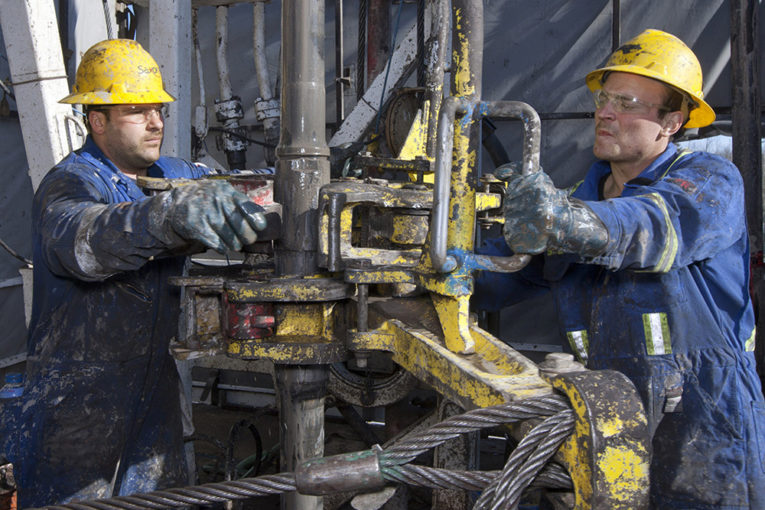 A rift is emerging in Canada's energy sector between some of its most powerful players over what should be done to deal with the colossal price discount for Canadian oil.
On one side are large producers such as Canadian Natural Resources and Cenovus Energy that are voluntarily curbing output because of the price differential hammering Western Canadian crude due to pipeline constraints.
They would like to see the province examine steps to bring the market into balance, with Canadian Natural's executive vice-chairman, Steve Laut, backing a government system that would see production temporarily curtailed in the face of unprecedented discounts.
On the other side are the heads of massive integrated producers such as Suncor Energy, Imperial Oil and Husky Energy, who think market forces should prevail.
These companies, which benefit from lower feedstock prices in their downstream refining operations, say price signals are working and high-cost oil will eventually come off-line.
The issue was discussed during a meeting between oilpatch executives and the premier two weeks ago, although no consensus was reached, according to several sources.
"I think the industry is divided on what to do," Gary Leach, president of the Explorers and Producers Association of Canada, said Monday.
"The fissures you are seeing are exactly breaking along those lines of typically who is a net winner from low feedstock prices, because they're making it up on the refined product margins."
For Alberta and the oilpatch, the root problem is there's not enough transportation capacity out of the province for the growing volumes coming from the oilsands.
One year ago, the gap between Western Canadian Select and benchmark U.S. crude prices averaged US$11 a barrel.
On Friday, it sat at almost $44 a barrel.
Several large producers revealed last week they will scale back output in the fourth quarter due to the low prices.
Canadian Natural Resources — headed by executive chairman Murray Edwards — will lower production by up to 55,000 bpd in November and December, while Cenovus pledges it will reduce output by an unidentified amount.
Likewise, Baytex Energy Corp. will curb fourth-quarter output by about 5,000 barrels per day, while MEG Energy Corp. plans to lower production by 4,000 to 6,000 bpd because of an accelerated maintenance turnaround conducted before year end.
Everyone concedes the pricing problem is severe, but it will take time — likely until late 2019 — for new pipelines and increased rail capacity to catch up with output.
"I think this is something that has to be dealt with on an industry-wide basis," said Cenovus CEO Alex Pourbaix, who believes a small oversupply of oil in Alberta is having an "astonishing impact" on the economy and companies.
Canadian Natural's Laut said he backs a system that Alberta used in the 1970s and '80s that determined how much crude companies were allowed to pump.
Some of the biggest integrated producers sit on the other side of the divide.
On a conference call Friday, Imperial Oil CEO Rich Kruger said limited pipeline access is the real problem and the company has increased its rail capacity to move more barrels out of Alberta.
"In market conditions like this, anything on the high cost or marginal end would be at risk. Our view is those situations are the result of choices and strategies and investments that individual companies have made over time," he said.
"Our view is you live with the consequences of your decisions in your investments."
The Notley government now finds itself in a tricky situation.
The province has a financial incentive to take steps to lower the discount and improve its royalty take.
But implementing a quota-type system would trigger accusations of government meddling in Alberta's most important industry.
Government officials say the province still has the legal authority for a pro-rationing system — it was used in Alberta from the late 1940s until 1987 to ensure supplies didn't exceed market demand — but note free-trade agreements make it more difficult to institute today.
More importantly, it doesn't apply to bitumen or synthetic crude production.
It's also an open question how the Trump administration, which is already calling on OPEC to increase production to lower U.S. gasoline prices, would react to Alberta attempting to manage oil prices by turning down the taps.
Industry experts are also split.
Richard Masson, former CEO of the Alberta Petroleum Marketing Commission (APMC), worries government intervention could have unintended consequences in an interconnected energy network.
"Alberta potentially has the power to restrict exports or ramp down its production, but if you believe in a free market, shouldn't the people who made the right strategic bets be rewarded — and the others who didn't feel the pain?" he said.
On the other side, veteran oilmen Hal Kvisle and Robert Lamond have called for a return to a system where the government can temporarily manage output — and prices — to benefit all Albertans and trigger more investment.
Kvisle, former CEO of TransCanada Corp. and the chairman of ARC Resources Ltd., said big refinery operators can now buy distressed Canadian heavy oil barrels at cheap prices, but that doesn't serve Albertans who own the resource.
"To people saying let the market decided, what's important to understand here is this mess was created by governments," Kvisle said of Canada's inability to build pipelines.
"So you ended with a huge glut of production in Alberta and it's an aberration."
Lamond said a pro-rationing system worked in Alberta and other jurisdictions like Texas in the past and believes it could be successfully implemented again.
"In summary, you'd sell less for a much higher price," said Lamond, chairman of Humboldt Capital Corp. "For God's sake, OPEC has been doing it for 50 years."
Another suggestion is to overhaul and improve the nomination process for space on the pipeline system out of the province, although an industry committee overseeing the matter has been deadlocked this year.
This leaves the ball in the province's court.
As one official remarked, if there was a simple solution, it would have already been done by companies or the government.
But there are no easy choices.
Now, the government finds itself in an oilpatch tug of war, caught between powerful forces pulling at either end.
Chris Varcoe is a Calgary Herald columnist.
You can read more of the news on source