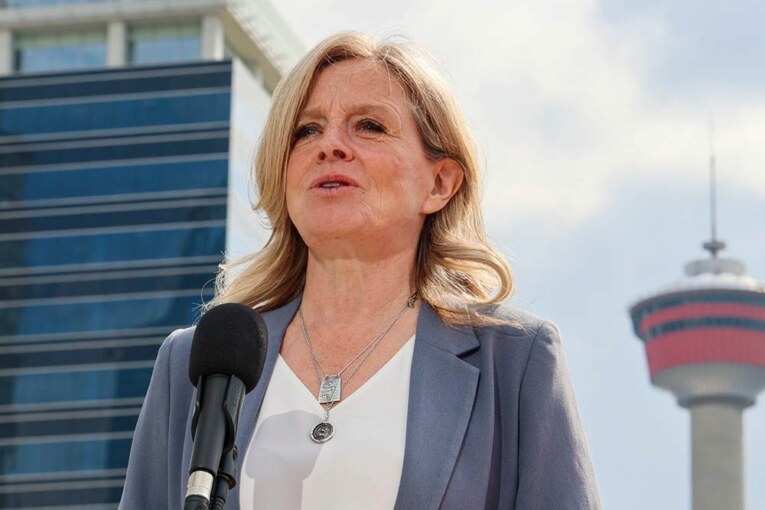 Alberta's energy sector is transforming, with oil and gas companies increasing production while preparing for a net-zero future. At the same time, proponents of new infrastructure, renewable projects and LNG want to meet the growing appetite for energy.
We apologize, but this video has failed to load.
Try refreshing your browser, or
tap here to see other videos from our team.
Varcoe: Rachel Notley lays out plans for Alberta energy industry in transition
Back to video
Herald business columnist Chris Varcoe spoke with NDP Leader Rachel Notley this week — during a media availability and subsequent interview — about her party's energy policies in the run-up to Monday's provincial election.
(An interview with UCP Leader Danielle Smith appeared Thursday.)
What follows is an edited and abbreviated transcript of the conversation with Notley.
Q: There are billions of dollars of carbon capture, utilization and storage (CCUS) projects being proposed for the province, everything from power generation to the oilsands to the cement industry. What specifically would you do to activate that, and how much would it cost, if you've got programs designed to incent those projects?
Notley: That's a really important issue. We do need as a provincial government to very quickly get to work on getting so many of those CCUS and other projects over the finish line, getting them to start.
The federal government has stepped up to do some of that work. There is more for the federal government to do, now that we've seen the (U.S.) Inflation Reduction Act and the incentives that are being offered south of the border.
But it's also very possible there is a role for the provincial government to play. We've already talked about our Alberta Future Tax Credit (proposed by the NDP), but there may be more for us to do.
But I think that's something that honestly needs to be negotiated with some of the players through, again, the lens of ensuring the best deal for Albertans.
Of course, the companies themselves also need to be prepared to come to the table to make their own investments.
Q: Should the oil and gas industry be looking to increase production? Are there programs that you're prepared to put in place to make that happen — and can you do that at the same time as you reduce emissions?
Notley: As we engage in more and more work to effectively reduce emissions, there's likely room for production to increase. And when people say that bringing down emissions is the same as a production cap, that is wrong.
It's intentional misinformation on the part of the folks who are saying it. I think it is possible to have a production increase if the work is done to significantly reduce emissions.
Q: Would your proposed Alberta Future Tax Credit be available for carbon capture developments across all industrial sectors? If so, how would it work and how much support would it provide?
Notley: We support CCUS. And we know it is a really important tool in the emissions-reduction efforts that we need to make as a province and then, of course, the oil and gas industry need to make.
We want to look for ways to make it happen . . . We have a range, a whole suite of incentive programs and it may well be that one or more of them would be well-positioned to provide the kind of additional incentives that are necessary.
But it's not 100 per cent clear yet which ones those would be and how they would be best applied.
Q: Your party has proposed revamping the Alberta Petrochemicals Incentive Program (APIP), which provides a 12 per cent grant for capital cost to such projects, by expanding its investment target by about 30 per cent. How would you do that? What's the cost versus the benefit to Albertans?
Notley: What we'd be looking to do is basically expand (the eligibility of projects) . . . restoring the partial upgrading the UCP took out of the program, as well as looking at different kinds of feedstock, different types of plastics . . . we would allow a further $70 million into the pot to allow for that expansion.
Q: What specifically would you do to get more inactive oil and gas wells cleaned up?
Notley: Let me start by what we won't do. We will not de-incentivize good players by offering their poorly behaved colleagues incentives for not doing their job and not following the law.
I want to be very clear that Danielle Smith's R-Star Program is ridiculous . . . What we would do is look at strengthening the regulatory requirements, looking at expanding upfront (financial) deposits that need to be made, and then attaching approvals to having those folks actually do the work of cleaning up after themselves.
Recommended from Editorial
Varcoe: Canada pushes ahead on carbon capture projects, but still awaits green lights

Ottawa needs 'made-in-Canada' response to U.S. Inflation Reduction Act: climate group

Canadian industry singing praises of Inflation Reduction Act as federal budget nears

Alberta to pilot oil and gas royalty breaks for legally required well cleanup

NDP announces plan to drive jobs, investment to Alberta — without a sovereignty act
Q: If you win the election, would you review oil and gas royalties during your tenure?
Notley: That's not our intention at this point . . . I think it was scheduled to be happening sort of later in the decade, in the 2028-29 period . . . And at this point with payout (oilsands projects reaching a higher tier of royalties) being where it is, we don't see a need to do that because it seems to be working quite well.
Q: The UCP leader says Alberta's electricity system cannot get to net zero emissions by 2035 without an exorbitant cost to consumers and businesses. Do you think it can be done in a way that doesn't send prices higher?
Notley: I absolutely believe we can do that . . . We know the whole world is headed toward net zero, and we are very committed to supporting industry in reducing their emissions overall while we do that.
In order for that to happen, we need to attract investment . . . But we're not going to get there if you don't provide clear line of sight and predictability to investors.
During our time in government, we were very committed to making sure that consumers were protected during this process and we remain committed to that principle.
We will act for the longer term, by setting about to investigate the forces within our electricity market that work against the true competitive nature that was anticipated when the market was first designed, to help bring down these prices.
Q: Why is that investigation necessary? And what specific elements would you examine?
Notley: In principle, when our energy-only system was developed, it was developed because we were told that would have (power) producers compete with each other to bring down the prices.
But what we've seen is that hasn't happened. In fact, Albertans are paying more for their electricity than is being paid for in almost any other jurisdiction in the country. So, we have to look in general at what's happening to reduce that competitiveness.
We also have to look at what's happening with the practice of withholding — why it is that we don't have maximum supply available in the market at any given time. Because that, too, allows for some pretty ridiculous price spikes.
Q: You previously said the federal emissions reduction plan, which includes a 42 per cent projected cut in oil and gas sector emissions by 2030, was unrealistic. How would you oppose Ottawa's plan if your party forms government?
Notley: We don't support it. We would go to them and say, we can fight about this and everybody can fight about this indefinitely and make no progress.
Or we can sit down, roll up our sleeves with all of the players and come up with a made-in-Alberta solution that actually achieves measurable progress . . . while still growing the economy.
And by doing that work, and by coming up with realistic targets . . . then I feel confident we can bring everybody along with us.
You can read more of the news on source