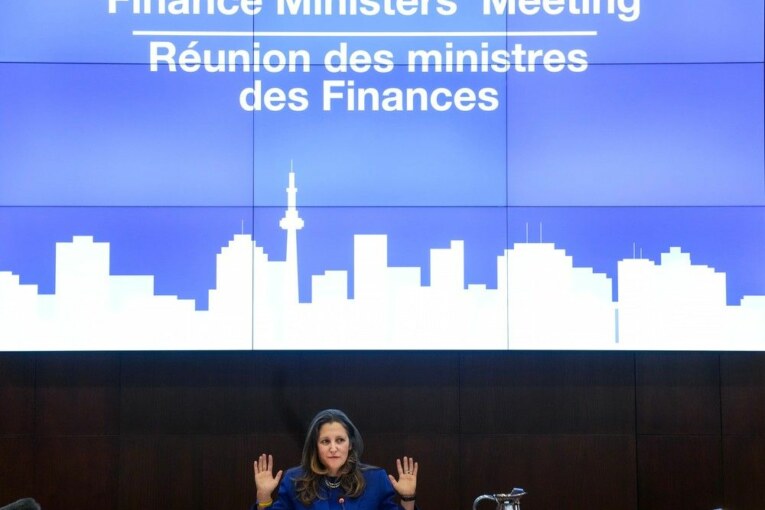 Are Canadian governments finally ready to respond to the U.S. Inflation Reduction Act and the incentives it's dangling in front of companies to attract major decarbonization spending?
We apologize, but this video has failed to load.
Try refreshing your browser, or
tap here to see other videos from our team.
Varcoe: More ping-pong in carbon capture spat as finance ministers gather
Back to video
Can Canada get major energy projects built on time and on budget?
Will the country avoid a recession in 2023?
So many questions — and so few answers — swirled about Friday as the provincial and territorial finance ministers met in Toronto with their federal counterpart, Chrystia Freeland.
As Alberta and the feds prepare their upcoming 2023 budgets, Freeland pressed all the provinces to contribute to the "global race" to draw investment into energy transition projects and net-zero initiatives.
Last year, the U.S. boosted the aid it offers to clean energy and decarbonization developments, including carbon capture, utilization and storage (CCUS) projects.
Canadian governments are now scrambling to stay in the race or risk losing out.
"We need the provinces and territories to chip in and work with the federal government in our response to the Inflation Reduction Act," Freeland told reporters.
"The starting gun has been fired to build the clean economy of the 21st century."
While the race has begun, Canada continues to stagger out of the blocks.
National and global energy companies have announced an array of projects in Alberta, representing potentially billions of dollars of proposed investments in new hydrogen developments, petrochemical complexes and carbon capture facilities.
Imperial Oil's new $720-million plan to build Canada's largest renewable diesel facility near Edmonton is now moving ahead, receiving the green light last week.
Recommended from Editorial
Danielle Smith says Alberta is tired of being Ottawa's 'punching bag,' but will consider carbon capture aid

Varcoe: Alberta premier open to incentives for carbon capture

Varcoe: As Trudeau trades jabs with province, clock ticks on carbon capture projects worth billions
Yet, most proposals are still waiting for clarity from both provincial and federal governments about the level of assistance that could be put on the table.
A federal-provincial match of ping-pong has played out in recent months, with each side batting the ball back into the other government's court.
Last year, Ottawa introduced a new federal investment tax credit for CCUS developments. It covers up to half of the spending on equipment to capture CO2, below what Canada's oilsands producers were seeking.
The credit has since been eclipsed by larger incentives contained in the US$369-billion U.S. Inflation Reduction Act.
"It has changed the playing field when it comes to the global competition for capital … so Canada needs to be in the game as well," Freeland said.
"When it comes to some of the very specific investment decisions and very specific plants, those will be good for the whole country. They will be particularly good for the provinces where those investments are based."
The Trudeau government has pushed the UCP government to provide its own incentives or assistance to such projects. The Pathways Alliance, representing large oilsands producers, has also called on the province for help.
Finance Minister Travis Toews again resisted the notion it's up to provincial taxpayers to help compete with the power of the massive U.S. treasury. He pointed out Alberta has already spent nearly $2 billion on carbon capture and storage systems dating back more than a decade.
"It's time for the federal government to step up," he told reporters.
In an interview, Toews said the province already provides grants through its petrochemical incentive program. It also offsets royalty payments made by oilsands operators if they spend capital on major new developments, including CCUS.
"We really didn't hear anything new from minister Freeland," he said.
"The feds are really singling Alberta out on this one and disproportionately asking us to step up."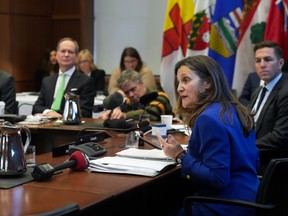 The meeting took place against the backdrop of slowing growth in the Canadian economy, concerns about a potential recession, and the fallout of higher interest rates.
Bank of Canada Governor Tiff Macklem provided an economic update to the finance ministers; Toews said he spoke about the possibility of a "shallow recession" in Canada in 2023.
Earlier this week, the International Monetary Fund's latest outlook estimated Canada's economy will only grow by 1.5 per cent this year, although it should exceed levels seen in the U.S., Germany and the United Kingdom.
Toews said the ministers also discussed the difficulty Canada has faced building major infrastructure projects.
"A lot of getting things done is about the permitting, and getting things done quicker. There's so much red tape," Ontario Finance Minister Peter Bethlenfalvy told reporters, pointing to the timeline it takes to develop mines in the province's Ring of Fire area.
"Capital is not going to wait forever."
Major energy infrastructure projects in this country also face escalating costs as inflation has soared.
Earlier this week, TC Energy confirmed its Coastal GasLink project has seen its budget increase to $14.5 billion, up from the $11.2 billion budget announced last summer and a pre-pandemic estimate of $6.6 billion.
The Trans Mountain pipeline expansion increased last year by more than 70 per cent to $21.4 billion from a budget set in 2020, and skyrocketed from an early forecast of $5.4 billion made back in 2013.
The finance ministers need to adopt a growth agenda, enact regulatory reform and deal head-on with competitiveness challenges to decarbonizing Canada's economy by providing CCUS incentives, said Scott Crockatt of the Business Council of Alberta.
While the bulk of the heavy lifting to compete with the U.S. will come from the federal government, there also needs to be a provincial contribution, he said.
"The Inflation Reduction Act in the United States basically super-charged incentives … Canada needs to respond," Crockatt said.
"We have to get this right."
Chris Varcoe is a Calgary Herald columnist.
You can read more of the news on source