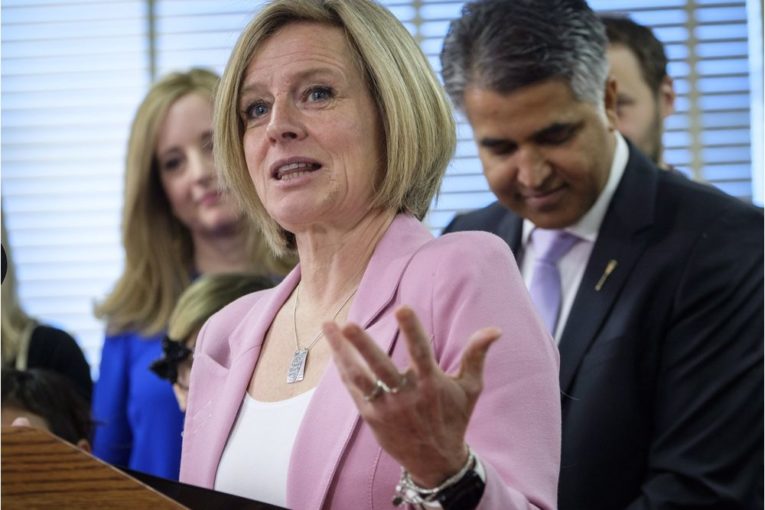 Today, it's time to pull out the old BS meter.
It's going to get a heavy workout tracking some fresh Grade A political baloney.
The B.C. government announced Thursday it would take action to get its stalled liquefied natural gas (LNG) industry off the ground, offering to relinquish up to $6 billion in potential government revenues over four decades to get new projects built.
Yes, this is the same government using every tool it can to block Alberta's energy industry from getting oil pipelines built to the west coast.
Premier John Horgan will provide the industry with relief from the provincial sales tax on new construction projects and eliminate the LNG income tax adopted by the former Christy Clark government.
The goal is to kick-start a fledgling sector and improve the economics for these big-ticket energy investments to proceed.
Building an LNG export facility is critical for natural gas producers across Western Canada who are contending with weak prices, transportation bottlenecks and growing competition from the United States. A new LNG plant in B.C. would provide an outlet to export product into Asia.
It would also increase greenhouse gas emissions in British Columbia.
As Premier Rachel Notley pointed out Friday, how is this stance consistent with B.C.'s firm opposition to Kinder Morgan's Trans Mountain pipeline expansion, which would triple the amount of oil moving from Alberta to the coast?
"In Alberta, we support development of the LNG process … What we don't support is environmental hypocrisy," Notley told reporters in Calgary.
"While we think it's great that there has been a conversion on the road to Damascus on this issue by the premier of British Columbia, we would suggest the concerns that they raise against Kinder Morgan being completed lack a great deal more credibility today than they did yesterday."
Environmental groups and B.C. Green party Leader Andrew Weaver are blasting the measures and the potential impact on future emissions in the province.
Notley noted Alberta supports efforts to get the nascent LNG industry off the ground in an environmentally responsible way, but accused the government in Victoria of trying to have it both ways.
"You can't turn around and deny the Kinder Morgan pipeline on the basis of being grand protectors of the environment, because that's clearly what they are not prepared to do on their own economic interest" surrounding LNG development, the premier added.
She's right.
Supporting one segment of the petroleum sector, while trying to obstruct another, is inconsistent and unfair. Opposition to Trans Mountain isn't solely based on climate concerns — fears of a potential spill are another — but it is part of the equation.
The federal government and others should see this incompatible logic for what it is: B.C. pandering to anti-pipeline forces in its own backyard, while imperilling energy jobs next door.
The Alberta government might want to be careful about throwing around the word hypocrisy, however.
Thursday's provincial budget will, for the first time, see the government use some of Alberta's carbon tax revenue to fund operating expenditures in the coming years.
Back in November 2015, Notley announced her government would introduce a provincewide carbon tax of $20 a tonne, increasing to $30 by 2018, as part of a broader climate plan.
The tax was touted as being revenue neutral. Money would be earmarked for consumer rebates and measures that would reduce the province's carbon footprint, such as investments in technology and transit.
"Carbon pricing will be fully reinvested into measures that reduce pollution … and also to provide transition help to individuals and families, small businesses, First Nations and people working in the coal industry," according to government documents at the time.
Regardless of your stance on a carbon tax, there was a logic behind using this cash to find new ways to lower greenhouse gas emissions in Alberta, which are the highest in the country.
"Every penny raised by the carbon levy will be rebated back to Albertans or put back to work for our economy in new economic initiatives," the premier said during her state of the province address in 2016.
In Thursday's budget, the NDP government changed course.
Any carbon tax cash above the $30-a-tonne mark will go into the province's general revenue fund, beginning in 2021, rising from about $100 million to $1 billion a year by 2023.
How is that consistent with earlier promises?
Well, the government says with the carbon tax rising to $50 a tonne by 2022 due to a national pricing scheme, the extra money "resulting from the federally imposed carbon price" will be used to support public services.
So different treatment for the same tax, based on Ottawa's plan to increase it?
Uh huh. I'm sure consumers will be able to make that fine distinction at the pumps.
"The allocation of funds towards general revenue and paying down the deficit refers to the additional levies that would be put in place by the federal government, of course, subject to the pipelines getting built," the premier said Friday when asked about the shift.
"So that's the difference."
Funny, but I don't ever recall the government saying it would use carbon revenue to pay teachers, nurses, Crown prosecutors or other operating expenses.
One can debate the merits of using the money for other purposes. In fact, there is probably a good case to be made that Alberta needs to use all carbon revenue to pay down its ballooning debt or reduce the deficit.
But you can't argue Alberta has a revenue neutral carbon tax, or that the Trudeau government's decision to impose a national price has suddenly changed the dynamic. We signed on to it.
And Alberta gets to control all of the carbon money it collects, not just a portion of it.
"The definition of revenue neutral is that it's used to lower other taxes," said energy economist Jennifer Winter from the University of Calgary.
"We really do seem to be swinging in the opposite direction, using it to just support spending."
Political baloney is a funny thing.
It only seems to smell when the other side is frying it up.
Chris Varcoe is a Calgary Herald columnist.
You can read more of the news on source