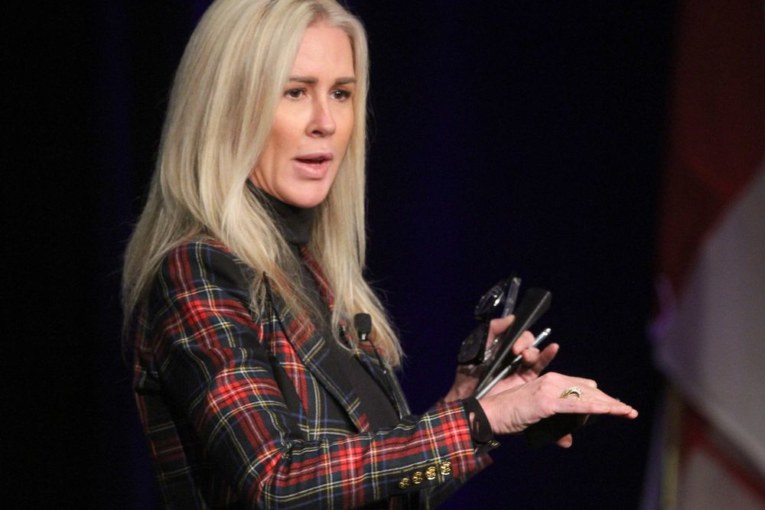 BANFF – During one moment Friday at the Global Business Forum, veteran oilman Hal Kvisle suggested an executive with LNG Canada should announce a final investment decision on the $40-billion energy mega-project.
As in right here, right now.
While some in the crowd applauded, Susannah Pierce, director of external relations for the energy development, wasn't about to take the bait.
Yet, the light-hearted exchange highlighted the great expectations building across the Canadian energy sector for the liquefied natural gas development at Kitimat, B.C. — and the birth of a new industry.
Project proponent Royal Dutch Shell Plc and its joint venture partners — Petronas, PetroChina, Mitsubishi Corp. and Korea Gas Corp. — are expected to give the green light to the project within days.
"I think we've presented to our joint venture participants what we consider to be a very compelling case, but they are going to be the ultimate arbiter on this project," Pierce told reporters after the event.
Anticipation grew Friday with a report that the boards of Kogas and PetroChina separately approved their multibillion-dollar stakes in the facility.
Optimism is building the other partners will follow suit.
"I am confident that first of all, it is going to go ahead and confident it will be well executed," Kvisle, former CEO of TransCanada Corp. and current chair of ARC Resources Ltd., said in an interview.
"This just poses a huge opportunity for the production companies … for the drilling contractors. This is a great thing — it's a whole new game."
Canadian natural gas producers desperately need a game-changer.
The project would open up new export markets in Asia for producers and their deeply discounted gas. It also comes at a time when their traditional U.S. gas market is oversaturated with supply.
The first phase of LNG Canada would export up to 14 million tonnes per year, while consuming about two billion cubic feet (bcf) of natural gas per day.
Operations would likely begin in the middle of the next decade, as construction is expected to take five to seven years to complete.
But the numbers only tell part of the story.
The decision would mean the creation of a new LNG industry in Canada after years of waiting. Other projects on Canada's east and west coasts are still looking to get off the ground, and the Shell-led venture could help kick-start other developments.
After the demise of the Energy East and Northern Gateway pipelines and the ongoing troubles surrounding Trans Mountain, a positive final investment decision (FID) would prove large-scale energy developments can be built in Canada.
"A positive FID could be the first step toward repairing Canada's damaged reputation as a country in which energy infrastructure projects are perceived as almost impossible to advance," said a Raymond James research report issued Friday.
Now, the industry just needs to hear official word LNG Canada is moving forward.
"One thing I believe is if you get one plant through, there will be a second and third plant that will follow," said Steve Laut, executive vice-chairman of Canadian Natural Resources Ltd., the country's largest gas producer.
Building the development would also help support beleaguered Western Canadian natural gas prices, although any relief would be years away.
Natural gas at the AECO hub in Alberta sold for US$1.76 per thousand cubic feet on Thursday, a $1.27 discount to benchmark U.S. gas prices.
Canadian Natural Resources has shut in about 100 million cubic feet of gas per day due to sluggish prices. Laut said the Calgary-based company only plans to keep production flat in the short term.
After the failure of the Canadian LNG industry to launch earlier this decade — while several U.S. facilities went ahead — a positive decision by Shell and its partners would be pivotal for this country's oil and gas industry.
At one point this decade, 18 separate LNG projects were proposed for the Pacific coast and former B.C. premier Christy Clark wanted to see three plants built, creating up to 100,000 jobs.
That never happened.
Other countries filled the gap and quickly started building, leaving Canadian ventures stranded on the sidelines.
Despite being delayed, the LNG Canada team kept fine-tuning its proposal and negotiating with governments to make the capital costs competitive.
A subsequent drop in global investment for new LNG facilities, combined with growing demand for gas in Asia — China increased its LNG imports by a whopping 46 per cent last year — has created a new opening.
Is Canada ready to take advantage of this window of opportunity?
During a presentation at the conference about the prolific Montney formation in northeast B.C. and northwest Alberta, oilpatch leaders left little doubt there's plenty of gas available to meet global demand.
Tourmaline Oil Corp. CEO Mike Rose noted the Montney play is already producing about four billion cubic feet of gas per day. The number could grow in the coming decades to 10 or 20 bcf a day with further investment and technological advancements.
"We need LNG to get this gas out of here," Rose told the audience.
"We absolutely have the resource to build an LNG business that's made in Canada."
The industry certainly needs a shot in the arm, as capital spending by gas producers has been cut this year due to depressed prices and lacklustre investor interest.
After all of the negativity surrounding pipelines and Canada's growing oil price discount, LNG holds promise for a sector that finally needs some good news to arrive.
Chris Varcoe is a Calgary Herald columnist.
You can read more of the news on source