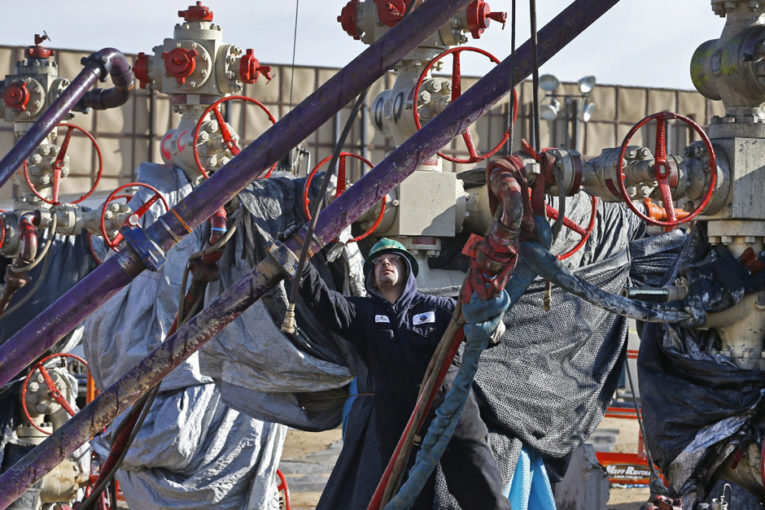 Despite rising oil prices, Canadian drillers are headed into 2018 with modest expectations for the new year.
Conditions have improved since last November when benchmark oil prices were stuck around US$48 a barrel, but natural gas prices in Western Canada have been fluctuating wildly this fall.
The industry expects to complete 6,138 oil and gas wells in 2018 — up only 107 wells from this year's level, according to a new forecast released Tuesday by the Canadian Association of Oilwell Drilling Contractors.
The fleet is also projected to shrink by 19 rigs next year, while rates for drillers remain under pressure.
CAODC president Mark Scholz said conditions for the industry are fragile after three tough years.
"Even though we are seeing elevated operating days . . . this is still a very difficult market to operate in," he told reporters at the Calgary Petroleum Club.
"This is a bit of the new norm for our industry today. There's still a lot of volatility in these prices."
While a modest two-per-cent increase in the number of wells drilled in 2018 would be a step in the right direction, it's a far cry from the early part of the decade when more than 10,000 wells were completed annually.
Last year, as cash flow levels tanked along with commodity prices, only 4,627 wells were completed, making it a brutal period for drillers and the oilfield services sector.
"It's fair to say 2017 was better than 2016 — better than a terrible year of 2016 — so 2017 was slightly better than awful," said Kevin Neveu, chief executive of Precision Drilling.
"And 2018 is looking to be just nominally better than 2017. So we're still a long way from a healthy industry for the services sector and for the drillers."
This muted outlook comes even though prices for West Texas Intermediate crude oil have remained above US$50 a barrel for all but two days over the past nine weeks.
Spot prices for natural gas at the AECO hub closed Monday at $2.19 per thousand cubic feet, but plunged into negative territory last month amid maintenance issues.
CAODC is basing its forecast on WTI oil averaging $52.50 a barrel next year — $4 below Tuesday's close — and Alberta gas at $2.35 per thousand cubic feet.
"Gas prices are actually quite weak, so (companies) are slashing budgets because we're staring at $2 AECO prices, which don't work for dry gas producers," said Randy Ollenberger, an analyst with BMO Capital Markets.
"On oilsands, you really aren't going to see companies increase their capital budgets until we have not only stability at a higher oil price level, but we also need to have some visibility on the pipeline proposals."
While CAODC's drilling forecast may seem cautious, it's also realistic given what petroleum producers have already announced for next year.
Companies such as Suncor Energy, ARC Resources, Tourmaline Oil and BlackPearl Resources have all indicated they will spend less money.
Of the 22 Canadian producers that have announced their 2018 capital programs, spending is dropping by a combined 5.7 per cent, according to data from energy consultancy Wood Mackenzie.
Yet, production is projected to increase by 12.2 per cent.
Some of the diminished spending stems from large oilsands projects wrapping up, including Suncor's $17-billion Fort Hill development.
As well, some producers are only drilling top prospects within their best areas, focusing more on profitability than adding output, said Mark Oberstoetter of Wood Mackenzie.
"We will see continuing momentum in the main hot areas that everyone knows about, like the Montney, and elsewhere you'll see a lot of prudence," he said.
Much of this caution stems from the steep drop in crude prices that began in 2014 and the profound effect it had on the Canadian oilpatch.
Scholz said the entire industry is also facing headwinds with the continuing problems around getting new pipelines built — underscored by the recent cancellation of Energy East — and the lack of regulatory certainty for the sector.
Drillers have also become more efficient, using automation and improved technology to reduce the amount of time it takes to complete a well.
But Neveu, whose company also operates south of the border, worries about the lack of investment coming into Canada relative to the United States, and the effect it will have on the industry over time.
"I have a concern that with the lack of capital flowing into Canada right now . . . compared to the U.S. basins, that our long history for technological innovation may be slipping," he said in an interview.
"I'm watching right now the intensity of capital being deployed into places like the Permian, Oklahoma . . . places like that in the U.S. And industry here is really struggling with tough natural gas prices, takeaway constraints — and the result is that capital isn't coming here as easily."
So the Canadian drilling outlook for 2018 remains circumspect, even with oil prices on the rise.
For an industry that's had to transform and cut costs, caution will be key moving forward.
Chris Varcoe is a Calgary Herald columnist.
You can read more of the news on source