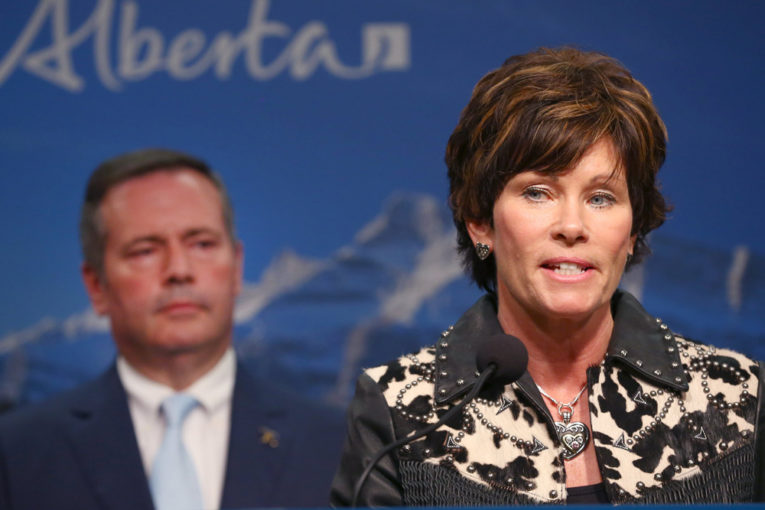 Alberta Energy Minister Sonya Savage is welcoming an unprecedented
agreement by OPEC
and its allies to cut more than 10 per cent of global oil production.
However, the province is not going to force petroleum producers to throttle back output in Alberta beyond existing provincial oil curtailment levels.
Even with the deal, a federal package to increase the liquidity of the Canadian energy sector is still needed in the coming days, Savage says.
Alberta's energy minister spoke about the agreement and its ramifications for the province in an interview last week with Herald business columnist Chris Varcoe.
The following is a transcript of the conversation, which has been edited for clarity and length.
Q: What was accomplished by the accord?
A:
The current situation is unsustainable and it has to be addressed and has to be addressed urgently . . . What has been accomplished is a commitment to address a problem that really was going to be destructive and destroy the energy industry.
Q: Most Alberta producers will wonder has Alberta agreed to cut production, either voluntarily or in a mandatory manner, beyond what we already have in place?
A:
No, there has been no request for government-mandated production cuts. What we see right now is a market system that's pulling the barrels off just by market forces, based on a price and the potential backlog in the system, and storage congestion, with refineries taking less product.
Q: What is your understanding right now on how many barrels are off production right now, either in the province or in the country? And how much more do we need to pull off?
A:
The last I looked at, there was a little over 200,000 barrels (a day) that have been publicly announced from various companies and production shut-ins, or what they've pulled back. And based anecdotally on conversations and what we've heard, I believe it's at least 400,000 barrels. Some analysts have said 600,000.
But it's north of 400,000 and the amount that would come off (with) a market system, taking volumes off, will depend partly on how long the pandemic lasts, how long it takes for the world and North America to get back to driving, to flying, and to have a more normal life and increase the demand again.
Q: To be clear, Alberta has not been asked by the G20 or OPEC+ to take any barrels off in a mandatory fashion through curtailment?
A:
No, we have not been asked.
Q: And that is not something you would do?
A: The situation is obviously fluid. Our biggest trading partner is the United States. We're working very closely with them. But it's certainly not something we are looking at right now. But again, we don't know how long the demand destruction is going to last with COVID. We don't know where the situation is going. But what we can say is in the OPEC countries, there is a will to resolve the situation.
Q: Are voluntary cuts enough? Is Alberta prepared to do more in a mandatory fashion?
A:
We are assessing the situation daily, watching what is in storage, watching the situation. Obviously, we are watching very carefully on the SAGD (steam-assisted gravity drainage oilsands) facilities, assessing that, talking to the producers. But we want to be very careful not to have production cuts come off that would forever damage the reservoirs.
Q: How long did the meeting drag on and can you give a sense of the mood in what seemed to be an unusual situation?
A: We are not part of OPEC or OPEC+. We were asked to participate as an observer and a potentially interested party. We had some great conversations with (OPEC) Secretary General (Mohammed) Barkindo ahead of time. But it was as an observer. I don't think I really want to comment too much on what happened in the meeting.
Q: Do you feel this agreement is going to right the ship, that this is going to affect the recovery for Alberta's oilpatch?
A:
Two days ago, we had a situation of 20 to 35 million barrels a day demand destruction, reduced usage in the world. We had OPEC countries increasing production, which was exacerbating that problem. You could see production shut-ins happening . . . It was completely unsustainable. So today looks a lot more encouraging.
Q: Do you have a good read right now on where we are sitting in this province with oil inventory levels?
A:
It appears to be increasing, the storage is going up. It's not full. But we are watching those numbers very carefully.
Q: What is your understanding of what is going on now with the federal assistance package for the oilpatch? How quickly does it need to happen?
A:
It has become much more apparent that this is urgent and I know there are ongoing conversations with our government and their government (in Ottawa). And I do believe that it's complicated, a liquidity package is quite complicated, on how to do it. I believe it will be coming out very shortly, though.
Q: Do you believe that a package from the federal government is still needed now that we have an OPEC deal?
A:
We absolutely need it. We're still at sub-$30 oil and most of our companies are burning through their cash at an unsustainable rate. We're not coming out of a low price environment for months . . . so those companies need liquidity.
The OPEC deal helps, it definitely helps, but we are still sitting in a low price environment. We are going to need liquidity for our companies.
Chris Varcoe is a Calgary Herald columnist.
You can read more of the news on source