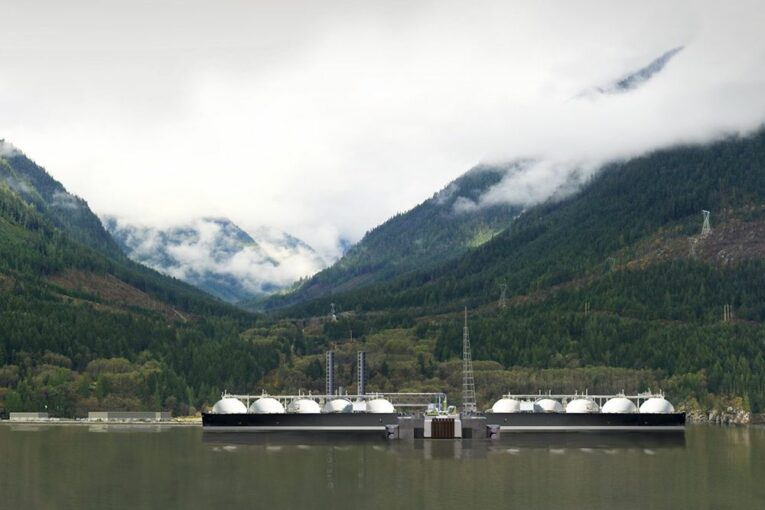 "Canadian LNG is a jewel," Enbridge CEO Al Monaco told an audience earlier this spring, touting the country's potential to build a liquefied natural gas industry.
We apologize, but this video has failed to load.
Try refreshing your browser, or
tap here to see other videos from our team.
Varcoe: Enbridge stakes claim in Canadian LNG game, gets share of Woodfibre project
Back to video
On Friday, the country's largest pipeline company came away with its first haul in the Canadian LNG game, agreeing to invest US$1.5 billion and acquire a 30 per cent stake in the Woodfibre LNG project near Squamish, B.C.
The investment in the US$5.1-billion development comes at a key time with Woodfibre, a Vancouver-based subsidiary of Singapore's Pacific Energy Corp., preparing for construction to start on the site next year.
The facility, Canada's second LNG development off the Pacific Coast, is expected to begin operations in 2027 and supply customers in Asia.
"Woodfibre is ideally positioned to meet growing Asian demand," Monaco said Friday on an earnings call.
"We see a huge opportunity here for Canada to materially ramp up LNG exports. The economic benefits are obvious, but also for Canada to play a leading role in improving global energy security and reducing GHG emissions beyond our own borders."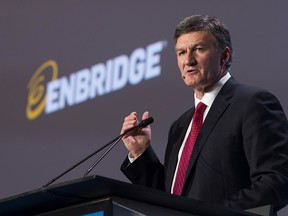 For a decade, Canada has had grand aspirations to become a major player in the global LNG industry, exporting super-cooled natural gas to the world.
With cheap, plentiful gas supplies in the massive Montney formation in British Columbia and Alberta, a competitive resource base was assured.
Yet, big-ticket energy infrastructure and major investors — along with secured customers — were also needed to make it happen.
The Shell-backed LNG Canada mega-project was given the green light in 2018 and is under construction. Other projects stalled, while the United States catapulted itself into becoming an LNG powerhouse.
However, the smaller Woodfibre project has been making progress. In April, the company issued a notice for its prime contractor to move ahead with work needed to begin major site construction next year.
Now, it has a new partner on board.
"I hope it sends a really positive message about the future of LNG," Woodfibre president Christine Kennedy said in an interview.
"Done right, we have an opportunity to provide a transition fuel for other parts of the world."
The agreement on Woodfibre LNG, a relatively small project that will produce 2.1 million tonnes annually for export, arrives as global LNG prices have skyrocketed.
Europe is expected to voluntarily reduce its consumption of natural gas by 15 per cent this fall as it shifts away from Russian supplies, or risks being cut off.
A report this week from the U.S. Energy Information Administration noted America became the world's largest LNG exporter in the first half of the year.
Shipments south of the border have expanded because of increased export capacity, growing global demand and rising prices. Benchmark European LNG prices averaged almost US$31 per million British thermal units in the first half of this year, while spot prices in Asia averaged $29.50.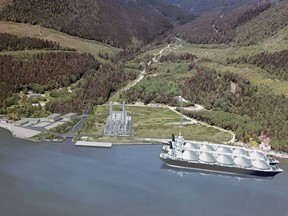 The Woodfibre project is underpinned with an offtake agreement with BP Gas Marketing, which will take about 70 per cent of the project's capacity.
Natural gas will move from the Montney region, through Enbridge's existing pipeline system in British Columbia, into an expansion of Fortis' Eagle Mountain pipeline, which runs to the development.
Monaco noted the project is competitive with U.S. Gulf Coast LNG facilities and provides a shorter shipping window to get product into Asia.
The Woodfibre project will use hydroelectricity, making it among the lowest-emitting LNG export facilities in the world.
As part of the deal's structure, Enbridge will receive a preferred equity interest in the project that the company says will provide it with predictable future cash flow.
The announcement marks a shift for Enbridge. It already supplies natural gas through its existing network to four operating LNG plants on the U.S. Gulf coast.
Now, it's about to become an LNG project owner.
"This is our first one we've gone into — and it's smaller scale," said Brian Johnson, Enbridge's vice-president of Canadian gas transmission and midstream.
"This is an infrastructure project and the right commercial model that works, so we also get to learn as well, and gain experience."
It's important Enbridge doesn't change its existing risk-reward profile for investors, but the deal removes the commodity price risk through its preferred share structure and by having contracts in place with BP, said analyst Matthew Weekes of iA Capital Markets.
"I don't think it's a change in strategy, but I'd say it is more an extension or an expansion of strategy," Weekes said.
"We just view it as going a bit further downstream in the value chain, but ultimately, it's still infrastructure."
However, that doesn't mean it's a risk-free venture, as capital costs on major energy projects can escalate during an era of red-hot inflation.
On Thursday, TC Energy said the expected costs to build the 670-kilometre Coastal GasLink (CGL) pipeline, which will move natural gas from northern B.C. to the LNG Canada development near Kitimat, has increased by nearly 70 per cent to $11.2 billion.
Industry analyst Ian Archer, an associate director with S&P Global Commodity Insights, said the agreement on Woodfibre is "an affirmation of this project" and shows interest by Enbridge in finding new markets for customers — at a time when demand is growing.
"We see partners looking for sources of energy that are secure, stable, assured and that has put a lot of…interest on Canadian LNG, as well as Gulf Coast projects," said Archer.
"It is certainly an important milestone for Pacific (Energy) and it does provide another outlet for Canadian gas to reach global markets."
Chris Varcoe is a Calgary Herald columnist.
You can read more of the news on source