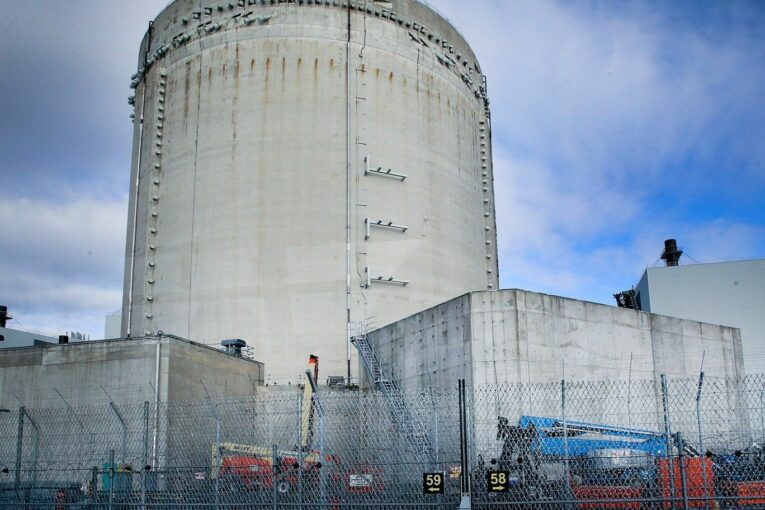 The world is enduring "the first truly global energy crisis," the head of the International Energy Agency said recently, while oil, gas and electricity prices have spiralled higher in the past year.
We apologize, but this video has failed to load.
Try refreshing your browser, or
tap here to see other videos from our team.
Varcoe: Canadians' interest in nuclear energy rises as attitudes toward oil and gas split country, poll shows
Back to video
Energy security has also barged its way back into the public consciousness.
Yet, attitudes in Canada remain decidedly split, and perhaps even ambivalent, towards expanding energy development.
A new poll by the Angus Reid Institute provides an interesting window into what Canadians think about their various energy sources and what the future might hold.
National support for drawing more energy from renewable developments is strong, while public backing for nuclear power is on the rise.
"Certainly, there is some openness and appetite possibly to expanding nuclear energy development," institute president Shachi Kurl said Wednesday.
"It's not one that's been tested at the community level."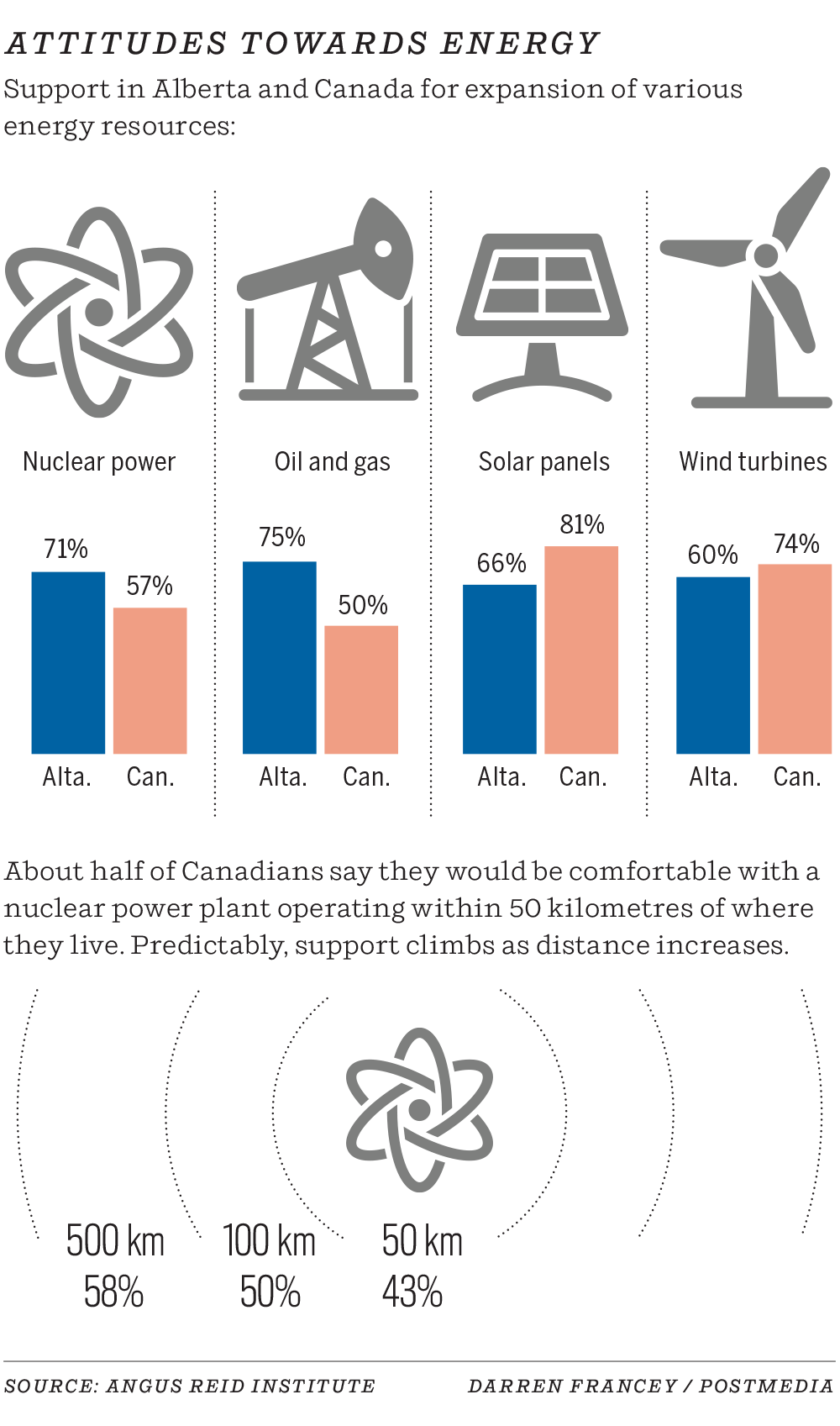 Views about expanded oil and gas development are more mixed across the country, although in majority territory — and much higher in producing provinces such as Newfoundland and Labrador, Saskatchewan and Alberta.
Aside from nuclear, other energy sources saw little change in the level of public support from a similar poll in 2021.
After a period of upheaval, including soaring pump prices and power bills, that's a curious trend.
"Canadians live in a land of plenty," energy economist Peter Tertzakian said Wednesday.
"Whether it's Quebec with their hydro or the western provinces with their hydrocarbons, we've been relatively shielded from what is going on in the rest of the world, which leads to a certain sense of false security."
One of the most provocative findings in the survey was increased support for nuclear, coming as several provinces have been busy collaborating and studying the potential of small modular reactors, or SMRs.
The online survey of 5,030 Canadians, conducted in late November and early December, found 57 per cent of Canadians surveyed say they would support efforts to expand nuclear power generation, while 30 per cent are opposed.
Support for nuclear power, a non-emitting energy source that traditionally comes with an expensive price tag for large-scale projects, has climbed by six percentage points since June 2021.
Not surprisingly, backing for nuclear is strong in provinces that already have operating facilities — New Brunswick and Ontario — although support was even higher in Alberta and Saskatchewan, topping 70 per cent.
In Quebec, only 30 per cent are in favour.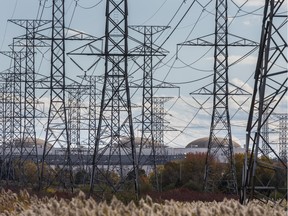 "As the public learns more about nuclear power and its benefits, not only in terms of CO2 emissions but also energy security, economic growth and land-use, they're recognizing that it can play a major and positive role," Christopher Gully of the Canadian Nuclear Association said in a statement.
Just how close you live to a nuclear power station also influences the perspective of Canadians.
While 59 per cent of respondents said they'd be comfortable with a plant operating within their province, that number dropped to half if the facility were located within 100 kilometres of their home.
The industry also faces hurdles to overcome, such as the low cost of renewable power compared with the higher price of nuclear generation, said Keith Stewart of Greenpeace Canada.
"There's always a nuclear renaissance in the offing; there have been the last 20 years, and it keeps foundering on the shoals of the economics," he said.
And what about views on fossil fuels?
Canada remains the world's fourth-largest oil-producing country and fifth-largest natural gas producer. With the invasion of Ukraine by Russia, the world's largest energy exporter, security of supply has become a pressing concern, even in a period of decarbonization.
As Canada moves towards a net-zero target by 2050 and Ottawa proceeds with an emissions cap for the oilpatch, an intense political debate is now brewing around what the future holds for increasing oil and natural gas production.
The poll found support for expanding oil and gas operations has remained relatively flat since mid-2021, with half of Canadians in favour and 41 per cent opposed.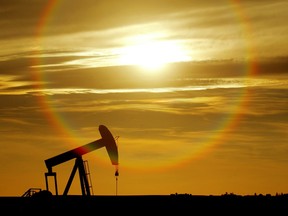 "Canadians see that there are no silver bullets when it comes to energy and when it comes to emissions reductions and that it's really going to take all different forms of energy," said Monica Gattinger, a political scientist and chair of the University of Ottawa's Positive Energy research program.
"One of the things that really stood out for me was that more Canadians are supportive of increasing oil and gas in our energy consumption, than oppose increasing it."
In Alberta, fully three-quarters of respondents back the expansion of oil and gas as a source of supply; only 20 per cent are opposed. And 72 per cent of respondents from Saskatchewan and Newfoundland and Labrador and also in favour.
These numbers fall to about half in Ontario, British Columbia and New Brunswick, and 34 per cent in Quebec.
"It's not a good thing to have this kind of polarization, it's nothing new and it's not surprising," said Tertzakian, deputy director of the ARC Energy Research Institute.
Recommended from Editorial
Varcoe: Danielle Smith says Alberta is tired of being Ottawa's 'punching bag,' but will consider carbon capture aid

Varcoe: Ottawa's 'just transition' rhetoric adds to oilpatch labour crunch
While some of the dividing lines are geographic, they're also political.
The poll indicates 86 per cent of federal Conservative party voters in the last election say they support expanding oil and gas operations, but the number falls to one-third for Liberals and two in 10 for NDP voters.
Nationally, the poll indicates 74 per cent of Canadians back more wind farms, while solar farms garnered 81 per cent support, both down slightly from 2021.
Support for hydraulic fracking is up three percentage points to 31 per cent, while coal mining support is flat at 19 per cent.
In Alberta, which has quickly become a hot spot for both wind and solar development — more than $4.3 billion of renewables projects have been unveiled since 2019 — the poll indicates there's strong interest in several energy sources.
The survey found 75 per cent of Albertans are OK with nuclear power generation, two-thirds back more solar farms, and six in 10 support additional wind farms. Only 37 per cent say they support expanding coal mining.
Chris Varcoe is a Calgary Herald columnist.
You can read more of the news on source