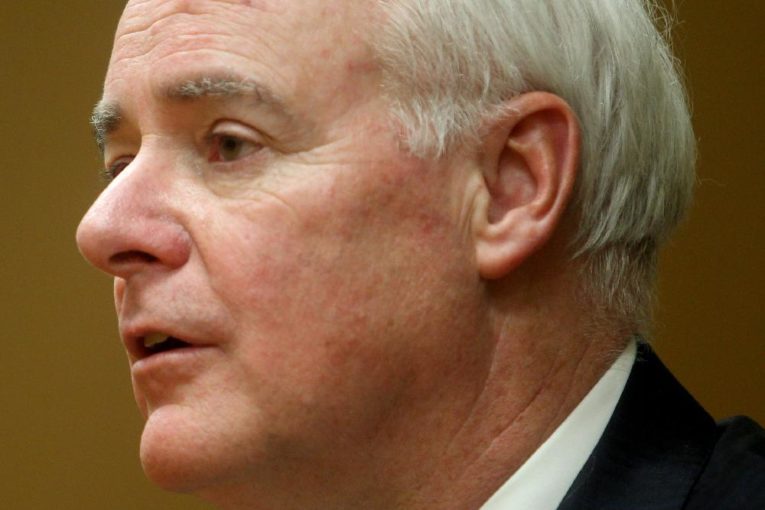 Resurrect Energy East. Review government regulations. Find new customers for Canadian resources.
With NAFTA under threat by the "whims of a wildly unpredictable president," it's time the country examine its own economic options and develop a new strategy, says the head of the Canadian Chamber of Commerce.
In a blunt speech that laid out the stakes of "the ratcheting up of tensions" between Canada and the United States, chamber CEO Perrin Beatty asserted this country can no longer sit back and worry about the next incoming salvo from Washington.
"When Canada's economy is under attack by our largest customer and long-standing best friend, it is no longer business as usual," Beatty told a meeting of the Alberta Chamber of Resources in Calgary on Thursday.
"Simply put, we are in uncharted waters."
Indeed, we are.
Earlier this month, the U.S. imposed 25 per cent import tariffs on steel and 10 per cent on aluminum from Canada — as well as products from Mexico and the European Union — citing national security as the justification.
On Friday, the EU instituted counter-tariffs on US$3.4 billion worth of American products, affecting everything from bourbon to Harley-Davidson motorcycles.
Predictably, the president threatened Friday to escalate the fight with European countries.
"If these Tariffs and Barriers are not soon broken down and removed, we will be placing a 20 per cent Tariff on all of their cars coming into the U.S. Build them here!" he tweeted.
As Canada approaches the July 1 deadline to implement its own retaliatory action against U.S. products, things are likely to get worse before they get better, Beatty warned.
If Trumps slaps additional tariffs on the auto sector, it could have a disastrous effect on the economies of Canada, Mexico and the U.S.
Regardless, the Canadian government and corporate community must work together to "implement a new strategy to ensure the survival of our businesses and the livelihoods of hundreds of thousands of Canadian families," said Beatty.
If all this talk sounds a bit alarmist, consider the fact Canada has not seen such vehement anti-free trade rhetoric from Washington since the infamous Smoot-Hawley Act of 1930.
Not only is Trump starting a tit-for-tat trade war with China, he's set his targets on America's closest allies.
"We have one customer who buys 75 per cent of what we sell," Beatty said in an interview. "That customer, who has been our best friend and ally, is now looking how to inflict damage on the Canadian economy. We need to take that very seriously.
"We've got to learn the lesson from this, that it's very dangerous for us to be dependent upon one customer."
So how should Canada — and Alberta's oil and natural gas sector — respond?
With so much at stake, the country can no longer assume the situation will fix itself with an appeal to common sense, that NAFTA is a positive force for all three countries.
That approach isn't working.
Alberta exported $87 billion worth of goods to the United States last year.
The U.S. buys 86 per cent of Alberta's exports, led by oil and natural gas shipments. That leaves us vulnerable in a broader trade fight.
A recent report by Scotiabank concluded an all-out trade war by Trump would push the NAFTA partners into recession in 2020, with Canada's economy contracting by 1.8 per cent.
Beatty, a former federal cabinet minister in the Mulroney government, has an over-arching point: Canada needs to make sure businesses can survive and thrive in such an unpredictable environment.
The country must find ways to get our commodities to market, and repair a "complex, costly and broken regulatory system," he said.
The business group backs Ottawa's $4.5-billion purchase of the Trans Mountain pipeline but points out the need to nationalize it highlights a dysfunctional process.
Energy East, a $15.7-billion pipeline project designed to move western Canadian crude to the Atlantic Coast, was abandoned by TransCanada Corp. last fall after running into regulatory delays.
Beatty believes the pipeline should be revived, although it's difficult to see Trans Canada wading back into that morass.
"There's something fundamentally wrong when a country like Canada, with the quality and quantity of oil and gas we have, can't supply our own needs domestically," he said.
"We need to complete that job and make ourselves energy self-sufficient."
He's not the only one thinking the project should be reconsidered.
Last week, the CEO of the Canadian Association of Petroleum Producers said the U.S. president's trade talk underscores why the country needs new markets.
"Energy East was not successful through the regulatory process, but if there is ever a time we need to reassess decisions made even a year or two ago, it's now," said Tim McMillan.
Other strategies should be pursued.
Business operators must become more proactive to take advantage of international trade agreements, such as the Comprehensive Economic and Trade Agreement and the Trans-Pacific Partnership, to reach customers in Europe and Asia, respectively.
Regulatory hurdles must also be put under the microscope.
At an energy forum in Calgary on Friday, several petroleum producers echoed that sentiment, citing regulatory delays as a problem.
Philippe Gauthier, Shell Canada's general manager of Alberta unconventional resources, said the country has world-class plays such as the Duvernay and Montney, but "one of the elements that's not playing in our favour … is the regulatory timelines and overall uncertainty."
If Trump has any lessons to teach Canadians, it's that amid the chaos and uncertainty he creates, the country needs to take charge of the things it can control on trade and commerce.
We need a strategy to reduce Canada's vulnerability.
"The president has been very clear. His goal is not to do favours to Canada; it's to inflict damage to Canada," Beatty said.
"We need to take him at his word."
Chris Varcoe is a Calgary Herald columnist.
You can read more of the news on source