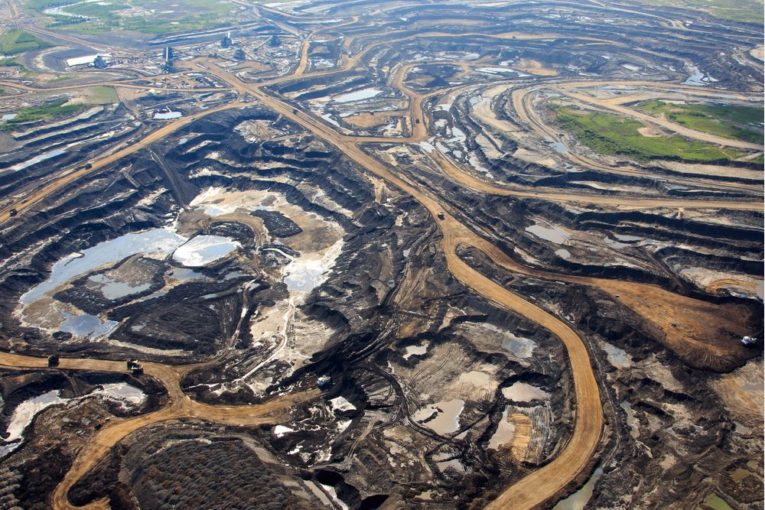 The discount affecting Alberta energy prices has struck again, this time touching the country's largest oil and gas producer.
But it isn't just pipeline problems crimping oil prices that caused Canadian Natural Resources Ltd. to throttle back some production during the first three months of the year.
Feeble prices in Alberta also led the company to shut in some natural gas production, yet another sign of the headwinds confronting the country's energy sector.
Stop me if this predicament sounds familiar: If companies don't have the ability to get their product to market efficiently through pipelines, they have to make a tough decision to sell at a discount — or not produce it in the first place.
In this case, Canadian Natural Resources made the call to wait for "anomalous" prices to recalibrate.
"With the current pipeline restrictions for both crude oil and natural gas, the company will be proactive in our actions to manage our assets," company president Tim McKay said on a conference call.
"If we see very low prices, we obviously will shut in volumes."
During the first quarter, the Calgary-based company didn't produce almost 17,000 barrels of oil due to the widening price differential between benchmark West Texas Intermediate crude and Western Canadian Select heavy oil.
A lack of pipeline capacity is costing the Canadian economy an estimated $40 million a day, and causing grief for petroleum producers.
Canadian Natural scaled back about 7,100 barrels of heavy oil production, deciding to curtail output and delay well completions. It also shut in 9,700 barrels per day of thermal oilsands production due to low prices.
The discount for heavy oil shot up to US$30 a barrel during the period, although it has fallen back in recent weeks, closing at $15.97 a barrel Wednesday.
Other oilpatch players have faced a similar predicament.
Last week, Imperial Oil and Cenovus Energy confirmed they shut in some oil during the first quarter, while Husky Energy decided to not produce some of its own heavy crude and instead bought cheap barrels from other parties for use as feedstock in its U.S. refineries.
While the oil differential has stabilized in the past month, the same isn't true for beleaguered natural gas prices in Alberta.
In fact, they've been getting worse.
Spot prices at the AECO pricing hub closed at just five cents Cdn per thousand cubic feet on Thursday, a whopping $3.48 behind U.S. benchmark prices.
Pipeline constraints, seasonal maintenance issues and surging gas output in Western Canada are all contributing to a compounding problem.
"Essentially, gas has reached the point where it's at a similar predicament to oil. We have exceeded capacity out of the basin," said Ian Archer, a natural gas analyst with consultancy IHS Markit.
"We are already seeing a slowdown in gas drilling. This is going to be a protracted problem."
Aside from its massive oilsands operations, Canadian Natural is also the country's largest gas producer.
During the first quarter, it shut in about 14 million cubic feet per day of natural gas production due to the state of commodity prices.
"We are not scared to shut in gas if we have to," McKay told reporters after the company's annual meeting Thursday.
"Typically, these are short-term events so once the maintenance activities are over, normally gas prices stabilize."
Yet, Canadian natural gas producers have been hammered by volatile markets since last summer, with prices at AECO falling into negative territory at one point due to transportation bottlenecks.
Gas pipelines are essentially full today and while operators such as TransCanada have proposed expansions to increase shipping capacity out of the province, major additions are at least two years away, GMP FirstEnergy analyst Martin King said in a speech this week.
Meanwhile, companies continue to drill in prolific areas such as the Montney and Deep Basin, and western Canadian supply growth has been unprecedented over the past 12 to 18 months.
More natural gas could be shut in this year, although the magnitude will depend on local demand growth and the U.S. market.
"Everything has become extremely bearish for Canadian gas," King said.
"The worry is if these prices stay low enough for long enough, will producers shut in wellhead supplies to get the market to balance out? We don't know how this is going to shake out."
Aside from seeing pipeline capacity expanded, industry players are looking for other solutions, from tapping into different markets with superior prices to a longer-term hope that a liquefied natural gas project will finally be built in Canada.
Seven Generations CEO Marty Proctor, one of the country's largest gas producers, noted his company has been proactively accessing markets to minimize its exposure to AECO prices, with about 70 per cent of its output going into the United States.
While initiatives are underway to improve the situation, he's concerned about the impact low prices will have on the overall industry and government revenues that flow from gas production.
"It's so important for the people of the province as well. Royalties are hampered both in Alberta and British Columbia because of these prices," he said after his company's annual meeting.
Like Alberta's oil pipeline conundrum, there are no quick solutions to the gas pains now ailing the province.
For companies facing the short-term discomfort, there may be more tough decisions ahead — sell it at a loss, or simply shut it in.
Chris Varcoe is a Calgary Herald columnist.
You can read more of the news on source