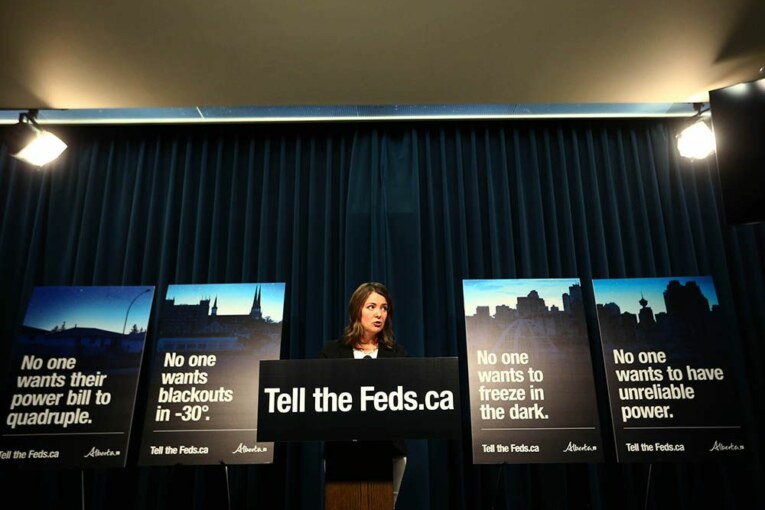 The Alberta government's pitched battle against federal plans for a net-zero electricity system by 2035 got a jolt Thursday from the province's grid operator, which raised the possibility of blackouts and spiralling costs for consumers.
We apologize, but this video has failed to load.
Try refreshing your browser, or
tap here to see other videos from our team.
Varcoe: AESO warns of blackouts with feds' plan for a net-zero power grid by 2035
Back to video
It also raised questions about the Alberta Electric System Operator (AESO) itself.
At a news conference, the operator's top executives said they've analyzed Ottawa's draft Clean Electricity Regulations (CER) for a net-zero power grid across the country by 2035 — 15 years before the province's goal.
The AESO, the independent operator of the provincial electricity system, issued a sobering warning about the consequences of hitting the earlier timeline.
Alberta won't have enough supply to ensure the reliability of the system in 2035 and the severity of a shortfall would increase over the years.
Meeting the federal timeline, instead of the Alberta government's target, would lead to minimal additional emissions reductions, while wholesale electricity costs would be about $118 billion higher under a 2035 target than waiting another 15 years, AESO stated.
Simply put, it's "not feasible" for Alberta to transition to a net-zero grid by 2035, said AESO chief executive officer Michael Law.
"Our analysis shows that the way the CER is currently written is going to create supply adequacy and reliability challenges for Alberta's power system from 2035 and beyond," he told reporters.
"This energy shortfall increases over time, increasing reliability and safety risks for Alberta's power system and all Albertans."
Less than two hours later, Premier Danielle Smith announced a new national advertising campaign to fight Ottawa on the electricity front.
Related Stories
Alberta prepared to use sovereignty act over proposed clean electricity regulations: Smith

Varcoe: Premier warns of blackouts under feds' net-zero power plan, while billions of renewables hang in balance

Poll suggests two-thirds of Albertans oppose pause on renewable energy approvals

Twin polls suggest majority of Albertans support oil and gas emissions cap
Speaking in Calgary, she stressed the electricity system lies within provincial jurisdiction and that accelerating the net-zero transition to the middle of the next decade could lead to severe consequences.
In case the point wasn't crystal clear, she stood in front of several provincial placards, including one that read: "No one wants to freeze in the dark."
The premier reiterated her government would use the Alberta Sovereignty Within a United Canada Act to fight any attempt by Ottawa to require a net-zero power grid in the province by 2035.
"We're preparing a sovereignty act motion and I'm hoping we don't have to use it," she said.
"Hopefully, we're able to come to a peaceful resolution with our federal counterparts where they recognize our constitutional jurisdiction."
This is just the latest clash between Alberta and Ottawa over federal energy and environmental policies, including the incoming oil and gas emissions cap.
In August, the Trudeau government released the CER for a short consultation period, which ends Nov. 2. Final regulations are expected next year.
The federal government has estimated that all provinces and territories will have to invest significantly in the power systems to meet surging demand — including from the adoption of electric vehicles — and to undertake routine facility replacements.
It's pegged these expenditures at about $400 billion by 2050. Ottawa has also said modelling indicates the regulations would lead to "small incremental impacts on electricity rates" across the country.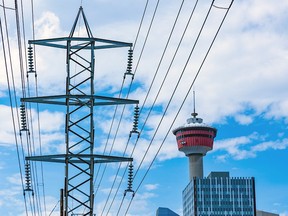 However, Alberta is more reliant on burning natural gas for power generation than other provinces such as British Columbia, Quebec and Manitoba, which have large-scale hydro generation.
Across Canada, more than 84 per cent of electricity generated comes from non-emitting sources.
In Alberta, 72 per cent of electricity came from gas-fired generation last year and 12 per cent from coal, putting the province at a huge disadvantage, even with a surge in renewable energy in recent years, Law said.
"Regardless of how much intermittent wind and solar Alberta has, the provincial grid will need sufficient dispatchable generation to meet the cold, dark, windless winter nights that we have in this province," he said.
"Without that, in the worst-case scenario, large areas of Alberta could be left without power, creating significant public health and safety risks. Now to be clear, as the operator of Alberta's electricity system, we cannot and will not let that happen."
The draft federal rules would allow gas-fired generating plants built before 2025 to continue to run unabated — without carbon capture and storage technology — for 20 years.
New generating units that use gas with carbon capture and storage would be able to continue operating past 2035. There are also provisions for limited unabated gas-fired generation beyond 2035 during emergencies.
Last year, an AESO report said there are multiple pathways to achieve net-zero emissions in the province's power system by 2035, estimating the transition would require an additional $44 billion to $52 billion of investment.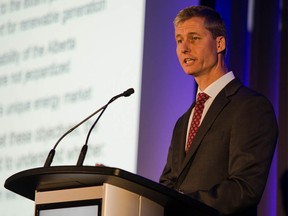 After Thursday's news conference, the federal government and energy experts called on the AESO to release all of its new analysis.
"To me, I'm hearing a provincial government response, not an independent agency response," said Blake Shaffer, a University of Calgary economist and electricity expert.
"To say there will be blackouts 12 years out feels both irresponsible and outside their role."
Shaffer, who has called on Ottawa to provide more flexibility in its CER rules, noted he didn't see any modeling released by the AESO, making it difficult to assess its conclusions.
"I urge the AESO to publicly release its analysis that underlies these claims," Federal Environment Minister Steven Guilbeault said in a statement.
"Any claim that building a clean electricity grid in Alberta will lead to blackouts is misinformation, designed to inflame not inform."
The UCP government should be at the table negotiating with Ottawa for changes to make the clean electricity regulations more flexible, said NDP MLA Nagwan Al-Guneid.
She lambasted the province's national campaign against the CER, which is expected to cost about $8 million.
"It's fearmongering and misinformation," she said.
"We have time to negotiate this. So to push a misinformation campaign, while there is public consultation ongoing, is frankly unacceptable."
Chris Varcoe is a Calgary Herald columnist.
You can read more of the news on source