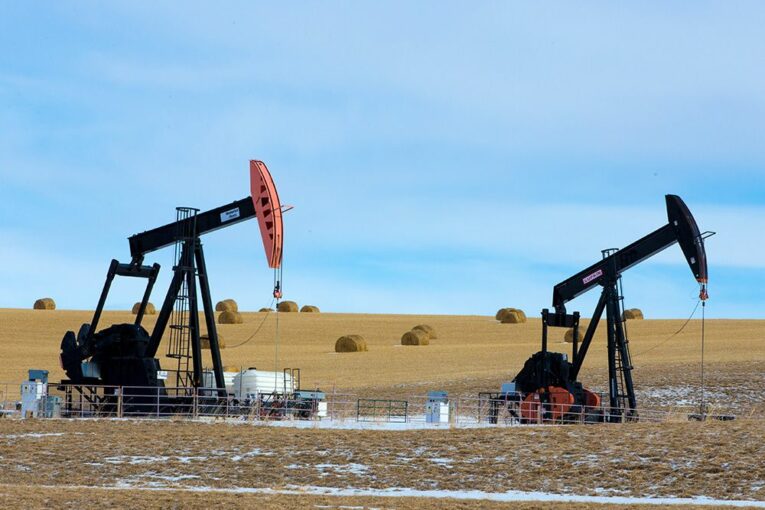 In the three weeks since Alberta's new budget arrived, oil prices have been in a deep slide.
We apologize, but this video has failed to load.
Try refreshing your browser, or
tap here to see other videos from our team.
Varcoe: 'A negative development': Banking turmoil causes oil price slide
Back to video
At the end of February, benchmark U.S. crude prices traded around US$77 a barrel and many analysts thought prices were headed higher as demand increased.
Instead, in the wake of concerns surrounding the health of the global banking sector, West Texas Intermediate (WTI) oil dropped Monday at one point to $65 a barrel, its lowest level since late 2021. Prices ended the day at $67.82 a barrel.
The sudden March slump underscores, yet again, the volatile nature of oil prices and how unpredictable factors in one sector — banking, in this case — can spill over into energy markets and reverberate in the province.
"All in all, it's a negative development," Adam Hardi, a vice-president with Moody's Investors Service credit rating agency, said Monday.
"One thing it really highlights from our perspective is the province doesn't have to be directly exposed to the financial sector — because when there are stressors like this in the financial sector, that will influence oil prices."
The collapse at Silicon Valley Bank and Signature Bank earlier this month, and troubles that led to the sudden sale of Credit Suisse to UBS Group on Sunday, are seeping into other areas of the economy.
Prices for WTI crude have fallen about 12 per cent since the start of March.
A slowing economy and continued turmoil could cut into expected growth in global oil consumption, which was previously expected to reach a record 102 million barrels per day later this year.
"These are massive moves," said Rory Johnston, founder of the Commodity Context newsletter.
"The primary cause of this rout in prices has been this disruptive concern that's been spreading through the bank system."
Recommended from Editorial
Alberta Budget 2023: Oil prices to fuel UCP's big-spending, pre-election fiscal plan

Bank of Canada joins Fed and other central banks in new liquidity measures to ease banking turmoil

Oil prices plunge, Canadian energy stocks take beating as global banking fears spread
Claudio Galimberti, Rystad Energy's research director for North America, said the price drop is not tied to fundamental supply-demand factors and prices for Brent crude could return above US$90 a barrel by the fall — in the absence of a deeper banking crisis.
"Our expectation is it's going to get sorted out," he said.
Moves by central bankers over the weekend, including the Bank of Canada, to calm markets by enhancing liquidity are expected to help deal with the short-term jitters.
The S&P/TSX Capped Energy Index rose 2.9 per cent on Monday, while the S&P/TSX composite index was up 131.71 points on the day.
For the provincial government, the latest volatility lands as it's in a relatively strong fiscal position.
The budget surplus for the current fiscal year that ends March 31 is projected to reach $10.4 billion.
The incoming budget forecasts Alberta will post a $2.4-billion surplus, based upon WTI oil averaging US$79 a barrel.
Just a few weeks ago, that seemed like a conservative estimate. After all, more than a dozen forecasting agencies, banks and industry analysts tracked by the province collectively projected oil prices will average $86 a barrel this year.
However, even a small miss can have major ramifications.
Every $1-a-barrel change in the average price of benchmark U.S. oil over the course of the year alters provincial revenues by $630 million.
"Things can change rapidly in oil prices and it just speaks to the risk that the province is exposed to by requiring a quarter to one-third of its revenues to come from non-renewable resource revenues," said University of Calgary economist Trevor Tombe.
"If current conditions continue, then we are looking at about a $5-billion deficit."
The new budget, which starts in April, projects provincial revenues will hit $70.7 billion in the coming year, with 26 per cent flowing from natural resources.
Finance Minister Travis Toews pointed out the province has a $1.5-billion contingency fund in place. A smaller-than-expected discount for western Canadian heavy oil prices will also help bolster the bottom line.
"All of those things combined leave us in what I would characterize as a very solid spot," Toews told Postmedia's Matthew Black.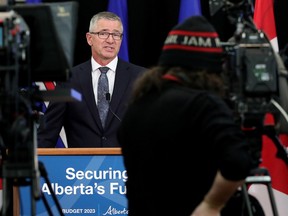 Across the Canadian oil and gas industry, companies aren't making dramatic moves for the year due to today's oil market.
"Everyone is full steam ahead. I wouldn't anticipate changes to any budget on these kinds of prices," said Prostar Well Service CEO Dale Dusterhoft.
The key issue is what happens if low prices linger for several months and cause producers to re-evaluate their drilling plans in the second half of the year.
Many companies have price hedges in place and most producers have also strengthened their balance sheets during the past two years.
Tamarack Valley Energy CEO Brian Schmidt believes it's simply too soon for petroleum producers to react to the price swing, although the latest drop will affect cash flow levels and the ability of companies to pay down additional debt.
"What each CEO is going to be doing in town is assessing, is there long-term effects to this?" he said.
"If it hangs in or another bank tumbles, then it's a different deal."
Chris Varcoe is a Calgary Herald columnist.
You can read more of the news on source