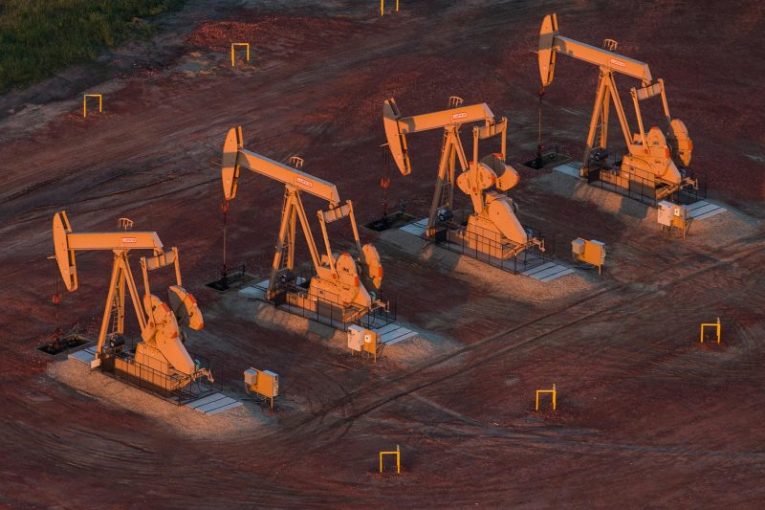 U.S. energy companies kept the oil rig count unchanged this week, General Electric Co's Baker Hughes energy services firm said on Friday, as some analysts expect a gradual decline in overall rigs in the fourth quarter and in 2018.
The rig count , an early indicator of future output, held at 738 in the week to Nov. 17, still much higher than 471 rigs a year ago as energy companies boosted spending plans for 2017 as crude started recovering from a two-year price crash.
The increase in drilling lasted 14 months before stalling in August, September and October after some producers started trimming their 2017 spending plans when prices turned softer over the summer.
So far in 2017, U.S. crude futures have averaged almost $50 a barrel, easily topping last year's $43.47 average. This week, futures were trading around $56 a barrel after rising close to $58 last week, their highest since July 2015.
Looking ahead, futures were trading near $56 for the balance of the year and calendar 2018 .
In anticipation of higher prices this year and next than in 2016, exploration and production (E&P) companies increased their spending on U.S. drilling and completions in 2017 by about 53 percent over 2016, according to U.S. financial services firm Cowen & Co.
Cowen said 14 of the 64 E&Ps they track have already provided capital expenditure guidance for 2018 indicating a 9 percent increase in planned spending over 2017.
Cowen, which has its own U.S. rig count, said it expects a gradual decline in rigs in the fourth quarter of 2017 and in 2018.
There were 915 oil and natural gas rigs active on Nov. 17. The average number of rigs in service so far in 2017 was 870. That compares with 509 in 2016 and 978 in 2015. Most rigs produce both oil and gas.
The total rig count so far in the fourth quarter averaged 915, down from an average of 942 in the third quarter.
The United States, whose upstream energy industry has seen a resurgence with the development of fracking technology, would become the "undisputed leader of oil and gas production worldwide," the International Energy Agency's (IEA) head Fatih Birol said on Thursday.
The U.S. is expected to account for more than 80 percent of global oil production growth in the next 10 years and it will produce 30 percent more gas than Russia by that time, the Paris-based energy watchdog said.
The U.S. Energy Information Administration this week projected U.S. shale production would rise for a 12th consecutive month in December to 6.2 million barrels per day.
Overall, U.S. production was expected to rise to 9.2 million bpd in 2017 and a record 10.0 million bpd in 2018 from 8.9 million bpd in 2016, the EIA said. Output peaked at 9.6 million bpd in 1970.
(Reporting by Scott DiSavino; Editing by Marguerita Choy)
You can read more of the news on source