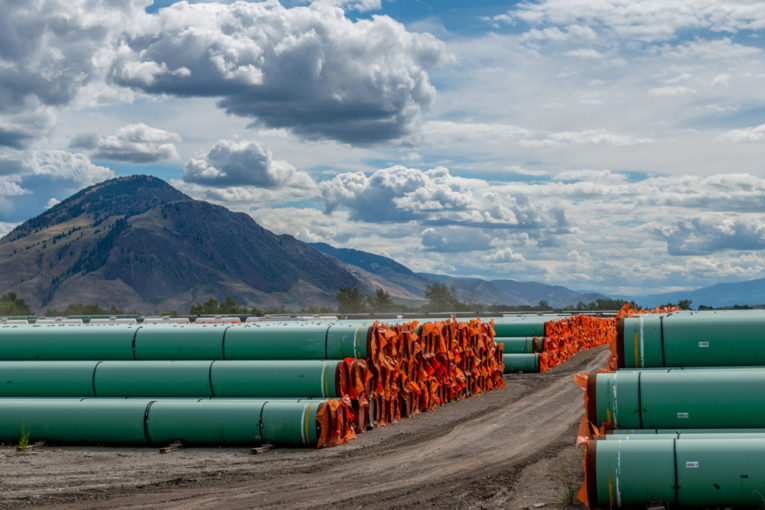 CALGARY – A decision by the Federal Court of Appeal to allow six new appeals of the long-delayed Trans Mountain pipeline expansion is "disappointing" to the Canadian oil industry, but isn't likely to halt construction of the crude oil project.
The court ruled Wednesday that six of 12 legal challenges brought by opponents of the Trans Mountain pipeline expansion project would be allowed to proceed — raising new legal hurdles for the long-delayed 590,000-barrel-per-day pipeline between Alberta and British Columbia.
In his decision, Appeals Court Justice David Stratas divided the dozen legal challenges into two categories. Six were based solely on the potential negative environmental impacts of the pipeline, and those challenges were dismissed because there were re-litigating previous court cases. The other six were brought by affected First Nations groups and focused on whether Ottawa had fulfilled its duty to consult.
In a move that has frustrated the oil industry and confused some legal experts, the federal government chose not to provide evidence prior to this decision on how it carried out its legal duty to consult with affected Indigenous communities along the pipeline route — so Stratas said he had to grant leave for the appeals.
The federal government "withheld their evidence and legal submissions on these points," he wrote.
As a result, he said, the challenge "meets the 'fairly arguable' standard for leave" and those challenges will proceed to a legal hearing.
"It does seem surprising to me," said Dwight Newman, an expert on Indigenous rights in constitutional and international law at the University of Saskatchewan. If the federal government had filed evidence, there's a chance the further appeals would not have been allowed but the court needs to weigh whether Ottawa followed its directives on how to consult with affected groups this time around, he said.
Approvals for the Trans Mountain expansion project were overturned in Aug. 2018 on the same grounds – that Ottawa hadn't properly consulted with affected First Nations – and the federal government re-launched consultations immediately to try to remedy the problems raised by the court.
Wednesday's decision does not overturn the approvals for the project, which were granted again by Prime Minister Justin Trudeau in June, but they do introduce another legal hurdle for the pipeline project.
"There's no tools-down requirement," Newman said, noting that opponents would need to apply for an injunction in order to force work to stop on the pipeline, a move which would frustrate the oil industry's plans.
Tsleil-Waututh Nation, one of the First Nations that filed the motion, said it was "confident the court will once again decide in our favour."
"Canada continued to do the legal minimum and in our view, fell well below the mark again," Chief Leah George-Wilson said in release, which noted that "the same six First Nations that stopped the Trans Mountain pipeline expansion in its tracks last year will have another chance" to overturn approvals for the project again.
Amid entrenched opposition from First Nations and the government of British Columbia, Houston-based pipeline giant sold the Trans Mountain pipeline system and expansion project to Ottawa in May 2018 for $4.5 billion. The federal government has been trying to move the project forward since that time and recently announced construction would restart and work would be complete within two years.
"It's a very disappointing decision" but I'm not sure anyone could say it's surprising," Petroleum Services Association of Canada president Gary Mar said following the ruling, which demonstrates that the project was still mired in uncertainty.
"There are people for whom no amount of consultation will be sufficient," Mar said.
The oil industry widely expects work on the pipeline to continue after the federally owned Trans Mountain Corp. announced construction would re-start this month.
"The (Trans Mountain expansion) has already undergone a lengthy, thorough and extensive regulatory review process, including extensive consultation with all stakeholders," Canadian Association of Petroleum Producers president and CEO Tim McMillan said in an email, adding that he was "disappointed."
Environmental groups were equally disappointed with the decision as oil executives, albeit for different reasons.
"We are extremely disappointed the court refused to hear our challenge of the federal government's decision to re-approve the Trans Mountain pipeline project, as well as any other challenges on environmental grounds," Ecojustice lawyer Margot Venton said in a release, adding the pipeline would increase the risk of climate change.
She said Ecojustice – which was acting on behalf of the Raincoast Conservation Foundation and Living Oceans Society – is considering appealing to the Supreme Court of Canada.
"Going to the country's highest court may seem like a drastic measure, but – in the midst of a climate emergency and biodiversity crisis – these are drastic times," Venton said.
The Appeals Court decision is not likely to weigh significantly on oil and gas stocks in the country, however, as the industry's worst case scenario – no pipeline – is already reflected in share prices.
"(The energy) names are trading at a discount to their liquidation value," said Eric Nuttall, a partner and senior portfolio manager at NinePoint Partners.
"In terms of sentiment, we're struggling to attract inflows (of capital) into energy in general and then Canadian energy is an extension of that," Nuttall said. "This doesn't help our case."
• Email: [email protected] | Twitter: geoffreymorgan
You can read more of the news on source