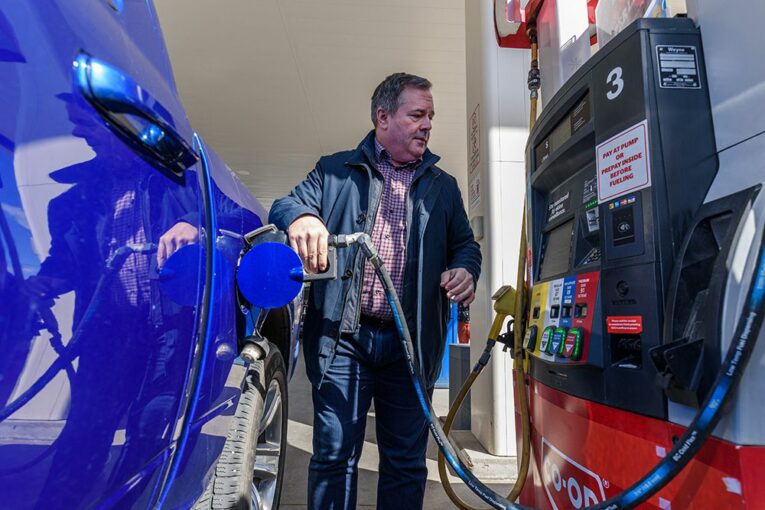 As Premier Jason Kenney pumped $77 worth of gasoline into his blue Dodge Ram pickup truck, symbolically demonstrating the lifting of the provincial gas tax on Friday, most Calgary gas stations were falling in line.
We apologize, but this video has failed to load.
Try refreshing your browser, or
tap here to see other videos from our team.
'That's big money': Kenney says gas tax break will bring relief to inflation-weary Albertans
Back to video
The temporary removal of the 13-cent-per-litre tax went into effect on April 1, dropping average prices in the city from 167.5 cents on Thursday into the 156.9 range.
The drop makes good on Kenney's promise to alleviate pain at the pump brought on by a spike in global oil prices.
"That's big money when Albertans need it most," said Kenney of the tax break. "We are living through 30-year-high inflation … and Alberta's government has listened to Albertans saying we need to take real action to reduce the cost of living."
The full lifting of the tax is in effect as long as the price of West Texas Intermediate crude remains above $90 per barrel. WTI had closed at $99.42 on Friday. If the tax remains lifted for 12 months, Kenney said it will save Albertans $1.4 billion.
The price of gasoline remained relatively unchanged in Calgary for the previous three weeks when WTI spiked to $123.70 on March 8. The price of WTI dropped quickly after that and has fluctuated since. On Wednesday, for example, it closed at $107.82, dropping $8.40 in just two days.
The concern for some is how much of the lifting of the tax is actually being passed on to consumers and not being wiped away in the changing cost of WTI. Kenney pointed to gas actually going up in other jurisdictions in Canada while it was falling here.
Finance Minister Travis Toews said there is a lag of about two weeks from when the gas is purchased wholesale to when it runs through the pump, so the price reflects when the store bought it. He said stores will be rebated the cost of the provincial gas tax to cover overlap on fuel purchased before April 1.
He repeated that the province will closely monitor the situation to ensure the savings are passed on to Albertans.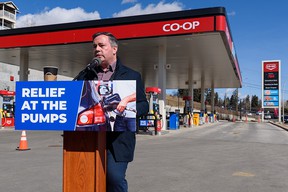 But NDP energy critic Kathleen Ganley is not convinced the prices will stay lower and once again called on the government to conduct an independent audit to ensure the tax savings are not just being collected by stores.
"One thing we all know about gas prices is that they move around continuously," she said in a press release. "We'll have to wait and see if price dips survive more than a few days."
Trevor Tombe, an economics professor at the University of Calgary, debates the idea of a lag time between the price of gas and the price of WTI. He said the cost at the pump usually mirrors the price on the market fairly closely.
He did say, however, when it comes taxes on gasoline, there is plenty of evidence to suggest there will be a near-complete adherence.
"We may very well see gasoline prices higher next week or the week after than we saw today," said Tombe. "That doesn't mean the tax cut didn't lower prices. We have to think about always what prices would have been had government not lowered the (tax)."
He added stations that have not lowered their price yet will almost assuredly do so within the next few days, as they will be forced to by their competition.
The price drop was welcomed by Paul Tekla, who does deliveries for companies like Door Dash and Skip the Dishes, especially as he was not expecting the discount. He said he was paying an extra $250 a month in gas, having to fill his car every other day.
"It's gone up a lot," he said while filling up his sedan at a Shell station for 156.6 cents a litre. "At the beginning of COVID, we had that period of time where it was super cheap and like $20 to fill my whole car, now I've got to spend $80."
Julie McDonald does not use her car much for work but because she lives in Ogden she is reliant on it whenever she goes to visit anyone or run errands.
She knew the relief was coming but was happy to actually see it in effect.
"Especially when I remember gas being below a buck, you notice it every time you fill up," she said while pumping gas at a Petro-Canada station, also for 156.6 per litre. "I appreciate what's happening in the world, and I understand why it's happening, so I'm not going to cry about it, but it's nice to have a reprieve."
Carbon tax rises
Taking out some of the wind from Kenney's sails was the increase of the federal carbon tax from $40 per tonne to $50 per tonne on Friday, adding about 2.3 cents to the cost of a litre of gasoline, once GST was factored in.
This means that instead of the price being 13 cents lower Friday, most gas stations were about 10-11 cents lower.
Kenney last week joined with Saskatchewan Premier Scott Moe and Manitoba Premier Heather Stefanson in sending a letter to the federal government calling for a suspension of the carbon tax.
On Friday morning, Natural Resource Minister Jonathon Wilkinson replied to the Prairie premiers, rejecting their pleas and reiterating they will continue with carbon pricing.
"The truth is that 94% of the price of gas has nothing to do with the price on pollution," he wrote. "The vast majority of the price increase that Canadians are seeing at the pumps right now is driven by crude oil prices going up — largely because of Russia's illegal invasion of Ukraine."
Twitter: @JoshAldrich03
You can read more of the news on source