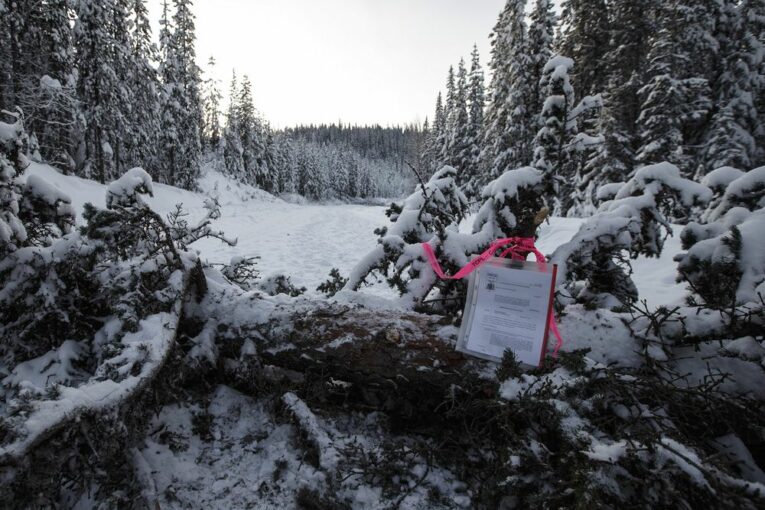 CALGARY – TC Energy Corp. delivered food and supplies to 500 workers who had been stranded behind a protest blockade until late Thursday, while 14 protestors who blocked a forestry road to the work camp appeared before the British Columbia Supreme Court on Friday.
The protesters blocked the Morice River Service Road for four days this week in an effort to stop the Calgary-based pipeline company's progress on the $6.7-billion Coastal GasLink pipeline project. The company and the B.C. Royal Canadian Mounted Police said the blockade prevented essential supplies, including food and water, from reaching workers at the camp.
Justice Margueritte Church released some protesters who pledged to stay away from the service road and promised to only engage in protest or activism that is "lawful, peaceful and safe" before scheduled court hearings on Feb. 14, 2022, in Prince George, B.C. Others declined the undertaking and face hearings scheduled on Monday.
The protest group, calling itself Camp Coyote, in a press release Thursday night vowed to continue opposing TC Energy's pipeline project that connects northeast B.C. natural gas fields with the under-construction $30-billion LNG Canada export project in Kitimat, B.C.
The group said the arrested protesters include members of the Wet'suwet'en First Nation and "supporters."
The RCMP said that six of the people arrested are from B.C., six from Ontario, one from New Brunswick and one from the United States.
The case has divided hereditary and elected chiefs of the Wet'suwet'en First Nation. The elected chief and councillors released a statement saying the protesters do not represent their Indigenous group. The councillors added that members of the Wet'suwet'en First Nation were among the workers stranded in the camp.
But Molly Wickam, who goes by the traditional name Sleydo',  said in a release by the protest group that "if TC Energy thinks that raiding Wet'suwet'en territory will stop the resistance against this project, they're dead wrong."
The release said the police operation included dozens of police "armed with assault weapons and dog teams."
In a separate release, Grand Chief Stewart Phillip, president of the The Union of British Columbian Indian Chiefs, said: "We are absolutely outraged that the province of B.C. authorized a military-style raid on peaceful land defenders in order to allow Coastal GasLink to build their Liquefied Natural Gas pipeline, while much of the province is suffering from life-threatening, catastrophic-flooding- related events."
The RCMP in a release said it was "completely false" that it prevented food and medical supplies from reaching protestors, used excessive force or deployed "attack dogs" to remove protestors from the area.
"Today's enforcement was dictated by the actions taken by protesters that blocked the Morice River Forest Service Road that jeopardized the safety and wellness of hundreds of people whose provisions were at critical levels," said Eric Stubbs, assistant commissioner with the B.C. RCMP.
"We have made significant efforts to facilitate meaningful dialogue between all stakeholders, and especially with the group opposing this pipeline project, to no avail. It was no longer possible to delay our efforts to rescue the workers."
• Email: [email protected] | Twitter: geoffreymorgan
You can read more of the news on source