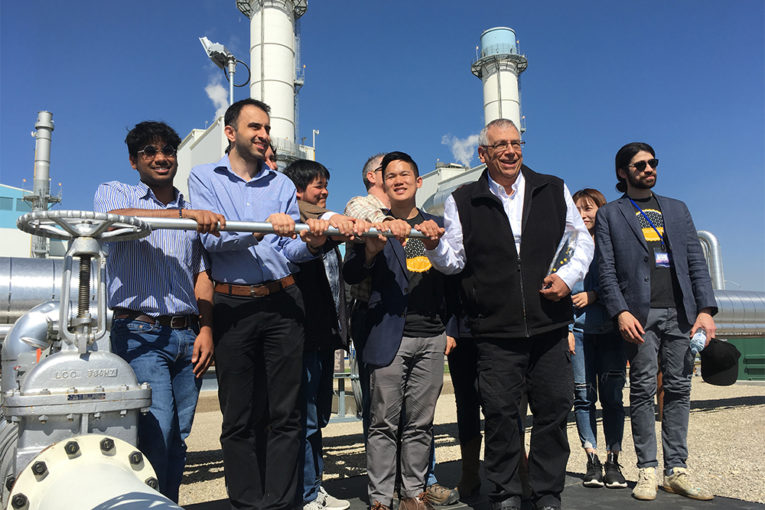 Proponents are hoping a southeast Calgary power plant and a handful of innovators will transform carbon dioxide into valuable products.
Montreal engineer Mehrdad Mahoutian, one of 10 finalists in a race to commercialize one of the drivers of global warming, said he's confident of building a viable business model by using the colourless gas to make concrete that's up to 30 per cent stronger than normal.
"Instead of using cement, we're using slag, which is a byproduct of steel plants and introducing it to CO2," said Mahoutian, of the company Carbicrete.
"We're able to make it cheaper, stronger and for sure cleaner."
As the Enmax-Capital Power natural gas-powered Shepard Energy Centre hummed nearby, Mahoutian and others vying for the $20-million NRG COSIA Carbon XPRIZE competition posed with a ceremonial valve.
But the real work will begin when five of the 10 finalists split 25 tonnes of CO2 between them to craft products that also include building material chemicals, alcohol and plastics that will have proven market value.
The two-year test project is unique, said Ross Chow, manager director of project partner Alberta InnoTech.
"The conversion piece is really leading edge and to get a facility this size to demonstrate it on a semi-commercial scale is also quite innovative," said Chow.
"It's a vital step in the process of converting waste to product … this is the final stage before the commercialization of the technology."
The 860-megawatt Shepard plant has the capacity to power half of Calgary and is the largest of its kind in the province.
The race for carbon redemption can also be a driver of diversification fuelled by the province's energy industry, said Alberta Finance Minister Joe Ceci.
"We're focused on the future and how to get there sustainably," said Ceci.
"Our province has always been a place where industry leaders turn challenges into opportunities."
Some of the finalists — chosen from an initial field of 38 — will also hone their craft at a power plant in Gillette, Wyo.
The Calgary site, known as the Alberta Carbon Conversion Technology Centre, is expected to be a hub for research long after the XPRIZE competition is completed.
"We expect this centre will be a magnet for researchers from around the world … it will be critical to Alberta's transformation to a low carbon economy," said Laura Kilcrease, CEO of provincially funded Alberta Innovates.
The technology has the potential to reduce Alberta's CO2 emissions by up to 50 per cent, say the project's backers.
It's one link in the energy sector's and government's attempts to dramatically dial back greenhouse gas emissions, said Dan Wicklum, chief executive of industry consortium COSIA.
"We're on track to reducing our emissions by up to 80 per cent," he said.
"We're accelerating innovation, we're accelerating technology."
on Twitter: @BillKaufmannjrn
You can read more of the news on source