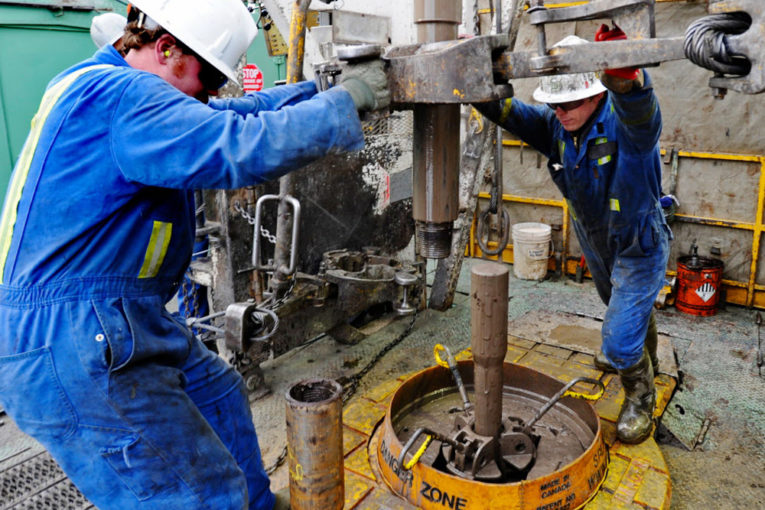 CALGARY – In its attempt to resist a hostile takeover bid, Trinidad Drilling Ltd. has found a rescuer in larger rival Precision Drilling Corp.
Trinidad and Precision, two Calgary-based oil and gas drillers with active rigs in the U.S. and Middle East, announced they had agreed to a deal Friday in which Precision will offer 0.445 of its own shares for each share of Trinidad. When debt is included, the deal is worth just over $1 billion.
It also includes a break fee of $20 million, which Trinidad will be obligated to pay Precision if the deal doesn't close – which is a possibility given there is already an offer on the table for Trinidad that analysts think could be sweetened.
Ensign Energy Services Inc., another Calgary-based driller, made a $947-million all-cash unsolicited offer for Trinidad in the middle of August, which the target company's board urged shareholders to reject.
Trinidad is now touting the Precision deal.
"This combination comes after a comprehensive process to review all available alternatives and to maximize value for our shareholders," Trinidad president and CEO Brent Conway said in a release.
Similarly, Precision president and CEO called the deal "transformational" in a conference call Friday morning and noted the acquisition would make Precision the third largest land-based drilling company in the U.S.
But it's still possible that Ensign could sweeten its two-month-old bid, Raymond James analyst Andrew Bradford said in a research note following the announcement.
"It's impossible to guess (Ensign's) next move with any degree of certainty. It may simply choose to walk away from (Trinidad) though we wouldn't consider that to be its best option – either financially or strategically," Bradford wrote.
He said Ensign could afford to increase its cash-offer for Trinidad, offer a nominal number of its own shares and pay the $20-million break fee. He did note that Ensign's board – chaired by billionaire Calgary Flames owner Murray Edwards – "isn't naturally disposed to consider favourably" paying such a break fee.
Bradford noted that it wouldn't be the first time that major rivals Precision and Ensign, Canada's two largest drilling companies, have competitively bid up the price of a takeover target.
In 2002, Ensign made an all-cash offer for Australian Oil & Gas Corp. and Precision offered more money for the target two months later. "Within two weeks, (Ensign) boosted its offer to surpass (Precision's) by 9 per cent, thus 'winning' the competition for AOGC," Bradford said.
A spokesperson for Ensign said the company would not comment until it had fully reviewed the deal announced Friday between Precision and Trinidad.
Hostile bids, once a rarity in the Calgary oil patch, have become more common.
This week, Husky Energy Inc. made a hostile $6.4-billion bid for oilsands-focused rival MEG Energy Corp. marking the third hostile takeover bid in the domestic energy sector this year after Ensign's offer for Trinidad and privately held Velvet Energy Ltd.'s takeover of Iron Bridge Resources.
Similarly, last year, Total Energy Services Corp. launched a hostile takeover bid for heavily indebted driller Savanna Energy Services, beating out another rival Western Energy Services.
"It is highly unusual to see so many hostile takeovers in a compressed time period. Yet it is also highly unusual to have oil trading near a four-year high and yet the interest level in energy stocks remains non-existent," Ninepoint Partners portfolio manager Eric Nuttall said in an email.
"The most informed possible buyers of energy stocks —the companies themselves — are telling us all that valuations no longer make sense," he said.
Analysts expect more consolidation to come.
"We continue to believe consolidation is needed in the Canadian energy services sector and expect that Precision and Ensign could potentially increase their bids for Trinidad," Canaccord Genuity analyst John Bereznicki said in a research note.
Ensign's shares fell 6 per cent following Precision's announcement to $5.94 each in mid-day trading on the Toronto Stock Exchange, while Precision's shares slid over 2 per cent to $4.33 each.
Trinidad shares rose 6 per cent, or 11 cents, to $1.95 each, reflecting the sweetened deal it had reached with Precision.
• Email: [email protected] | Twitter: geoffreymorgan
You can read more of the news on source