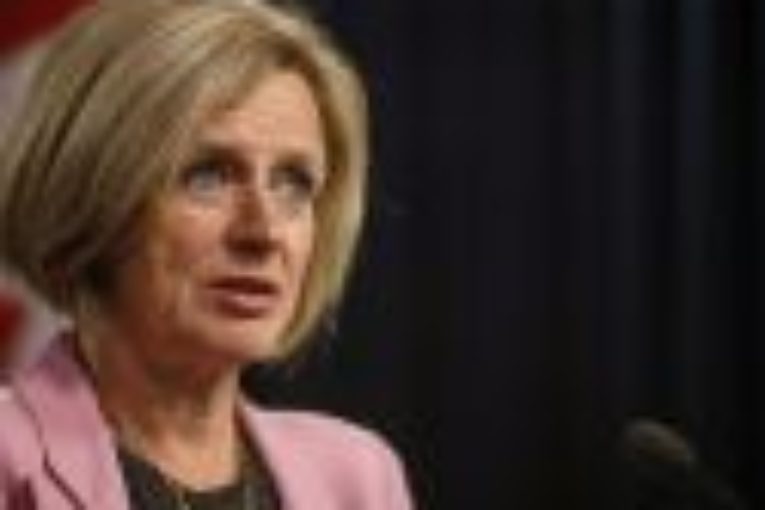 EDMONTON — Alberta Premier Rachel Notley says while other western premiers meeting in Yellowknife will be talking about how to spend money, she'll be working in Alberta figuring out how to earn it.
Notley said she is not attending the meeting Wednesday because her time is better spent making sure the Trans Mountain pipeline project goes ahead.
"When it comes to interprovincial relations, it's not business as usual — not even close," she said Tuesday in Edmonton. "That is why I've chosen to not attend the western premiers meeting.
"My time is better spent here."
The main focus of the Western Premiers' Conference is likely to be the development of a national pharmacare program.
Notley said issues such as pharmacare are important and Alberta will be represented by deputy premier and Minister of Health Sarah Hoffman.
"In representing Alberta at the table, we want to make something very clear," she said. "If we want to make sure that every Canadian can get the medications they need, we need to be able to pay for it.
"While they are at the premiers meeting talking about how to spend that kind of money, I'll be here in Alberta talking about how we can earn that kind of money."
Notley said one participant at the meeting — B.C. Premier John Horgan — is trying to shut down the Trans Mountain pipeline and take $15 billion out of the Canadian economy.
"Pharmacare does not grow on trees," she said. "In order to protect and improve the things that matter to people, like pharmacare, we need a strong, functioning national economy.
"Canada has to work for all Canadians. That's why we're fighting for the pipeline."
Horgan wasn't commenting Monday on Notley's decision to skip the conference.
A spokesperson for Horgan's office said the B.C. premier was heading to Yellowknife focused on a national pharmacare program and on ensuring provinces retain a leadership role ion any national drug plan.
Notley said it might be worth going to the meeting to chastise Horgan if a decision on Trans Mountain were still a long way off, but the deadline is too soon now.
"We're very close to some very important decisions that need to be made, very complex decisions with a lot of moving parts, so I need to be here."
Owner Kinder Morgan has ceased all non-essential spending on the project until it receives assurances it can proceed without delays. The company has set May 31 as a deadline for getting those guarantees.
Alberta sees the pipeline as key to moving bitumen from the province to the west coast and from there to lucrative overseas markets.
Other western premiers have started to weigh in on the matter that's dividing Canada.
"It's a very divisive and important issue," said Manitoba Premier Brian Pallister. "At the same time — a pipeline that would matter greatly to the Canadian economy, that has gone through all of the regulatory hoops, which are onerous, now being blocked by the actions of the British Columbia government … highlights the need for us to have a rules-based system in our country."
Pallister said that would allow Canadians to "work together as a family and not have these barriers among our provinces get in the way of creating a wealthier country."
Saskatchewan Premier Scott Moe said last week that he wants to speak about the pipeline's benefits when he's at the conference.
"I'm very concerned that we are missing an opportunity here in this nation to advance our economic benefit here, not just in Saskatchewan, but in Western Canada and the nation of Canada," Moe said.
Moe has said the federal government should withhold sending federal infrastructure money to B.C. over that province's opposition to Trans Mountain.
— with files from Dirk Meissner in Victoria and Steve Lambert in Winnipeg
Access denied: Intended to keep the financial system safe, critics say regulations limit competition and consumers' choice
Rising short-term bond yields and the flattening curve is classic late-cycle action and raises the risk of a recession
Barrick says a replacement for Kelvin Dushnisky will be announced at a later time
A graduate of the University of Windsor, Marchionne was viewed by many as an advocate for Canada's motor city
You can read more of the news on source