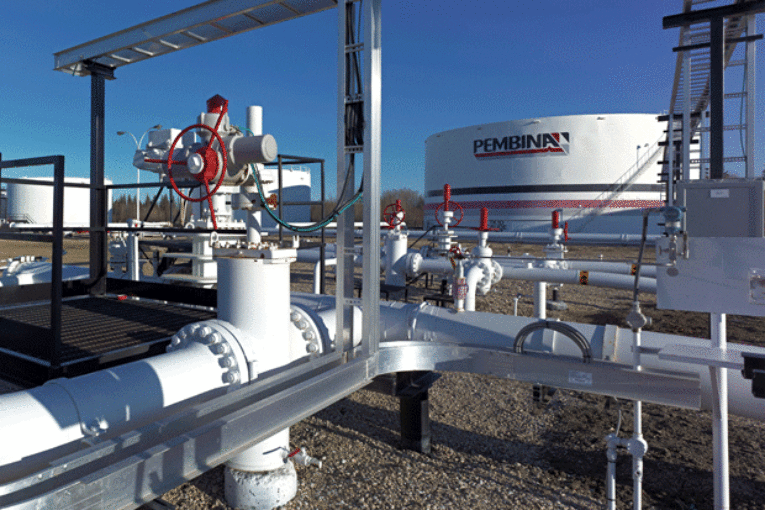 CALGARY — Pembina Pipeline Corp. officially delayed an investment decision on a $3.5-billion petrochemical facility in Alberta on Monday, but analysts say they'd be shocked if the company didn't eventually build the project.
The Calgary-based pipeline company announced a $1.6-billion capital budget for 2019 on Monday but delayed making a final investment decision on a project that would convert propane into plastic pellets used in a variety of consumer goods.
The project, a propane dehydrogenation and polypropylene plant, jointly owned with the Canada Kuwait Petrochemical Corp., was widely expected to receive the green light before the end of the year but Pembina said it is still working to sign long-term off-take agreements for half of the facility's output.
Raymond James analyst Chris Cox said in a research note the delay signals "heightened concerns regarding the demand for long-term agreements in the petrochemical space" and those concerns will likely also negatively affect Inter Pipeline Corp., which is building a similar facility in the province.
Pembina said in a release that work is continuing on securing contracts "with an objective to achieve the required threshold to make a positive final investment decision by early 2019."
The project is backed by Alberta government royalty credits through the province's petrochemical diversification program, which was designed to encourage more petrochemical construction in the province.
The company's capital budget includes $110 million in spending on the facility next year, subject to a positive final investment decision, Pembina spokesperson Justine Lissack said in an email.
The facility, which would be just the second of its kind in Canada, is widely expected to be built.
"I would be surprised if it didn't go forward," Canaccord Genuity analyst David Galison said in an interview Monday. "The market dynamics just seem to be quite favourable for that type of facility. I'm pretty sure it's going to go through."
Galison said Pembina's share of spending on the $3.5-billion propane-to-plastics facility would be $1.7 billion spread out over four years and the company has enough flexibility in its capital budget to begin construction next year.
The market dynamics just seem to be quite favourable for that type of facility. I'm pretty sure it's going to go through.

David Galison, Canaccord Genuity analyst
He also said Pembina's capital budget is likely conservative enough to fund both the petrochemical facility and its proposed LNG project if it can find a joint-venture partner for that facility.
Pembina also said it is looking to reduce its wholly owned Jordan Cove LNG project to between 40 per cent and 60 per cent and looking for a partner for the facility on the Oregon coast, which would source a combination of U.S. and Canadian natural gas for export to the U.S.
The U.S. Federal Energy Regulatory Commission has provided a timeline of no later than November 2019 for a decision on the Jordan Cove LNG facility, and expects to export its first LNG cargo in 2024.
• Email:
You can read more of the news on source