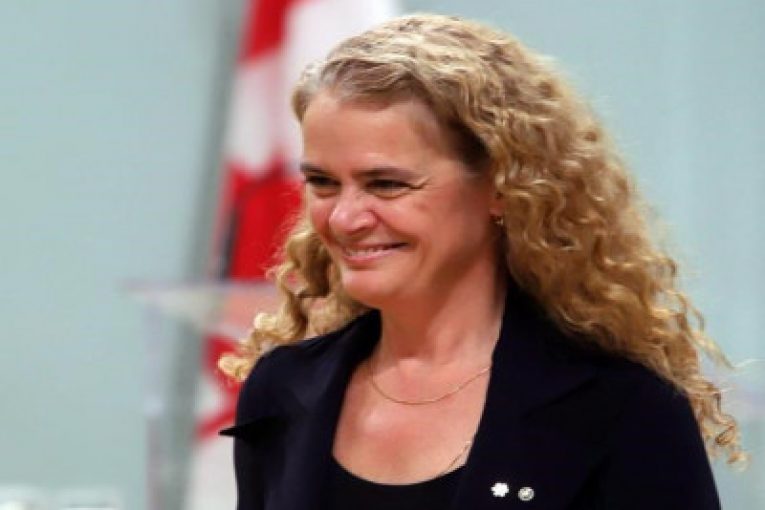 OTTAWA — The Parliament Hill hoopla this week was all about horoscopes and Halloween costumes, with an undertone of Bill Morneau controversy for good measure.
The new Governor General, former astronaut Julie Payette, made a notable debut on the federal scene on Wednesday with a speech to fellow scientists. Her mocking of climate change deniers, creationists, homeopathic medicine and horoscope believers prompted howls of protest from those who say a representative of the Queen should be seen, not heard — at least when it comes to opinions.
And outrage spewed over the appearance of Prime Minister Justin Trudeau in the House of Commons dressed as Clark Kent, complete with a stretchy Superman costume under his shirt and tie. Detractors demanded the PM get back to business, and/or also do something about the hair that made him look too much like Conservative finance critic (and Morneau nemesis) Pierre Poilievre.
Conservative Leader Andrew Scheer stuck closer to home in his get-up as Data from Star Trek — a hat tip to science-based evidence, his handlers say. The public reaction was . . . subdued.
The week in politics was not just about indignation. Developments on immigration policy, the North and Stephen Harper will have lasting implications. Here are three ways federal politics touched us this week:
MORE NEWCOMERS
Canada will very gradually increase the number of immigrants it admits over the next three years.
In recent history, Canada has admitted about 250,000 newcomers a year, rising to about 300,000 for the past two years. Now, the federal government aims to increase the level to 340,000 by 2020.
Proponents of higher levels have long argued that Canada needs a constant influx of highly skilled immigrants to fuel prosperity for the next generation. And they were generally content with the increases and the long-term planning evident in the three-year horizon that they saw this week.
But refugee advocates, who have found a strong ally in the Trudeau government in the past, were disappointed. The United Nations has repeatedly pointed out that the world is in the throes of a migrant crisis, and has lobbied wealthy countries like Canada to dramatically up their intake.
However, this week's numbers show Canada is aiming to take 43,000 refugees next year, up just 3,000 from this year. Of those, the government-assisted refugees that the UN had in mind will remain static at 7,500 people.
THE NORTH
Every once in a while on a fairly regular basis, the premier of the Northwest Territories flies down to Ottawa and complains about being forgotten and neglected. This time, it was on a different scale.
Bob McLeod's trip this week aimed to raise the alarm, and show Ottawa that the North has tumbled into despair despite doing all the right things to become self-supporting.
The culprit, he says, is the federal government's decision a year ago to ban new oil and gas development in the Arctic because an oil spill would be disastrous for the region.
In the name of environmental protection, McLeod argues, the ban killed off investment at a time when the Arctic is already fighting a losing battle to deal with the vast, spillover effects of environmental degradation from the south. Dwindling caribou herds, melting permafrost, erosion and forest fires are destroying a way of life.
With 40 per cent of the territory's economy depending on natural resources, the ban means "everything we have built is now in jeopardy," McLeod said.
So far, mainly silence from the federal government.
HARPER 
Former prime minister Stephen Harper has determinedly kept himself out of the public eye for two years now, only wading in occasionally to make a comment or two on government decisions. So last Friday night, when a note written by Harper-the-consultant to his business clients surfaced, every word was weighed heavily.
The government, he wrote, was not taking Donald Trump's threats to tear up NAFTA seriously enough. The Liberals should stop pushing their progressive agenda on labour, gender, Indigenous Peoples and environment. They should stop allying themselves with Mexico. And instead, they should figure out how to salvage what they can from the trade agreement that is central to Canada's economic health.
NAFTA-watchers have heard it all before. But because it was the former prime minister speaking this time, both the Liberals and the Conservatives were quickly on the defensive — the Liberals saying they were negotiating in Canada's interests and would not capitulate, and the Conservatives insisting they were not trying to use Harper to disrupt a united front at the bargaining table.
The next round of talks will take place in Mexico City later this month — presumably enough time for the Harper uproar to settle down.
Heather Scoffield, Ottawa Bureau Chief , The Canadian Press
[ssba]
---
You can read more of the news on source