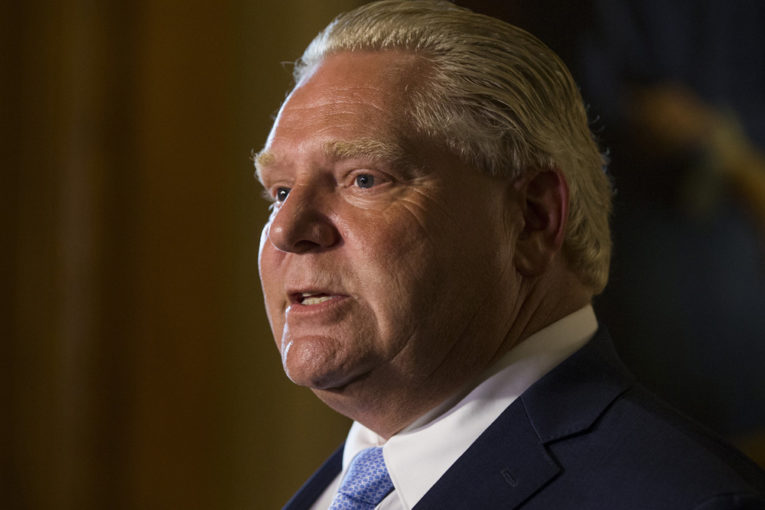 A patchwork of institutional investors — and not the Province of Ontario — could hold the balance of power when it comes to deciding the makeup of Hydro One Ltd.'s next board of directors, following new Ontario Premier Doug Ford's decision to clean house at the Toronto-based electricity utility.
Hydro One said Wednesday that it had struck a deal with the Ford government that would see company's board of directors resigned and replaced by Aug. 15.
The deal also called for the immediate retirement of Hydro One's president and CEO, Mayo Schmidt. Hydro One's chief financial officer, Paul Dobson, has been named acting CEO.
Most of the existing Hydro One directors were appointed by Ontario's previous Liberal government, which was swept out of power in June by Ford and the Progressive Conservatives.
Hydro One said the new board of directors will initially consist of 10 members, with four nominated by the province and the other six through a committee made up of representatives of the company's other largest shareholders. The new directors will also be tasked with finding a new CEO, who will sit as the eleventh member of the board.
The identity of the shareholders who will populate the nominating committee was not immediately clear.
Ontario still owns around 47 per cent of Hydro One shares, but according to the agreement between the company and the government, the nominating committee is intended to be comprised of up to "one representative of each of the five largest beneficial owners of Voting Securities of Hydro One, excluding the Province."
As of the Financial Post's deadline, Hydro One did not have an answer as to who that would be.
After Ontario, Fidelity Institutional Asset Management, IG Investment Management Ltd. and Scotia Asset Management were among the institutions with the largest percentage of shares held, according to numbers from Morningstar Research. The three owned around 1.3 per cent to 2.3 per cent of the company's shares apiece.
Ontario Power Generation Inc., an electricity producer that is wholly owned by the province, owns about 1.4 per cent of Hydro One's outstanding shares, according to the data from Bloomberg. However, OPG only has those shares to pay to unionized employees as part of its collective bargaining process.
"The committee is formed by the group of largest shareholders," an OPG spokesperson said in an email. "Based on our understanding, we are not in this group."
Investors reacted negatively to the shakeup on Thursday, sending shares of the company sharply lower at the open before paring some of those losses to close down 3.2 per cent at $19.52 in Toronto.
The changes at the company came after Ford vowed on the campaign trail to fire Schmidt, calling him "The Six-Million-Dollar Man." The province will be consulted on Hydro One's future executive compensation.
"Your government will act swiftly to restore public confidence in Ontario's electricity system — starting with Hydro One," the Progressive Conservatives' throne speech declared on Thursday.
Schmidt received an approximately $6.2-million pay package last year. Among the other terms of his departure, Schmidt is to receive his base salary and his short-term bonus for 2018 prorated to Wednesday, in addition to a one-time lump sum cash payment of $400,000 that will be received "in lieu of all post-retirement benefits and allowances as provided in his contract or otherwise."
All eyes will now be on Mr. Ford to appoint the proper directors with requisite utility and energy expertise

Dr. Richard Leblanc, York University professor
While the agreement between the government and Hydro One says Schmidt is not entitled to "severance," it says he is allowed all of the benefits and awards previously granted to him. Schmidt is also apparently allowed to convert some of those awards, such as deferred share units, into cash.
"The Awards … previously granted to Mr. Schmidt pursuant to the Plan, consisting of Restricted Share Units and Performance Share Units … as well as the DSUs, may be cash-settled at target levels at a specified price per unit," the agreement said.
Dr. Richard Leblanc, a professor of governance, law and ethics at York University, said Ontario "reinforced its proper accountability" as a shareholder.
"If you're going to proceed down that path, which is selling off 53 per cent of an important Crown company, you have to keep on top of that company in your role as a 47-per-cent shareholder, and arguably, the Government of Ontario didn't do that," Leblanc said. "All eyes will now be on Mr. Ford to appoint the proper directors with requisite utility and energy expertise."
According to a release, the replacement directors are to serve until Hydro One's next annual meeting or until they stop holding office.
Under Schmidt, Hydro One had also embarked on an attempted acquisition of northwestern U.S. energy company, Avista Corp. The deal has been racking up regulatory approvals, and the company had previously sought sign-offs from U.S. state and federal regulators by August 2018.
"We are continuing to work through the regulatory process for the merger," said an Avista spokesperson in an email.
CIBC World Markets' Robert Catellier said in a note that the turfing of the board and Schmidt "brings in a new era of uncertainty for Hydro One shareholders," causing them to cut their target on the company's stock price to $20.50 per share from $24.
"While the transition will occur through a more orderly process than we had feared, it indicates the government is willing to meddle," Catellier wrote. "Just as worrisome is the possibility that the government meddles with the company's rates in some form, potentially impacting earnings and upside from incentive rate making. This also does not bode well for the Avista acquisition, which does not yet have all required regulatory approvals."
You can read more of the news on source