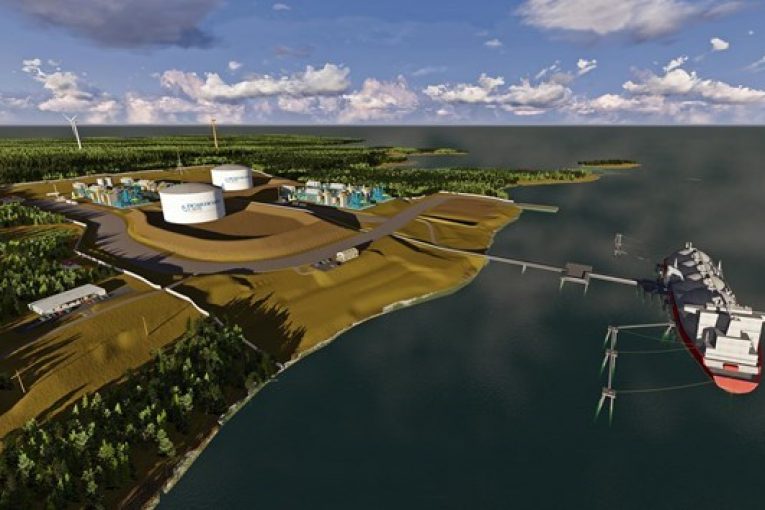 HALIFAX – Two liquefied natural gas megaprojects slated for Canada's East Coast are steaming ahead, even as investors pull the plug on plans for the West Coast.
Bear Head LNG Corp., a subsidiary of Australia-based Liquefied Natural Gas Ltd., and Goldboro LNG, a Pieridae Energy Canada project, could be the best bet for the country's first LNG export facility.
Despite a glut of gas around the world, rock-bottom prices and the cancellation of facilities proposed for British Columbia, the two multibillion-dollar Nova Scotia projects appear to be ramping up.
Bear Head's pitch starts with location.
When the company was scouting locations in Atlantic Canada for an LNG facility, the upshot on Point Tupper, N.S., was unequivocal.
"It was the site that God built for LNG," Paul MacLean, the firm's strategic and regulatory affairs advisor, recalls an industry insider saying about the Cape Breton site.
Perched on the Strait of Canso, it's the deepest ice-free terminal on the North American eastern seaboard. And when Bear Head's parent company purchased the site for US$11-million, it came with infrastructure: A jetty, roads, water and electricity.
"One of the biggest costs for an LNG facility tends to be infrastructure," Texas-based chief executive officer and managing director Greg Vesey says in an interview in Halifax. "That makes us more competitive right out of the box."
Since buying the site in 2014, progress on the proposed $5-billion LNG megaproject has been hog-tied by a wildly competitive energy market, including in its own backyard.
About 100 kilometres southwest of Point Tupper is Goldboro, N.S., the site eyed by Pieridae Energy for an LNG processing facility, storage tanks and marine works.
The project, expected to cost US$7-$10-billion, aims to tap into the natural gas supply from the existing Maritimes & Northeast Pipeline — without the cost of building pipe to Point Tupper, for example.
"It's why we chose the Goldboro site," says Mark Brown, director of project development for Pieridae Energy. "We're interconnected with all the other pipeline networks in North America and that gives us supply options from many different supply basins in both Canada and the United States."
It's also a different project than what Bear Head has on the table for Point Tupper, he says.
"We're an integrated project, so we'll have the capability to invest in upstream reserves and pipeline capacity," Brown says. "In other words, we'll become a shipper on pipelines as opposed to Bear Head, which is what's known as a tolling facility."
Goldboro LNG is also the only export facility in North America with a customer, he adds.
Uniper SE, a German energy firm, has signed a 20 year off-take agreement for half of Goldboro's permitted output, a coup for the Nova Scotia project. The contract comes with a German government-backed debt guarantee.
While executives with the two competing Nova Scotia LNG proposals say they hope their competition succeeds, they also quietly one-up each other.
"We have different models, both utilizing an excess of natural gas," Brown says. "But the fundamentals of the projects are different in that we have a customer taking the gas."
Vesey with LNG Ltd. says he respects the efforts by Goldboro LNG, but says "they have a long way to go on permitting, which is expensive and takes time."
Both blockbuster hydrocarbon-energy projects could face resistance from environmental groups, a tightening regulatory environment and unpredictable market forces.
Still, the cancellation of projects planned for British Columbia could bode well for the East Coast proposals.
Global energy giant Petronas and its partners killed a massive LNG project planned for B.C. in late July, while the Aurora LNG project slated for northwest British Columbia was cancelled earlier this month.
The dimming prospects on the West Coast could slowly shift attention to the Goldboro and Bear Head projects.
As Western Canadian gas producers take stock of their options, what once seemed like a potentially risky venture — signing a long-term deal on a long-shot East Coast terminal — has emerged as an alternative to shipping gas west.
Vesey assesses the uptick in interest cautiously, noting that producers banking on shipping gas west are still "shell shocked" at the cancellation of B.C. projects.
"The West Coast to Asia is the be-all and end-all," he says. "You can't beat that."
But building pipe over mountains and other difficult terrain to the West Coast, market headwinds and a galvanized opposition have created a tough environment for B.C. projects, and Bear Head is ready to step in as a back up.
"Interest has ramped up since the cancellation of NorthWest LNG," Vesey says. "I think there is still more interest growing."
Bear Head offers access to emerging markets and fast routes to South America, Europe and western Asia through the Suez Canal, he says.
The Point Tupper terminal was originally conceived as a LNG export hub for U.S. shale gas, but Bear Head is now courting Canadian producers.
Western producers have invested billions of dollars in developing the so-called upstream, exploring for and producing natural gas, but getting the gas downstream to energy-hungry customers is a problem, Vesey says.
Producers now send gas through two major hubs — Union Gas's Dawn hub southeast of Sarnia, Ont., or the AECO-C hub in Alberta's southeast — both saturated with supply.
"They're not getting the financial return they envisioned when they invested in these facilities," Vesey says.
The company's ambitious proposal would see producers in Alberta ship natural gas through TransCanada Corp. pipeline to North Bay, Ont. From there, Bear Head would build a new pipeline to Goldboro, a distance of more than 1,700 kilometres.
Building the greenfield pipeline from Ontario to Nova Scotia would require deals from producers up front, something Vesey says the company hopes to have in place by mid-2018.
Meanwhile, Bear Head's sister company, Bear Paw Pipeline Corp., has approval to build a 62.5-kilometre pipeline that would run between Goldboro, N.S., to Point Tupper. The $235-million pipeline would connect to the Maritimes and Northeast Pipeline, which runs from Goldboro to Massachusetts.
The company plans to get pipe laid and the terminal up and running by 2022 or 2023, a project that would require 1,500 workers during construction and about 150 permanent jobs.
The proposed LNG export facility already has construction and environmental permits as well as federal approval for a licence to export LNG and import natural gas from the United States.
Yet energy analysts have questioned the viability of both East Coast projects.
Toronto-based independent energy consultant Tom Adams has said if the market is not attractive enough to get British Columbia – positioned close to Asian markets – into the LNG business, then "Nova Scotia is just not even worth talking about."
But Vesey says with natural gas forecasts showing an increase in prices around 2023, producers need to start inking deals now.
"The world is moving away from coal, to natural gas. We need to start building now so we're ready for when that demand comes."
You can read more of the news on source