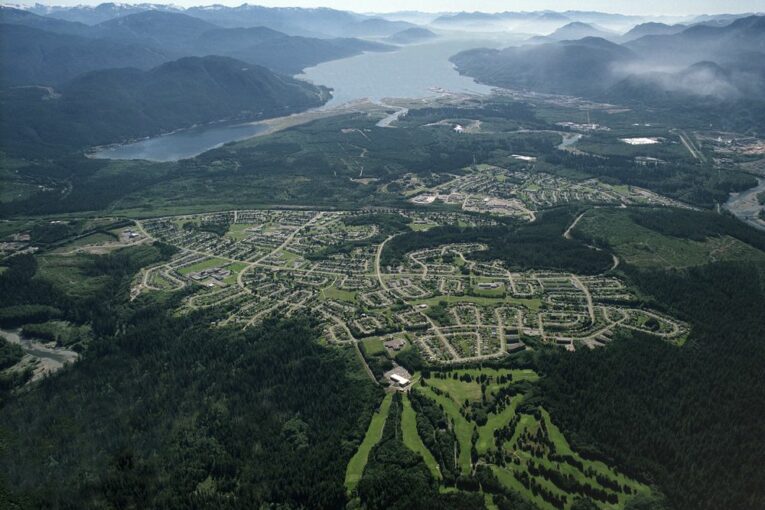 Two groups representing the interests of more than a dozen First Nation communities along the Coastal GasLink pipeline route have signed option agreements to acquire a 10-per-cent stake in the $6.7-billion project in northern British Columbia.
The equity option for Coastal GasLink, which is still under construction, will be exercisable once the pipeline is commercially in service sometime in 2023. The agreements, announced March 9, would allow First Nations groups to become owners in Costal GasLink alongside the Alberta Investment Management Corporation (AIMCo), private equity giant KKR, and TC Energy Corp.
The pipeline, which will eventually connect B.C.'s shale gas resources to LNG Canada's export project in Kitimat, has sparked demonstrations and blockades from environmentalists and some First Nations groups since construction began in 2019.
TC Energy had previously set aside a 10-per-cent stake in the project for potential sale to Indigenous communities across the pipeline corridor. The announcement included a total of 16 First Nation communities, represented by two entities, which have now acquired the ownership option set aside by TC Energy.
A bid by one of the two entities to acquire an additional 10-per-cent stake in the project in 2019 was attempted, but ultimately fell apart because the group couldn't come up with enough money.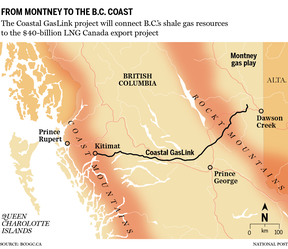 Barry Vickers, vice-president of the CGL First Nations Limited Partnership and a member of the Saik'uz First Nation, said when his group encountered difficulties accessing financing, it tried approaching the provincial and federal governments about the possibility of loan guarantees or direct loans but wasn't successful.
"We worked really hard at acquiring another 10 per cent, and had the opportunity to acquire another 10 per cent, but access to capital really sort of got in our way. It became a real barrier," Vickers said in an interview.
"Raising the level of capital required for that extra 10 per cent within a relatively short time frame — you know, nations just don't have that financial capacity. So we worked with the federal and provincial governments to try and backstop us… but we just weren't getting any support there. That was unfortunate."
We've never had the opportunity before to participate in ownership of a major project that crosses our territory

Corrina Leween
Vickers said while revenues are a big part of the ownership stake, a key benefit will be that First Nation groups will be "kept in the loop" on future developments and phases of the project.
Chief Corrina Leween of Cheslatta Carrier Nation said she's hopeful that the resulting revenues will help First Nations invest in infrastructure and community resources like daycares and elder care.
"We've never had the opportunity before to participate in ownership of a major project that crosses our territory," Leween said in an interview.
While arrangements like the one announced March 9 can be beneficial in giving Indigenous communities an economic stake in development occurring within their territories, they are unlikely to end the challenges that have dogged the Coastal GasLink project specifically, said Dwight Newman, Canada research chair in Indigenous rights in constitutional and international law at the University of Saskatchewan.
"It may not resolve the issues where there are troubles on that pipeline, in specific spots along the pipeline, if those nations are not involved, or if there's division within those Indigenous communities," Newman said.
"So there may still be challenges ahead for the Coastal GasLink pipeline, but it's an interesting and important development nonetheless."
Last month, workers at a remote Coastal GasLink work camp near the Morice River were allegedly attacked by around 20 masked intruders in an incident which resulted in millions of dollars in damage to equipment.
The incident was the just the latest in a spate of confrontations over the northeastern B.C. project which has highlighted longstanding issues and tensions around Indigenous rights and title in the area.
Among the opponents of the project are members and supporters of the hereditary chiefs of the Wet'suwet'en First Nation — a northern B.C. First Nation that comprises both elected and hereditary chiefs. Tensions have flared not only between protesters and the pipeline company, but also between First Nations supporting Coastal GasLink and the groups opposed.
A bid to resolve the issues around Wet'suwet'en rights and title and the construction of the Coastal GasLink pipeline was made with the signing of a memorandum of understanding in February 2020 after a group of hereditary Wet'suwet'en chiefs blockaded a road leading to a pipeline worksite — but it's not clear what progress has been made since, Newman said.
"The memorandum of understanding had set out some very unrealistic deadlines, even had COVID-19 not arisen, and so we're some years on from that and I think some of those challenges are still present," he said.
• Email: [email protected] | Twitter: mpotkins
You can read more of the news on source